Colm Campbell's 2022 certainly wasn't one for the old brigade. Despite golf taking a back seat as he moves to the next phase of his life he showed that class is permanent and proved that there is life after 30 for an elite amateur.
The Warrenpoint GC man who plays part time came back from the brink to win his second Flogas Irish Amateur Open Championship title at the Island Golf Club this year. 
It was a return to the winner's circle that didn't seem possible for the 35-year-old after a freak hand injury threatened to bring his golf career to an end when he was at the peak of his powers having won the East of Ireland Championship in 2014 and the first of his two Irish Amateur titles in Royal Dublin in 2016 while being a regular for Ireland at international level. 
"Winning the first Irish Amateur Championship in 2016 was not expected but I felt like I was at a stage where I was playing full time golf, won the East of Ireland a couple of years prior to that and I was competing in every event I played in," explained Campbell who took up golf when he was seven while also playing soccer and Gaelic football for Warrenpoint until he was 21. 
"In 2017 I got the injury and that put me out of action for 17 months. It was a rare one, it was called Hook of Hamate, it's common with baseball and tennis players. Basically the butt of the club is bouncing off the palm of the hand. I was playing a few holes in Warrenpoint one day and it just snapped. I was in a lot of pain and never thought I would be out for the length of time that I was. I thought I'd never pick up a golf club again to be honest.  
"The surgeon that I was going to was reluctant to do an operation on it, he wanted it to heal naturally but it got to the stage where we had to make a decision because I wasn't getting anywhere without the op. It was make or break. 
"Thankfully I was back hitting balls four weeks after and touchwood it hasn't given me any problems since. I'm thankful for that." 
The Warrenpoint native made his return to competitive golf in 2019 and won the Ulster Strokeplay before his life took another direction – this time for the better. Campbell and his wife welcomed their first child while he also became a part-time amateur to balance his new job as a product specialist for PING Golf.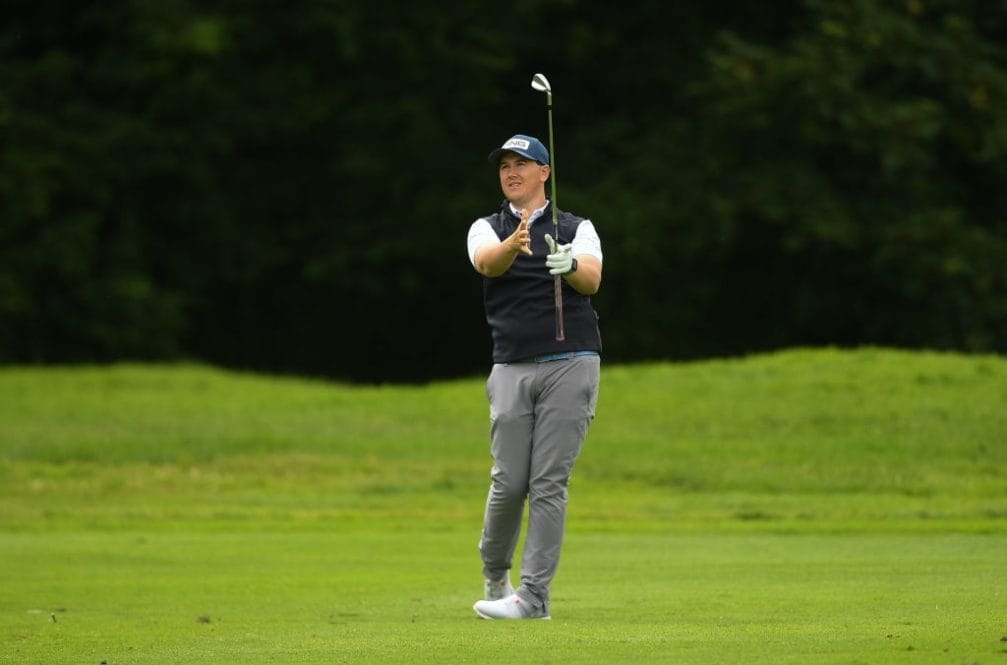 "I got to 2019 and myself and the wife were expecting our first child and I realised then I wasn't good enough to turn professional, so I decided to look for a permanent job after the 2019 season. Won the Ulster Strokeplay after being out for 16 months which was pretty satisfying and got back into the Ireland team. 
"Just before COVID hit a job as a product specialist with PING came up. Ping had always supported me during my amateur career. They have been a great company to work for and I haven't looked back." 
Perhaps the last two winners of the Irish Amateur Open Championship being players over 30 and no longer full-time (Peter O'Keeffe) shows that there still is a window to compete against the younger full-time amateurs but winning wasn't really on the Co. Down man's mind when he teed it up at the Island in May. 
Campbell has developed a knack of being the man for the big occasion and one of the special things about golf is that you never forget how to win no matter how long it's been since you tasted the fruits of victory. 
The juices from his maiden Irish Am triumph in 2016 came flowing back as he pipped US Mid-Am champion Matthew McClean to the post in a nail-biting playoff after a thrilling final round. 
"Obviously winning this year after everything that had changed. We had Covid, getting into a full-time job, had a child so the expectation levels were a little bit different. "To me, that was a bigger win than 2016 for obvious reasons from where I was. 
"It's funny I had played a few events leading up to the Irish Am. I was playing ok, hitting the ball nicely and driving it quite well which is a key thing for the Island Golf Club. I put my old putter back in the bag for the first round and holed a few nice putts and just momentum kept me going. 
"The second day was tough, it was really windy. That played to my strengths so I didn't have to go chasing birdies and I just stayed patient and made pars, tried to keep the drama off the scorecard. I shot a great three-under in round three and missed a really good chance on 18 to shoot 68 and came off a little disappointed. 
"Going into the last round I was tied for the lead and right where I wanted to be and I played superb shooting level-par with one birdie, one bogey, really steady golf. I stayed really patient. Once I get a sniff I have a habit of closing it out without sounding cocky! 
"Matt threw me a little bone. His loss was my gain experience played a part for sure.  
"I never asked Ryan my caddie how we were doing until we got to the 15th tee and at that time I was three or four back. I knew it was easier to come from behind than close it out in the lead. The last few holes can be very punishing and that was evident. 
"I holed a really good ten footer for par on 17 to give myself a chance on 18. I held a clutch putt from 15-feet to force a playoff with Matt who made a clutch up and down himself. 
"We went back to 18 for the playoff and I won the toss, managed to get a really good tee shot away first down the left of the fairway. He pushed his tee shot right and caught a bad break having to take an unplayable and once he took an unplayable for me it was about keeping a disaster off the card. I managed to get it done. 
"But yeah, when you get into a position to win you never really lose that knack of winning so it was really good. I enjoyed it. I wasn't expecting too much from this year but it shows when you get into position you never lose it," added Campbell who managed to play his way into Niall MacSweeney's Home Internationals team in Ballyliffin in August. 
The Island win opened a lot of doors for Campbell – a spot in the field at the Horizon Irish Open in Mount Juliet and the Amateur Championship in Royal Lytham. However, it's in a green jersey where he shines brightest. 
Campbell of course is synonymous with Irish Home International success having secured the winning point on three out of the four occasions during the Boys in Green's four-in-a-row golden period. 
"I thought my days with Ireland were done to be honest. Because you are up against lads who are playing full time and it's difficult to get that balance. I had a sneaky goal in my head that making the Home International team wasn't out of reach if I played some good golf over the course of the year. It opened up a few doors and I went to the British Amateur in Royal Lytham to push on to make the European six-man team but didn't fire on all cylinders but the goal for me was to make that Home Internationals team in Ballyliffin and then I had two strong events in the North and South of Ireland. 
"The Collie Campbell has been about a few times. Yeah it's nice to be remembered for those things and in the end it's nice to be put in that position knowing that when you are under pressure you can deliver and luckily enough I have been able to do that the few times I have been called upon. 
"I've been very fortunate to have many great days and come out the right end from being in those positions, we had some really great moments winning the Homes four years in a row and to secure the winning point three times is really cool that's something that will live with me for the rest of my days." 
While Campbell's achievements this year are a source of inspiration to any part-time amateur, not playing full-time might count against him in his bid to represent Great Britain and Ireland at next year's Walker Cup in St Andrews. 
Campbell, a lifelong Celtic fan, is going to be limited in the amount of WAGR point he can pick up while his schedule abroad will be limited if not minimal. He was the glaring omission from Golf Ireland's High-Performance Panel for 2023 but that won't stop him from letting his golf do the talking. 
"It's a Walker Cup year and obviously the ambition is to play on the Great Britain and Ireland team. It's a little bit disappointing not to be on the High-Performance Panel next year that might change my outlook but I'm looking forward to the year."