With so much worldwide success both on Tour and with better amateur players finding the successor to Ping's most successful i-Series iron was always going to be a tough task.
The i210 slotted in perfectly between the better player blueprint irons and game improvement i525's. Its consistency and playability made it a perfect blend for a wide range of handicaps. Not wanting to lose any of the traits that made i210 great, Ping spent four-plus years researching and gathering feedback on what golfers wanted to see from the next iteration.
After years of waiting, Ping believes the new i230 is ready to take up the mantle.
"The new i230 irons and iCrossovers are for avid players who want to get better," said John K. Solheim, PING CEO & President. "In the i230 iron, we've engineered a lot of performance into one design. It has the precise control and consistency of a players iron with an amazing feel while offering the forgiveness of a game improvement iron. It reminds me a lot of the iconic PING EYE2 iron in that it will appeal to so many player types, from the tour pros to everyday golfers. It's really packed with performance."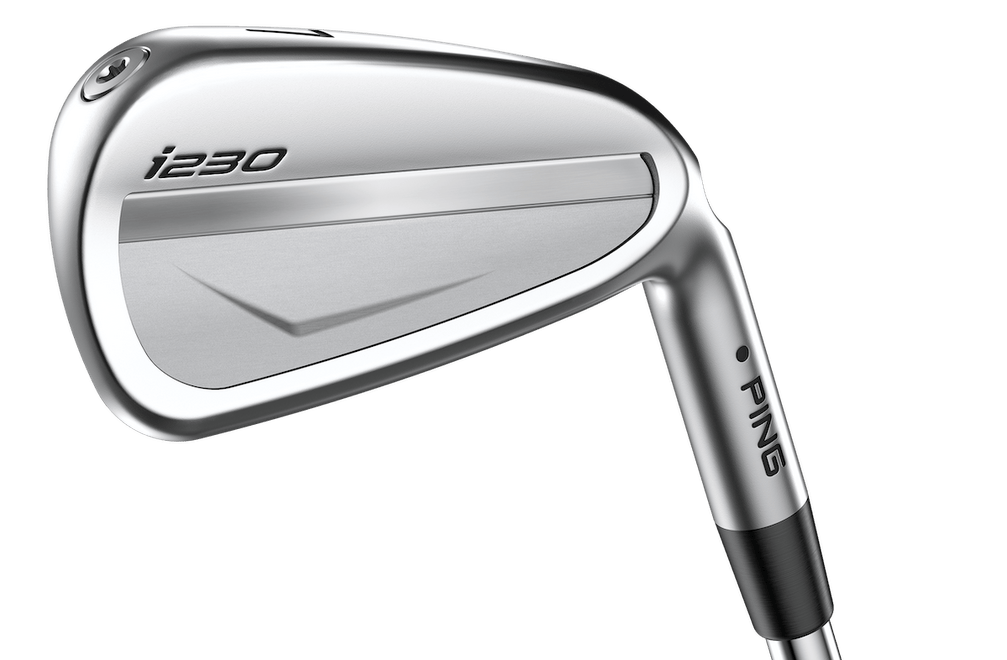 Advancements to the activated elastomer technology in the i230 iron allowed PING engineers to save significant weight, which is re-allocated within the club head to position the centre of gravity (CG) low for more distance and control while increasing the moment of inertia (MOI) for added forgiveness. The low CG combines with greater face bending to deliver more higher ball speeds.
The elastomer reinforces the face, providing more consistent bending and energy transfer across the entire face, resulting in approximately three more yards of distance in player testing. Its higher MOI is largely due to tungsten toe and tip weights, which help make it the most forgiving "i" iron to date.
"The i230 iron sits in the middle of our iron offerings, so it requires us to balance a variety of performance attributes," Solheim said. "It needs the precision and solid feel of a players iron while offering the forgiveness a lot of golfers expect from a PING iron. We also want to provide more distance in a way that is predictable and repeatable to ensure it meets the precise gapping needs of the best players in the world. I'm excited to report our research and early tour feedback confirms we've achieved all that and more. It has a little bit of everything to deliver a lot of performance."
Pleasing Impact Experience
Through extensive modal analysis, PING researchers isolated undesirable frequencies within the club head and precisely positioned a re-engineered cavity badge to damp their effect to ensure a pleasing feel and sound. The four-piece badge combines a thin 304 stainless steel cap with an injection-moulded thermoplastic that is secured to the cavity with high-strength adhesive. The activated elastomer supports the face and sits in a toaster-style pocket, which is concealed behind the multi-material badge, creating a clean and appealing cavity design.

"Feel is one of the most important attributes in a players iron," said Solheim. "Golfers who rely on precise iron play require exceptional feel to control their ball flight. The i230 iron is engineered to provide consistent feel from every club in the set. The soft elastomer and the cavity badge work in concert to ensure they not only feel great, but they sound even better."
The long irons (3-5) are slightly more compact than the tour-proven i210, producing more consistent club face delivery and accuracy, while the rest of the set is designed with similar blade lengths. The sole design is also similar, with a more rounded lead edge and ample bounce to promote smooth turf interaction for clean and solid strikes. The precision-milled MicroMax grooves deliver consistent launch and spin results for more accuracy in the long irons and greater control in the short irons and wedges, especially in wet or grassy conditions where the grooves and hydropearl 2.0 chrome finish help ensure lower launch angles with high spin rates.
"Meeting the needs of our tour pros, who have already won with it, is an important element of the i230 iron," Solheim said. "Their validation of this design goes a long way in giving golfers the confidence that they can also benefit from its technology. The changes to the blade lengths and shaping are very subtle but are designed to improve the playability and the accuracy of the entire set, especially the long irons. They inspire a lot of confidence when you look at them in the address position."
i230 Specifications
Multi-material construction: 431 stainless steel body; activated elastomer insert; 304 stainless steel/injection moulded TPU (thermoplastic polyurethane) cavity badge; tungsten toe/shaft tip weights; hydropearl 2.0 finish
AVAILABLE: 3-9, PW, UW in 10 colour codes (lie angle). Black colour code is standard.
LOFT OPTIONS: Standard, Power Spec and Retro Spec
STOCK SHAFTS: Dynamic Gold 105 (R300, S300) & PING Alta CB Black (SR, R, S)
OPTIONAL STOCK SHAFTS: PING AWT 2.0 (R, S, X), Dynamic Gold (S300, X100), Dynamic Gold 120 (S300, X100), KBS Tour (R, S, X), Nippon NS Pro Modus Tour 105 (R, S, X), Elevate MPH 95 (R, S), UST Recoil 760 ES SMAC (A), 780 (R, S)
STOCK GRIP: Lamkin Crossline Black
RRP: €219 per club with stock steel shaft; €231 per club with stock graphite shaft