Lorna McClymont is the Flogas Irish Women's & Girls Amateur Open champion after three successive birdies to finish saw her march to a four-shot victory at County Louth Golf Club.
The Scottish golfer recovered from an opening double-bogey to shoot a four-under 70 for a 54-hole total of nine-under-par and she was the only player to shoot three rounds under-par this week. A fitting champion who was delighted with her win.
"It's pretty special I am just over the moon," she smiled. "To have my name associated with Shane Lowry when he won the Irish Open is pretty cool when you think of it like that it makes it special."
The University of Stirling student will board the ferry with the trophy, but her final round wasn't entirely plain sailing. Teeing off with a one-shot lead, her advantage vanished instantly after an opening double-bogey six put her into a four-way tie for the lead on three-under.
Playing partners Katie Poots and Millie Thompson also dropped shots on the difficult first that saw just four birdies all week.
At one point, there were eight players within two shots of the lead, but McClymont recovered well with birdies on the fourth and ninth before a third birdie of the day on the par-5 11th saw her edge her nose in front of Poots.
"Yeah I just tried to stay patient you know, double bogeys happen and I just tried to stay calm. I had no other bogeys other than that.
"I felt alright to be fair in terms of feeling the pressure on the first. I was just taking it as it comes and once I had the double on the first I thought 'ok this is fine' and just tried to get it together."
As the challengers began to fade away, Knock's Poots refused to give up on the back nine, but the Scot landed the knockout punch with three birdies in a row on 16, 17 and 18.
"That was quite nice to finish with three birdies in a row, it was pretty helpful it took the pressure off.
"I only had 94 yards on sixteen I hit a 56 degree and on the 17th I had 176 and hit a 7-iron and luckily made both putts."
It's now four wins this season for McClymont who has already booked her spot on the International side for July's Palmer Cup in Switzerland and she is eyeing up more silverware this summer.
"I'm quite happy with that anyway! I've got a wee bit of rest the next few weeks and then straight into Seville and the Scottish before the rest of the season comes along."
Poots put up a valiant effort on the final day signing for a two-under 72 securing her the Girls prize and after winning the Fairhaven Trophy last week she was buzzing to pick up the award.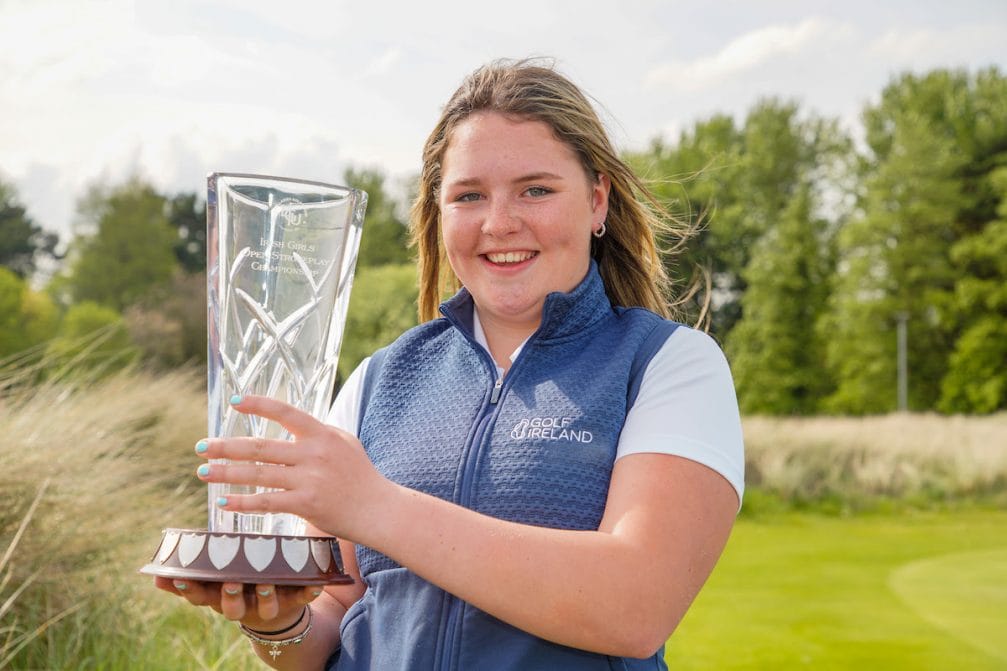 "Yeah I'm delighted," she said. "Played pretty solid there today just the putts weren't dropping but sure I am happy enough and really happy with coming second too. I didn't make as many birdies as I wanted to on the back nine but I finished well.
"Lorna played class and her putting at the end was class I am delighted for her."
The week was a slow burner for the Irish, but in the end it proved to be quite a fruitful week for the home challenge with four inside the top-15 including Spanish-based Marina Joyce-Moreno who continued to play "boring golf" by her own admission.
Joyce-Moreno shot a blemish-free two-under 72 to post the only bogey-free round of the week and finish in solo third on four-under.
The teenager dropped just five shots all week and had 43 pars in her 54-holes in an extremely consistent showing where she never dropped outside the top-10.
"It was boring. I played better today than I did yesterday, I hit a lot of fairways and greens but I didn't make a lot of putts so that was the difference.
"I'm happy to go bogey-free I had five bogeys all week and I think that's pretty good.
Meanwhile, Ellen O'Gorman of Milltown carded a two-over 75 to end on that number in a share of eleventh before an excellent up and down for birdie on 18 helped Ballybunion's Emma O'Driscoll into the top-15 on three-over.
Clodagh Coughlan of Douglas shot a fine round of two-under 72 to crack the top-25 on six-over alongside 13-year-old Olivia Costello of Roscommon who shot a three-over 77.
Lahinch's Aideen Walsh saved her best for last with a one-under 73 to end the week in 28th on seven-over.