As long-time supporters of the Play in Pink campaign everyone at Irish Golfer was delighted to get the news that 2021 has been their best year ever for fundraising and participation in the brilliant golf initiative in aid of Breast Cancer Research.
So far in 2021 over €280,000 has been lodged to the National Breast Cancer Research Institute, with more already committed and more events lined up for the remainder of October.
In total, more than 150 clubs registered to participate in 2021 which is an increase on recent years and it's a testament to the various venues and organisers that the amounts being raised have been bigger than ever before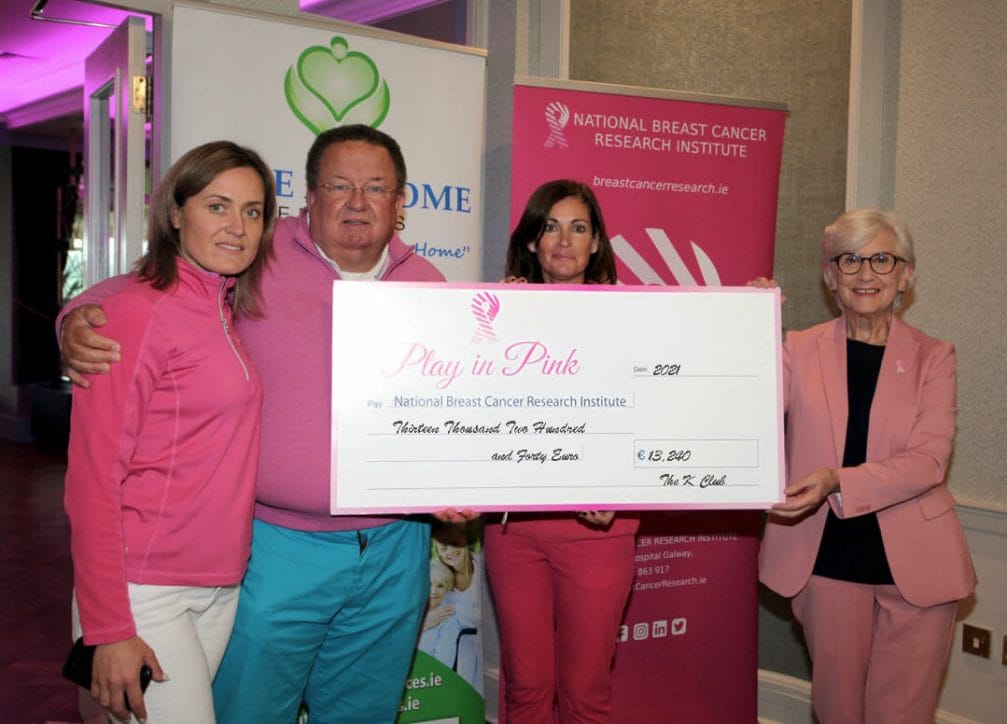 Play in Pink Co-Ordinator Miriam Hand said, "I'm totally amazed by the numbers this year. 2021 has been a real revelation and I want to thank all the golf clubs, the Lady Captains and all those involved with organising the Play in Pink days around the country.
"The money raised is really important to theresearch programme at the Lambe Institute and the total for 2021 is already hugely impressive and is the biggest total we've ever managed. Some clubs have held 2 or 3 events which has really helped while others like Dundrum House Hotel have combined events with coffee mornings, bbq's and golf and they raised €13,080.
"There have also been some incredible single day events with Luttrellstown Castle raising €17,435 and one of the biggest stops on the Play in Pink calendar is always Dromoland Castle and they once again pulled out all the stops with Maria Nolan serving wonderful treats on the course while the Lady Captain's sons helped all day with the raffle. The team, led by Eamonn O'Donnell are ardent supporters and the club raised €10,330.
"Howth also once again ran their day in conjunction with The Jacqui McAleese Memorial Trophy, which adds greatly to the support and sponsorship of the day and they raised €10,840 while Lahinch once again did fantastically well and managed to raise €14,320."
There have been a lot of new clubs on board this year too with the help of the Play in Pink support group who are based all over the country. Clubs like Beaufort, Faithlegg, St Margaret's, Muskerry, The K Club and Letterkenny were among those that joined the Play in Pink brigade and there's no doubt that they'll all be looking to mark the day in the diary for 2022.
Overall the support all across the country has been superb and it's great to see that juniors have gotten also involved this year and that more men are now taking part too.
Congratulations to everyone for an amazing effort in 2021 and for more information on Play in Pink visit www.PlayInPink.com and you can check out their upcoming events and lend your support.