"We've been waiting for you," smiled LPGA Tour Commissioner, Mike Whan as he extended his hand to welcome Symetra Tour graduate Leona Maguire to the Promised Land of women's professional golf.
A name synonymous with the sport in Ireland ever since she first grasped a club in County Cavan, the 24-year old's destiny always looked to be headed to the very top of the women's game. An amateur superstar having held top spot in the world rankings for a record 135 weeks, Maguire earned her LPGA Tour membership via the Symetra Tour's Race for the Card, an Order of Merit system rewarding the top-10 most consistent golfers in the season with their ticket to the top tier of women's golf.
When we met to chat, it was clear that the professional world around Leona had ramped up with an entourage befitting some of the leading sportspeople on the planet following her every move around Castleknock Golf Club. Maguire had just signed a deal with Kinetica Sports Nutrition and around the photo shoot greeted by a blue bird sky in Dublin, we managed to sit down for tea and reflect upon a season that paved the way for Maguire to fulfil her childhood dreams.
"It's been a long time coming so it's nice that it's finally here," she smiled. "It's been a long year on the Symetra Tour; there's been a lot of travel and planning and it's pretty nice to put all that behind me and have the LPGA Tour to look forward to now. That was the idea of going to college in the States, everything has been planned to lead up to this point and I'm so excited to get there."
It's no wonder then, that Commissioner Whan had been waiting patiently for the Slieve Russell product to earn her Main Tour stripes. Maguire was an inter-collegiate phenomenon at Duke University, graduating with the best stroke average – 70.97 – in the history of U.S. women's college golf. Her former Duke University teammate, Celine Boutier had already made her way to the Tour and the question was always 'when', rather than 'if' Leona would follow.
Maguire only turned professional under the Modest! Golf umbrella in the summer of 2018 and the rapid graduation that many anticipated, particularly observers from home, was something the former Ladies British Amateur Open champion never entertained.
"I was tired last season," she admits, looking back to an uneventful rookie half-season where Maguire still recorded two top-3 finishes.
"I came to Symetra straight from college and we probably didn't plan it out as best we could whereas this year, there were a lot more gaps in the schedule. Starting the year in Australia definitely helped too. The start of the Symetra season for me this year was actually my fourth event having played in Australia so it was nice to have that build-up, allowing me to hit the ground running back in America."
The fresh approach quickly paid dividends with Maguire bursting out of the blocks with five top-5 finishes from her first six events, including victories at the Windsor Golf Classic and the Symetra Classic. Through six tournaments, Maguire topped the Race for the Card table with $73,790 banked and already, in her first full season as a rookie, she looked to have cracked the code of the professional game.
"I was playing really well at the start of the year," she recalled. "I hit my irons really well and gave myself a lot of chances. And I was travelling a lot. I did two events in Florida and it was nice to get that win right before I came home. That was the end of a 10-week stretch I think, that event in California.
"I came from behind – I wasn't even thinking about winning all that much when that first win came around – and then I went home, then did Morocco, Dubai, and there was a really quick turnaround to Atlanta for a U.S. Open qualifier and then I played the Symetra event that week too. It's funny though, I was playing well so you're not thinking about tiredness or jet-leg.
"At that point I'm in autopilot – I'm playing golf tomorrow, and again, and again, and again. But as soon as I got to that event in North Carolina, I was like, 'this looks familiar'. I mean, I'd spent four years in North Carolina and it just all fell into place that week."
Having proved herself the most capable woman golfer in Duke University's history, Maguire fed off the energy of reliving those positive college experiences with win number two in her short pro career arriving at the Symetra Classic. However, what looked like the beginning of a procession towards her LPGA Tour destiny soon turned into a grind as she struggled to replicate her early season form through the middle part of the campaign.
"There were definitely a few events where I didn't play as well as I had been," Maguire said. "But after that, it really is slim enough margins. Some courses suit better than others obviously. There were a few courses near the end that didn't suit me at all and I kind of knew that going there.
"They were probably the longer courses. Ones where there'd be a lot of carries over bunkers and stuff like that where if you had the length, you could make them a lot shorter. I didn't have the carry so I'd be going in with 5-irons to holes where some of the girls would be hitting 9-irons and wedges so I knew I wouldn't maybe go as low.
"Look, maybe I didn't hole as many putts in the second half of the season as I did at the start either but it's fine margins, especially on the Symetra Tour. If you're not in the top-10, the money just drops off drastically so you have to be chasing those top-5, top-10 finishes or you're not really earning that much at all."
As the season drew to a close, Maguire knew the importance of securing one more big payday to ensure she couldn't be caught in the Order of Merit standings and given the tests that remained on the schedule, she targeted Longwood, Florida and the penultimate event of the Symetra season as the tournament to rubber-stamp her LPGA Tour credentials.
It just so happened to be the ideal time to fly swing coach, Shane O'Grady over from Ireland to cast his eye over his prized student.
"It was great to get him out," Maguire revealed. "We had talked about it – if there was a bit of a gap the potential of him coming over/where would suit – and that was week four of six in a row so we felt that if there was anything to catch, that was a good time to do it.
"We caught a few things in my swing that had crept in – things that are a lot easier to see in person than on video. And it gives you validation. You want to make sure that what you think you're doing and what you're actually doing are the same thing. Sometimes that might not be the case and if you're going to put all that time and effort into it, why wouldn't you make sure you're doing the right thing?"
It proved an astute decision with Maguire capturing a top-5 finish ahead of the Symetra Tour Championship with her season tally of $92,517 good enough to earn LPGA Tour graduation in seventh place on the standings. It was a result that saw Maguire join in a now Symetra ritual in following Stephanie Meadow's leap of 2018 into the clubhouse swimming pool in a celebratory diving tradition for the 10 gleaming graduates.
"It was shallower than I expected," Maguire laughed. "I kind of banged off the ground because we didn't go in deep enough but at least we made sure nobody had their phones in their pockets before we jumped!"
"You have to enjoy it when you do well. You have to make sure you celebrate the good ones and then the focus can shift towards next year. I guess it's just nice not being at Q-School. It's nice seeing the tweets about Q-School this week and not being there."
Indeed, the only thing that would've made the celebrations sweeter is if Leona's sister, Lisa had made the leap to the LPGA Tour with her. I first heard of the prodigious golfing twins when sister Lisa won the Tiger Woods endorsed Young Masters Golf Junior Series at La Manga in 2005, where a certain Leona finished second. They were just ten at the time.
The duo traded blows competing together through the amateur ranks right through to graduating at Duke University but where Leona's career has soared to another level in the professional game, Lisa's severely struggled. Having played largely on the Ladies European Tour this term, Lisa's form recently forced her hand when she announced her brave decision to move into a new role off the golf course with Modest! Golf Management.
"It's been a different year that way," Leona admitted. "I suppose it's the first time we haven't been at all the same events together. I haven't seen all that much of her really. We played Dubai and Morocco together and then we were up in Galgorm. She caddied for me this year too which was nice. Lisa knows my game better than I do myself. She's not afraid of saying something when it needs to be said."
Yet, as nice and all as it was to have Lisa on the bag, the script was never meant to play out this way. For so long, their development seemed to mirror each other as they rose in notoriety and it wasn't until the professional stage of their careers that a real difference presented itself. With Leona taking the paid circuit in her stride, Lisa's amateur form eluded her but Maguire maintains that her sister's struggles never affected her own LPGA Tour ambitions.
"I guess the funny thing this year is that it's probably the first time in a while that we weren't competing against each other," Leona added. "She was doing her thing in Europe and I was doing my thing in the States which was nice.
"I suppose the big thing over the years has been the comparisons between the two of us  – everybody comparing me to her – but when we weren't playing the same events, there weren't as many comparisons. She's always wanted me to win every week and I'd like the same for her. Obviously, I would have liked to see her doing as well as she could this year. I definitely didn't rub it in her face!"
But given the success of the pair from childhood prodigies to adult stars, I couldn't help but pry and wonder if over a quiet dinner this year, they hadn't butt their heads together and wondered why that for the first time in their twin lives, the game wasn't working out for the both of them like it had done every other time before.
"I try not to interfere too much with her golf," she said after a long pause. "I let her do her own thing, work with her coaches and stuff like that but I mean, if she ever asked me for advice, I'd give it to her."
Instead, Leona Maguire's upcoming LPGA Tour journey will very much be a solo venture with work already underway to ensure her game meets the demands of what will be another step-up in class, the type of challenge that she has risen to at every time of asking during her young career to date.
The big plan for the winter is to get a bit stronger in the gym as Maguire goes in search of precious extra yards to ensure the courses that failed to suit her game through the middle part of this season will be few and far between the next.
"It will be a lot of work," Maguire realises. "I'll probably be aiming to put on a bit more weight. It's all about speed and power, trying to up my clubhead speed."
So, what sort of gains can Maguire realistically aim to achieve this off-season to give her the best possible chance of success in 2020?
"Probably about 15 to 20 yards, that would be quite nice," she said. "I mean, it's not essential but if I could pick it up, it would add a little extra facet to my game."
Setting goals is one thing but what lies in wait is an element of unknown and no wonder then that Maguire has decided to kick-off her 2020 season somewhere familiar. Having begun her season in the land Down Under last year, the then fledgling pro fell in love with Australia and she's already counting down the days to revisit the experience.
"We were on the Gold Coast and went down to Canberra for the launch of the Irish Embassy. Sharon Shannon was there – it was just surreal. And Sydney was so cool, I really liked Sydney. I couldn't get over how you have this huge city, then there's the beach and the harbour right beside it and yet you can walk a few blocks and you can suddenly get away from all that in a totally different pocket of small, quiet streets.
"I'll be starting my year there next year again so I'm really excited. I mean, there's kangaroos on the course! On the golf course in Canberra we'd have to just stop and wait for like 50 kangaroos to pass. I suppose it's like deer here but I just thought it was pretty cool."
Expanding her horizons will come with the territory of a new chapter in the journey for Maguire next year with the glitz and glamour of the LPGA Tour set to extend to 17 different countries in 2020. A first trip to Asia is just one of the exciting things already on the agenda but having seen an early draft of the schedule, Maguire admits that she'll be taking every course as it comes as she feels her way into a new golfing environment.
"I actually did a really good job of that this year because the entire first half of the year were all courses I hadn't seen before so I managed pretty well," Maguire said. "I'm looking forward to seeing some new courses. The only one I would've played is the Vic Open one in Australia. That's actually like a links course so I'll be practicing some links before I leave to go down there.
"With the LPGA schedule, it's pretty much set so it's just a case of going from one to the other and figuring out how many events you want to do. After that, a lot will depend on whether or not I qualify for the Majors and things like that. Starting off I'll probably do three or four events in a row, take a break and then go again.
"For the first couple of years I'm sure it's going to be a case of learning the golf courses. The odd one will change year on year but I won't be that picky – I'll happily learn as I go. We're all in the same boat on Tour, roaming from week to week. I've one of the best offices in the world – the only thing is that it changes from week to week. But look, I probably wouldn't get to see some of the places that I've seen in the world if it wasn't for golf. I quite like travelling. It's obviously nice to be home when I do get home but I'm enjoying being on the road too and I wouldn't trade it for anything."
Far from trading, Maguire is trailblazing and together with Jordanstown's Stephanie Meadow, the pair have ensured that the island of Ireland will be represented by two golfers on the LPGA Tour circuit for the first time in history. When Maguire was brought up playing golf, the idols to latch onto were men dominating the sport and its coverage but a clear shift has occurred in recent years presenting young girls taking up the game of golf in Ireland with two leading professionals to aspire to.
For 20×20 Ambassador Maguire, who's been a passionate supporter of the initiative aimed to increase female participation in sport by 20% by next year, her new status as an LPGA Tour player can only help the movement gather speed.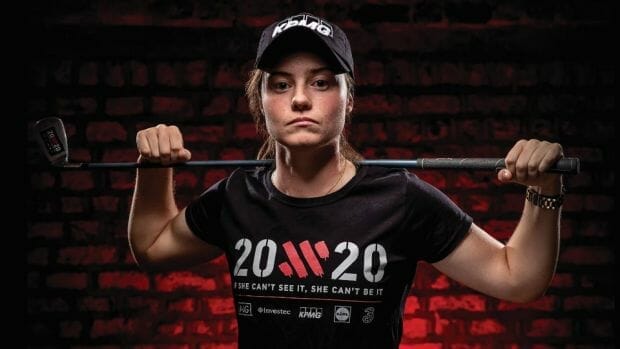 "I've always said that the better we do, the easier it is for media coverage to pick us up and the more visibility there is, that just helps everything," Maguire said.
"Hopefully young girls will be able to see myself and Stephanie a lot more on the television next year. Irish female sport is as strong as it's ever been. It seems like every week someone is getting a medal on the world stage or has achieved something, and we hear about it a lot more too.
"2020 is obviously hugely exciting, especially with the Olympics in Tokyo and hopefully it will be a big year for me too. That can only help the 20×20 campaign grow and receive the extra push it needs ahead of the deadline for achieving all of its goals and it's great to be a part of it."