Rory McIlroy struggled with the putter on day two of the BMW Championship as he followed his opening 62 with a very inconsistent Friday to sit four shots behind the leaders heading to the weekend rounds in Philadelphia.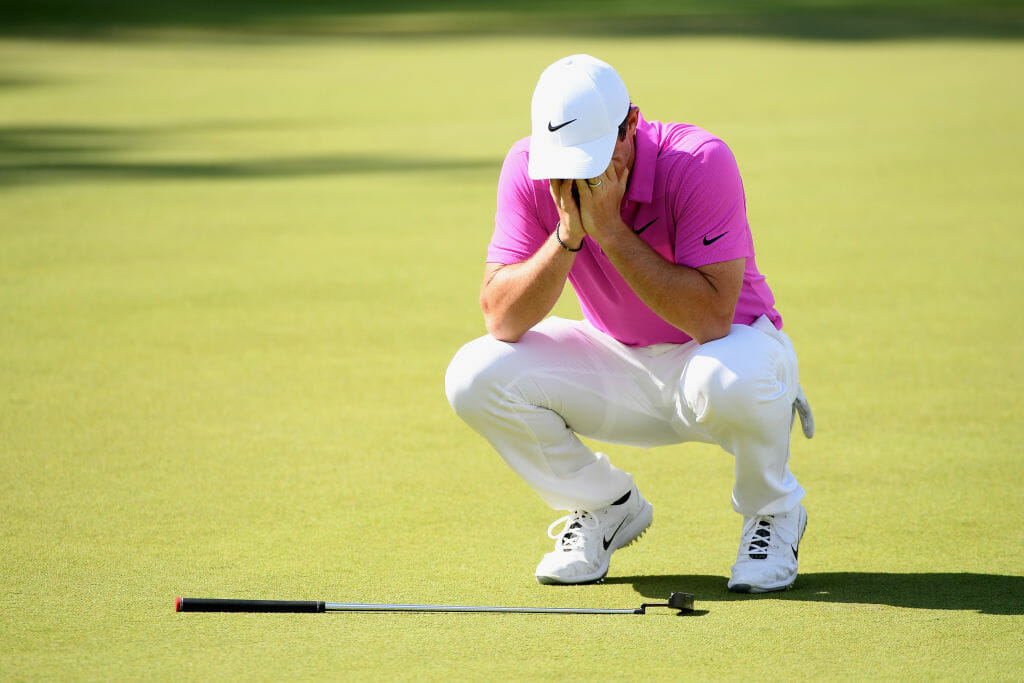 McIlroy managed just three birdies, seven less than a day earlier, in a round of a one-under par 69 to drop back into a share of seventh place at nine-under on the Aronimink course.
Xander Schauffele boosted hopes not only of defending next fortnight's Tour Championship crown but also securing the last place into the USA Ryder Cup team with a 64 for a two-shot lead on day two on the Aronmink course.

Schauffele, 24 capped his round with four birdies in his opening seven holes for a 13-under par and with Tour officials opting for early tee-times ahead of predicted afternoon storms

Schuaffele had signed for an opening 63 to trial one adrift of both Tiger Woods and McIlroy who had shot scores of 62.
Schaufelle arrived in Philadelphia lying 41st on the FedEx Cup points table and needing to finish among the to-30 this week to be assured of teeing-up in the September 20th season finale in Atlanta.

A year ago, Schaufelle shocked the golf world in recording a second victory in 2017 with success in the Tour Championship while this season he's built on that winning form finishing runner-up in both the prestigious Players Championship and joint runner-up the 147th Open Championship at Carnoustie.

Now after his first round in the third of four FedEx Cup Play-Off series events Schaufelle is projected to move to 15th on the points table that would assure him of teeing-up in Atlanta.
"It was nice to back up the 63 with a 64, something I've never done in my career so good timing for that," he said.

"I'm very aware of where I stood coming into the week. Obviously 41st isn't what we wanted coming into the week but, you know, something good here would definitely help."

But both Woods and McIlroy faded with Woods bogeying his closing two holes in a round of a level par 70 and drop to a share of 10th place while McIlroy could manage just three birdies and seven less than a day earlier in his 69 to share seventh place on nine-under par.

"They tucked the pins away today so you couldn't really get to them," said McIlroy.

"That was one thing and I just didn't hole any putts. I missed a couple of short ones. I thought they were a little slower today for some reason.
"I felt like I couldn't get the ball in the hole and when I did I was reading too much break. So, I mean I sort of battled the first sort of 12 holes and then it was nice to make a couple birdies on the way in."
But then if you take a peek at McIlroy's post-round stats he hit just eight of 14 fairways and three less than a day earlier while he recorded 32 putts and five more than on day one.

McIlroy headed into the second round of 17th Tour this year tied with Tiger Woods after the duo posted opening 62s.

But after a flood of 10 birdies on day one, the red numbers dried-up on day two of the Euro 7.7m event with McIlroy even par through nine holes and posting just the lone birdie in holing an 11-footer at the par-4 sixth hole.
McIlroy gave the shot back at the par-3 eighth hole and for a second day running three-putted the hole.
The eighth had been ranked the toughest hole on day one.
McIlroy slipped a then four shots behind Schauffele when he missed the green at the par-4 12th for a second bogey of his round but soon regained the shot in landing his second shot from 144-yards to just three for only the second birdie of his round.

He then birdied the birdied the par-5 16th in two-putting from some 15-feet.
"It was hard to stay patient as I had two good chances the first two holes and didn't make them and like sort of okay, you know, I had it three-feet on the fifth hole and missed," he said.

"Finally got one to go on six and felt like at least I got something going. Yeah, it's hard to stay patient whenever you know what you've done yesterday, also what was under today. I didn't want to lose too much ground. I should have been a few better but, hopefully, that's it."
Tony Finau, and vying with Schaufelle for the last USA 'wildcard' pick, is well-placed shooting a 64 to be tied in 10th place on eight-under par.

Also sharing 10th is Woods, who had managed an eagle and seven birdies on day one of the $9 event could muster just three birdies but undid all his good work with a pair of closing bogeys.
"Very simple today as I didn't make any putts," said Woods in a round that included 33 putts and six more than a day earlier.
"I hit a lot of beautiful putts that were on top of the edge and then obviously hit a couple bad ones on the last hole but looked like all the putts were going to go in but they didn't go in today."

Stay ahead of the game. Subscribe to our newsletter to get the latest Irish Golfer news straight to your inbox!