Cavan twins, Leona and Lisa Maguire, have turned professional under the guidance of Modest! Golf, the exclusive management company set up by compatriot Niall Horan and the Modest! Management group.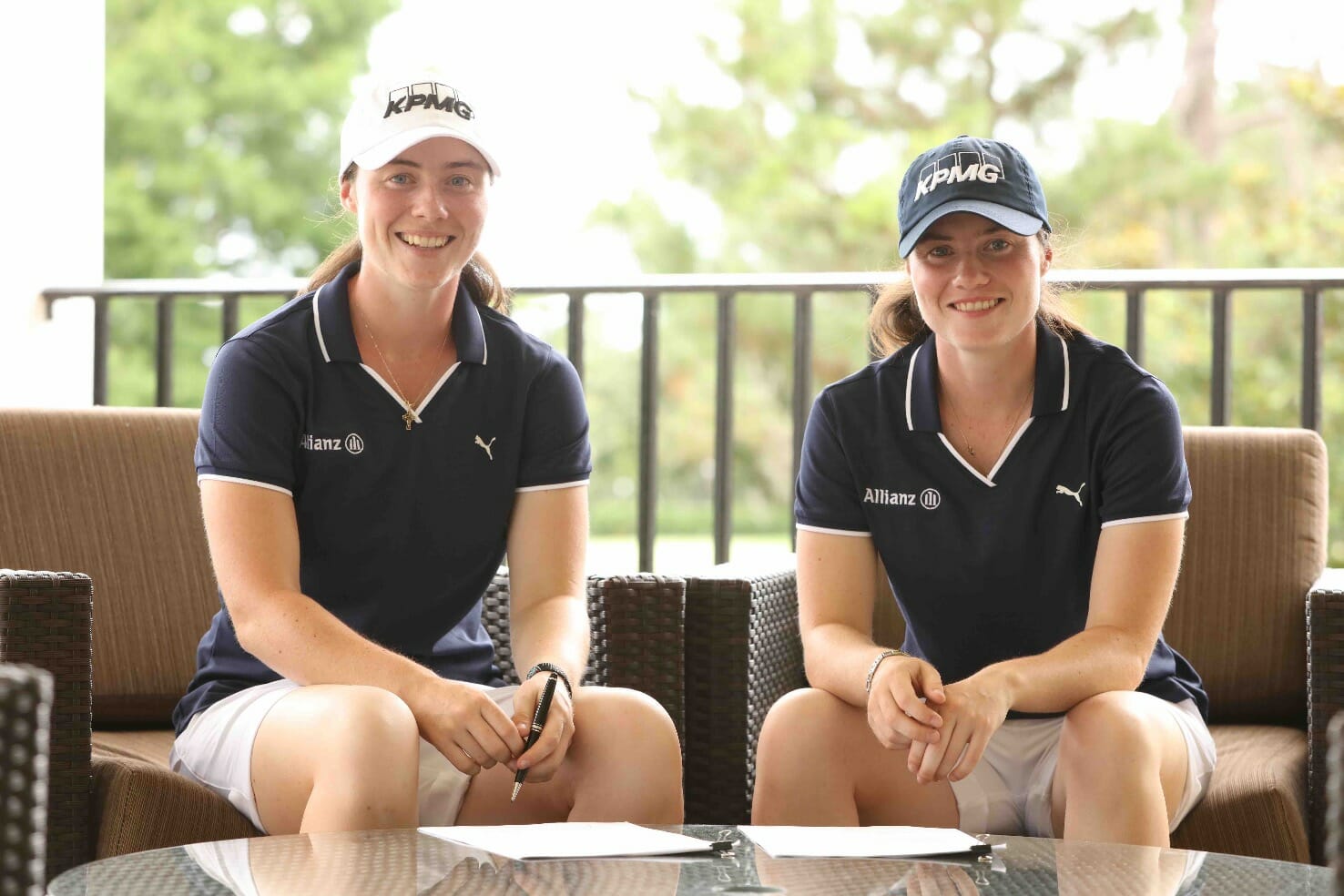 Leona, the former leading amateur player in the world who was No.1 on the World Amateur Golf Ranking for a record 131 consecutive weeks, and her twin sister Lisa are set to make their professional debuts at the Shoprite LPGA Classic in New Jersey this week and become not only the first women on the books at Modest! but the first Irish players too.

"I'm thrilled and very proud that Leona and Lisa have become the first Irish players to sign with the Modest! Golf management stable," said superstar entertainer and keen golfer Niall. "They've both represented Ireland at junior and senior amateur level with distinction and we're confident that they'll take the professional LPGA circuit in their stride and raise the profile of Irish golf even further."

Rory McIlroy sees the signing as a milestone for Irish golf. "It has been great to see both Lisa and Leona representing Irish amateur golf so well over many years. I wish them the very best as they make their professional debuts this week at the Shoprite Classic and I look forward to watching their careers unfold."

For the 23-year-old sisters, siding with a new management team as they embark on their professional journeys was not a decision that they took lightly but having sat down with the Modest! Golf team, they were soon convinced that the partnership would be the perfect fit.

"Everything we did throughout our amateur careers was very planned and there was a lot of key reasons behind choosing Modest!" Explained Leona. "We were really drawn to their strong Irish connections. Although we've spent the last number of years in America, our connection to home is something that's always been very important to us.

"They're a fairly new company too that's going to grow and be ambitious just like us as we head into the professional game. I think it's very exciting that we're going to be their first female players on their books and the first Irish ones too.

"They offer a unique perspective; we didn't want to go down the same traditional routes that some of the pros have done in the past. Modest! have a really good idea about what the future holds for the women's game and golf in general. But they're also excited to work with us and we're equally as excited to work with them."

Sister Lisa added that the allure of working with a smaller, boutique style company stood out compared to other available options.

"We didn't want to go to a bigger company and maybe get swallowed up in the beginning. We really got the impression that they cared about our games and the ambitions we had. Embarking on this new chapter we want to be surrounded by people in more of a family environment with people that have our best interests at heart. We're delighted to be on board with Modest! Golf."

The sisters join other young golfing stars of the future at Modest! Golf, including European Tour player Connor Syme; former Walker Cup player and Challenge Tour contender Jack Singh Brar; South African Christiaan Bezuidenhout; and former Italian No.1 amateur Guido Migliozzi.

"The twins are great addition to our stable of young talent and we're excited to welcome them to launch our new Ladies' Division," said Modest! Golf Director Mark McDonnell.
"We're determined to build on our strong Irish connections, which include our promotion of the Northern Irish Open on the European Challenge Tour in August this year at Galgorm Castle, plus the NI Amateur Open in July at the same venue," he added.


New Sponsors
Ahead of their professional debuts on the LPGA Tour this week Leona and Lisa Maguire have been signed by Puma Golf, Allianz and KPMG before ever hitting a ball in the paid ranks. They both remain attached to The Slieve Russell Resort where they grew up and have been members all their lives.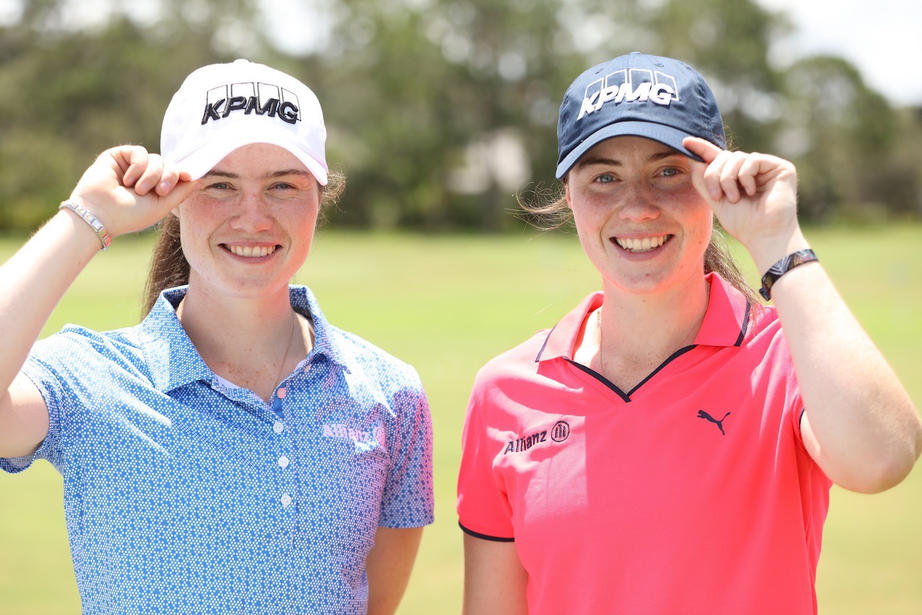 The welcomed support comes after the sisters brought their glittering amateur careers to a close in order to enter a new chapter in their golfing journey.

Having achieved just about all there was to conquer in the amateur game, it should come as no surprise that such household names have come in looking to attach themselves to such talents, but still, this backing so early in their careers is a huge boost that few others would attract, a further testament to the twins as they enter the unknown realm of professional golf.

"The less worries you have on the course the better; you can just think about playing golf," said a delighted Leona. "We've been fortunate enough to have great family around us, great coaches and the support of the ILGU all the way up through our amateur careers.

"But this is a sort of changing of the guard I suppose. Obviously our family and coaches will still be there but it's nice to have a management company in Modest! and great sponsors in Allianz, Puma and KPMG that have that belief in us and that trust in us to stand by us when making that next journey."

Both Leona and Lisa will now be dressed neck to toe in the latest Puma Golf apparel, footwear and accessories from the SS18 range, starting Friday.
The news comes after KPMG and Allianz announced that they too would be sponsoring the formidable pair as they embark on their professional journeys. KPMG, the global professional service company, has already invested in other golfing stars such as Phil Mickelson, Stacy Lewis and Ireland's Paul Dunne and were quick to put their name beside the Maguire twins too. The Maguire sisters join a stellar line up of Allianz brand ambassadors including; former Ryder Cup captain Paul McGinley, Paralympic athletes Jason Smyth, Ellen Keane and Michael McKillop and world record runner Sinead Kane.

Speaking about KPMG's sponsorship of Leona and Lisa, KPMG Managing Partner in Ireland Shaun Murphy said; "We are delighted to support both Leona and Lisa as they embark on their professional careers. We are committed to investing in young Irish talent in a range of areas and encouraging exceptional people to fulfil their potential. Leona and Lisa have already demonstrated impressive academic and sporting achievements and on behalf of everyone at KPMG I'd like to wish Leona and Lisa our very best wishes for their future careers."

Sean McGrath, Allianz Ireland CEO, said; "We are delighted to support Leona and Lisa as they begin their much anticipated professional golfing careers. Allianz exists to facilitate people to live their lives to the fullest, who knows what the future holds for Lisa and Leona but we are delighted to play a role in the next chapter of their promising careers."
Leona Maguire added, "I'm thrilled to be officially announced as an Allianz ambassador and to follow in the footsteps of Paul McGinley who also wore the Allianz logo as he started his illustrious career."

Mark Freeman, General Manager COBRA PUMA Golf said – "We are extremely pleased to be working with and supporting Leona & Lisa as they embark on their professional careers. Following the considerable success they have achieved as Amateurs they have exciting futures ahead of them, with the fantastic opportunity to make their much awaited debuts at the ShopRite LPGA Classic."

The excitement is certainly building ahead of Friday's professional debut but whatever happens in Atlantic City, the Maguire twins have secured the backing to ensure that they can be patient in their approach to success. We wish them all the best.
This feature appeared in the special edition Digital Edition of Irish Golfer on June 6th. Click cover below to launch this edition with more exclusive features on Lisa, Leona and signing for Modest! Golf Management




Stay ahead of the game. Subscribe to our newsletter to get the latest Irish Golfer news straight to your inbox!