Paul Dunne may be two years older but insists he is very much two years wiser in returning to tee-up in this week's AT&T Pebble Beach Pro-Am.
Dunne has again accepted an invitation to contest the lucrative PGA Tour event being staged along the stunning Pacific Ocean shoreline, where Graeme McDowell captured the 2010 U.S. Open.
The now 25-year old Dunne first played the event in 2016 producing a first round 67 but then crashing out with a pair of 76s.
But now the Greystones golfer has returned with a real spring in his step having captured a first European Tour event late last year at the British Masters and now ranked 80th in the world compared to his ranking of world no. 425 when last at Pebble Beach.
"It doesn't get any better than this, playing Pebble Beach," he said walking down the 18th. Of course, I was here in 2016 so hopefully this year I can make a better go at it.  I am the same person as I was back then and though I'm two years older, I am also more on the credential list so to say."
"But in contrast to two years ago, I've come here to Pebble with a real spring in my step given my achievements last year on the European Tour, though in saying that I haven't had the year this year I would have liked, so I am hoping to kick-start 2018 in a big way this week."
"The big difference to two years ago is all to do with being more comfortable in my surrounds.  I am not in awe of any situation and for me, it is just a matter of getting my game in the right shape."
"So, I am more comfortable with the life that I am living and just trying to get comfortable with my game. In saying that, I wasn't overwhelmed two years ago coming here but if I can say I was less comfortable given nothing could overwhelm me more than the 2015 Open."
"Basically, I am a little less nervous about teeing-up in tournaments and nervous as to whether I brought my golf game to the course, so my focus now is more inward than outward and just performing."
Dunne played a practice round om Tuesday afternoon in the company of Shane Lowry, starting from the first hole at Pebble Beach and instead of playing the downhill sixth, the duo cut-in on the adjoining 14th. However, in standing of the 15th tee they wondered who it was attracting some 100 spectators in the group behind.
It was defending champion, Jordan Spieth.
Lowry and Dunne were a little worried in cutting in on the current World No. 3 but then need not have worried as not once did they hold-up the four-time Major winner over the closing four holes.
Then, in making their way to the par-3 17th the duo bumped into fellow Irishman Rory McIlroy who looked unrecognisable ,capless and wearing a red t-shirt, black shorts and track shoes.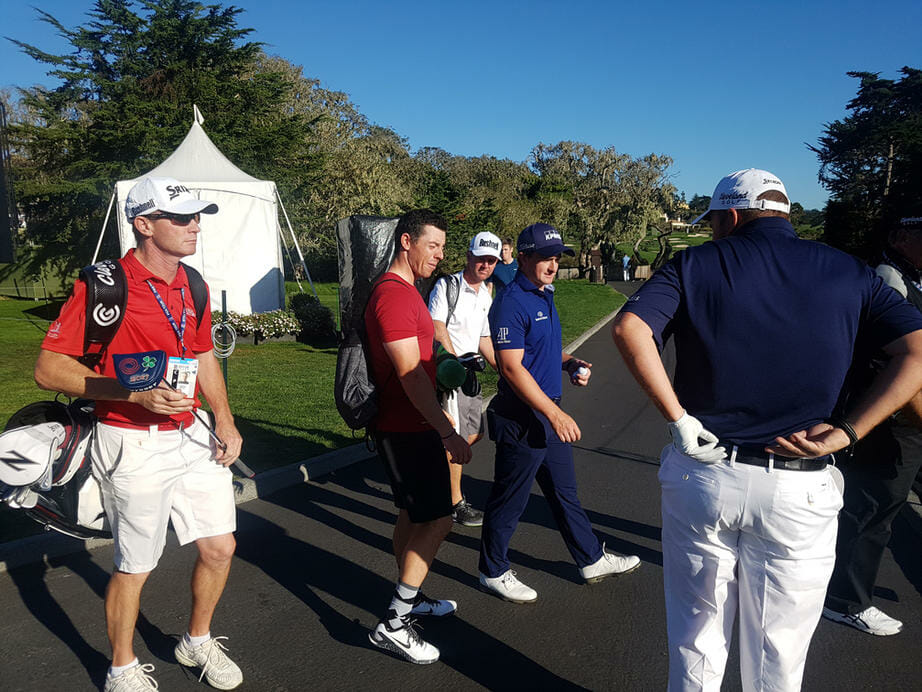 Rory McIlroy catches up with Dunne & Lowry / Image from @tourmiss
McIlroy, who was making his way to his rented house for the week alongside the fourth hole, shook hands with both Lowry and Dunne and their respective caddies and was congratulated on the recent news that the Irish Open hosting rights will be shared among the greats of Irish golf.
"Yes, good news and it's all about sharing the love, I guess," he said.
Dunne and Lowry ended their nine-holes all-square before a 'chip-off' to the right of the 18th green with Lowry winning $10 from his rival.
Dunne's immediate goal, aside from a second pro-career success, is to break into the world's top-50 and be assured of an invitation to a first Masters.
He has two big 'World Ranking' events, and hopefully three, to achieve that goal.
The first is this week with the second being in three weeks with the March 1st commencing WGC – Mexico Championship, and should he then be among the world's top-65 Dunne will gain entry into the March 21st starting WGC – Dell Match-Play Championship in Austin, Texas.
"I'm qualified for Mexico and the WGC Bridgestone in August but I have no other invitations lined-up on the PGA Tour. So I need to make the most of both this week and Mexico," he said.
"The start of the year was good and the world ranking points were good out in Abu Dhabi and Dubai, so this week and the Mexico Championship are my best tournaments to get myself into the Masters."
"So, if I can have two good weeks here at Pebble and also in Mexico, and then qualify for the Match-Play then it's going to help Masters-wise, so if I am not into the Match-Play it could mean five weeks off."
"And I know if I can put some good results on the board both here and in Mexico then that Augusta National door will open for me."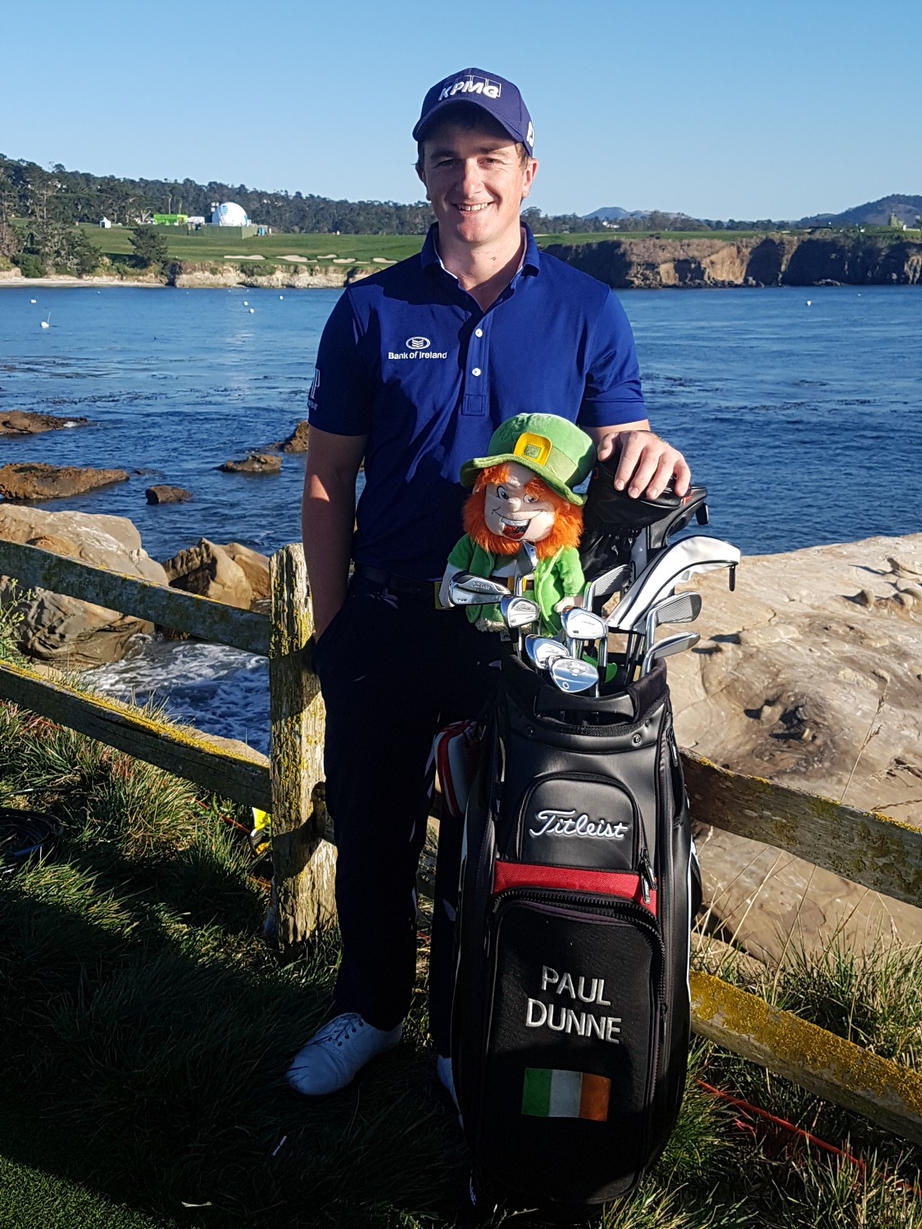 Stay ahead of the game. Subscribe to our newsletter to get the latest Irish Golfer news straight to your inbox!