In a day of sub-plots as the Senior Tour season came to a close, perhaps the most satisfying tale of all, from an Irish perspective at least, was Brendan McGovern securing his card for next season. 
The Headfort professional capped a wonderful year in fine fashion with a two under par 70 when it mattered most. The result meaning Brendan finished the season in 20th place in the Order of Merit, a great achievement having come through Q School the past two years just to compete at this level.
With class now dismissed for next year, Brendan will be guaranteed 19 events on Tour next season and the luxury of choosing a schedule, ample reward for his consistency in 2017.
And what a year he has to look forward to as well. Staysure, the UK's leading travel insurance provider and specialist in the over 50s market, will become the first ever title sponsor of the European Senior Tour in a landmark partnership.
Renamed the 'Staysure Tour', the deal includes the incorporation of a new headline event, The Staysure PGA Seniors Championship, which aims to attract a stellar field and will offer a prize fund of £400,000.
The ten-year agreement will lead to a rebranding of the European Senior Tour including all physical and media assets. It marks yet another chapter in the continued rise of the senior game in Europe, which has developed from just one significant over 50s event in 1987 to a full, international schedule of 19 tournaments next year. Welcome to the big time, Brendan McGovern!
In the race for the title itself, despite his best efforts, Mark McNulty, and in truth, the whole field, proved no match for Thailand's Thaworn Wiratchant who romped to a maiden tour title at the MCB Tour Championship, the final event of the 2017 European Senior Tour season.
McNulty was in inspired form in just his fourth Senior Tour start, firing eight birdies for his round – 20 for the 54-hole tournament in total, en route to a final day 67 and a 15 under par total.
On any given Sunday the 64-year-old's performance would've been enough to get over the line, but not today – Thailand's Wiratchant untouchable with a sizzling 62 steering him eight clear at -23. McNulty finished in a highly commendable stand-alone second spot – his second runner-up finish this season.
It's a nice reintroduction for McNulty to the Irish people, who cracked the Official World Golf Rankings top-10 for 83 weeks between 1987 and 1992. He was born in Zimbabwe but became an Irish citizen at the age of 50 in 2003 qualifying through his grandmother who was from Ballymena.
The day wasn't so good for Paul McGinley who slumped to a final day 74 and a share of 26th place.
Des Smyth carded a second successive level pour round to finish the tournament at one under par while Philip Walton ended a disappointing week with a three over par 75 and an eight over par total.
But it was Thailand's day as Thaworn Wiratchant won his first European Senior Tour title in superb fashion as he carded a final round of 62, ten under par, for a 23 under par total.
The 50 year old, in his first year on the Senior Tour, started the day in a share of the 36-hole lead with Australia's Peter Fowler, but raced clear after carding six birdies on the front nine.
He then made consecutive birdies on the 13th and 14th holes, before another gain on the 17th. The two-time Asian Tour Number One then eagled the last to finish eight strokes ahead of Ireland's Mark McNulty.
"I'm so happy to win," said Wiratchant. "To win on my first year in the Senior Tour is fantastic, there are so many good players here.
"My tee shots were great all week that really helped me win here. I felt really comfortable on this golf course, it reminded me of playing in Thailand."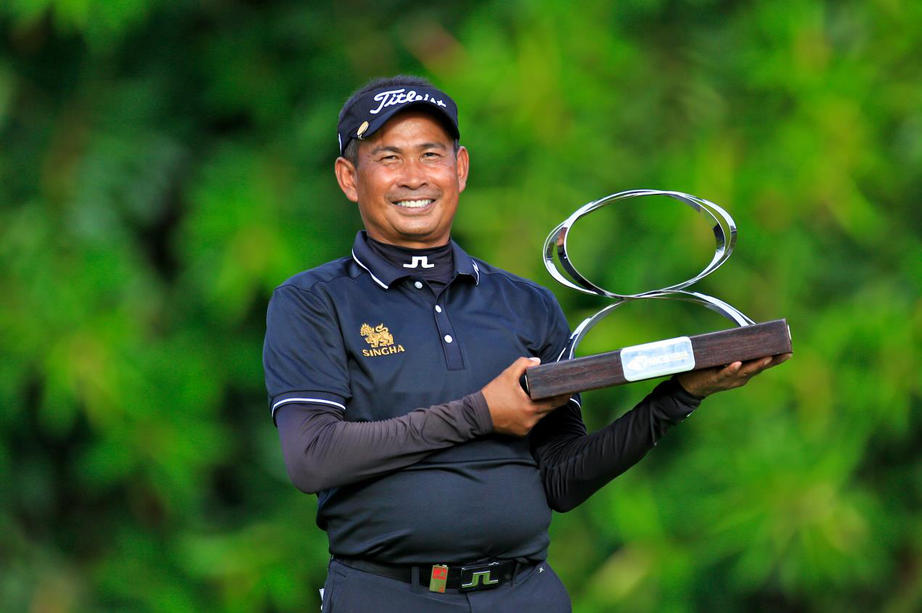 Image from Getty Images
Wiratchant's final score of 23 under par is the lowest ever at the MCB Tour Championship, and his final round 62 is also the lowest carded at this event, matched by Sweden's Jarmo Sandelin earlier in the round.
The Thai carded 24 birdies and an eagle during his rounds of 66-65-62.
Behind McNulty were Peter Fowler and Miguel Angel Martín who shared third place on 11 under par, one stroke ahead of Clark Dennis and Esteban Toledo in fifth place.
At the prize-giving ceremony, Dennis was awarded the John Jacobs Trophy for finishing at the top of the Senior Tour Order of Merit. The American recorded his seventh top five finish in just 14 starts during his rookie year on the Senior Tour – he will also receive the 2017 Rookie of the Year Award.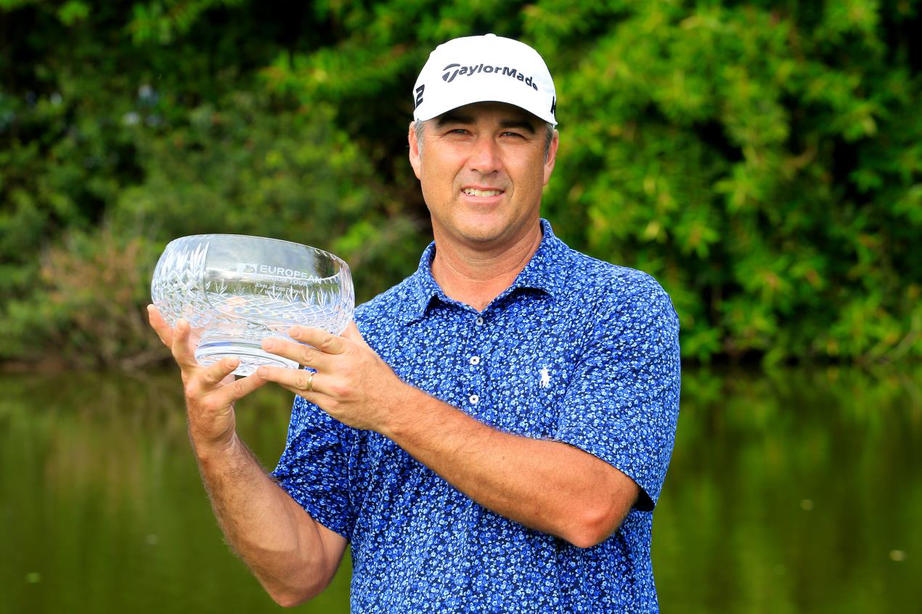 Clark Dennis. Image from Getty Images
"This year couldn't have ended any better," said Dennis. "To be the first American to win the John Jacobs Trophy feels fantastic. I couldn't have asked for anything more.
"Mauritius is an incredible place, anybody who has an opportunity to come here really should. This is a wonderful resort and I feel so fortunate to have had the chance to play this event."
Final scores:
193 T Wiratchant (Tha) 66 65 62,
201 M McNulty (Irl) 66 68 67,
205 M Martin (Esp) 69 67 69, P Fowler (Aus) 65 66 74,
206 C Dennis (USA) 68 71 67, E Toledo (Mex) 69 72 65,
207 J Sandelin (Swe) 71 74 62, A Bossert (Sui) 68 70 69, J Kingston (RSA) 69 71 67, C Williams (RSA) 71 67 69, P Broadhurst (Eng) 73 67 67,
208 G Rusnak (USA) 71 70 67, B Lane (Eng) 66 74 68,
209 T Thelen (USA) 71 68 70, R Chapman (Eng) 69 70 70,
210 M Atlevi (Swe) 70 68 72, P Linhart (Esp) 71 68 71, P Golding (Eng) 69 73 68,
211 T Lehman (USA) 73 70 68, S Luna (Esp) 72 70 69, B McGovern (Irl) 72 69 70, C Monasterio (Arg) 71 74 66, P Wesselingh (Eng) 73 71 67,
212 J Remesy (Fra) 69 71 72, J Carriles (Esp) 71 71 70,
213 D Frost (RSA) 70 72 71, P McGinley (Irl) 70 69 74, G Brand (Eng) 71 69 73, G Wolstenholme (Eng) 72 71 70,
214 S Brown (Eng) 70 74 70, G Marks (Eng) 70 69 75, I Woosnam (Wal) 75 71 68, M Mouland (Wal) 74 71 69,
215 D Smyth (Irl) 71 72 72, S Tinning (Den) 71 72 72, A Oldcorn (Sco) 73 71 71, P Wilson (Eng) 75 71 69,
217 B Conser (USA) 71 72 74, P Eales (Eng) 74 72 71, P Price (Wal) 71 73 73,
218 S Dodd (Wal) 75 73 70, M Farry (Fra) 74 73 71,
220 P Baker (Eng) 71 78 71,
221 A Sherborne (Eng) 73 74 74, R Drummond (Sco) 73 75 73, J Sallat (Fra) 73 75 73,
224 P Walton (Irl) 76 73 75,
226 C Suneson (Esp) 76 76 74, G Brand Jnr (Sco) 72 74 80,
228 M Mackenzie (Eng) 77 79 72

Stay ahead of the game. Subscribe to our newsletter to get the latest Irish Golfer news straight to your inbox!