Paul McGinley and Headfort's Brendan McGovern lead the Irish charge at the Dutch Masters on the European Seniors Tour after the opening round.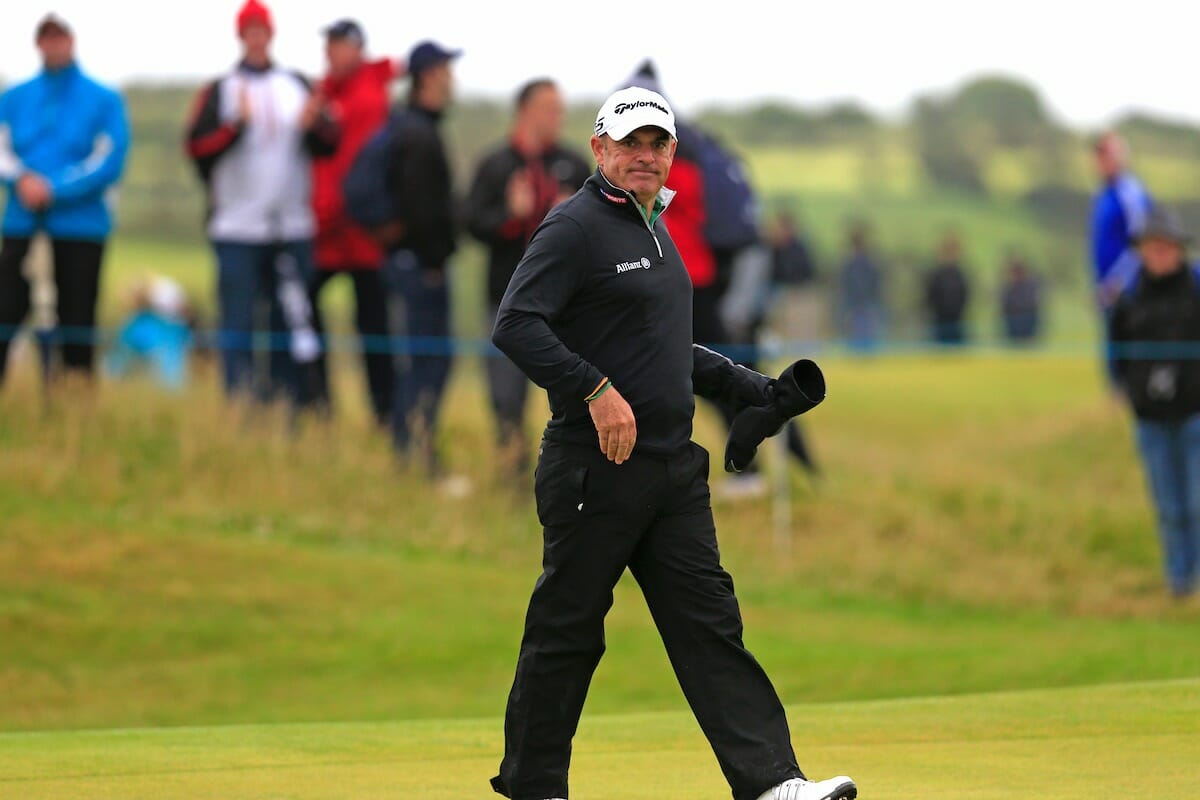 Image from Golffile

McGinley & McGovern are two players in a 13-way tie for 6th place at The Dutch after they carded one over par 72's to leave them three shots off the pace set by America's Clark Dennis who fired an opening round of 69 and holds a one stroke lead overnight.

Already a winner on the European Senior Tour this year, claiming the Senior Italian Open presented by Villaverde in September, Dennis carded three birdies to move clear in testing conditions in Holland.

"That was a battle," said Dennis. "It's a difficult golf course and the conditions were difficult too. There are no easy holes out there, you're playing conservatively into the middle of the green trying to make par. It's a very good course, you won't find a better golf course. It's rewarding, but it also punishes bad shots – you can't let your guard down."

Ireland is well represented at the event as Des Smyth carded a 75 to sit just 6 shots off the lead while Denis O'Sullivan returned an 81 and Philip Walton an 82.


Scores after round one:

69 C Dennis (USA) ,
70 S Dodd (Wal) , C Mason (Eng) , A Bossert (Sui) ,
71 P O'Malley (Aus) ,
72 G Orr (Sco) , P McGinley (Irl) , M Harwood (Aus) , C Monasterio (Arg) , M Davis (Eng) , P Golding (Eng) , G Wolstenholme (Eng) , C Suneson (Esp) , B Conser (USA) , A Franco (Par) , B McGovern (Irl) , J Sandelin (Swe) , P Wilson (Eng) ,
73 A Sherborne (Eng) , G Brand (Eng) , P Eales (Eng) , A Oldcorn (Sco) , P Wesselingh (Eng) ,
74 J Carriles (Esp) , R Drummond (Sco) , M Mackenzie (Eng) , B Lane (Eng) ,
75 J Kingston (RSA) , M Atlevi (Swe) , D Smyth (Irl) , C Williams (RSA) , S Tinning (Den) , P Linhart (Esp) ,
76 M Farry (Fra) , T Thelen (USA) , K Tarling (Can) , S Brown (Eng) , S Luna (Esp) , M Mouland (Wal) ,
77 N Job (Eng) , G Rusnak (USA) , C Rocca (Ita) , G Brand Jnr (Sco) , S Richardson (Eng) , P Mitchell (Eng) ,
78 A Saddington (Sco) , G Marks (Eng) ,
79 T Giles (Eng) ,
81 D O'Sullivan (Irl) ,
82 P Walton (Irl) ,
85 J Sallat (Fra) ,
87 G Emerson (Eng) , J Quiros (Esp) , R Scheffer (Ned)

Stay ahead of the game. Subscribe to our newsletter to get the latest Irish Golfer news straight to your inbox!