Close friend Graeme McDowell and six-time Major winning Nick Faldo believe newly married Rory McIlroy's golfing career big test will come when he and his new wife elect to have children.
McIlroy will marry American-born Erica Stroll this weekend in a glittering ceremony at Ashford Castle in Co. Mayo.
Among the golfer's present will be Ryder Cup captains, Paul McGinley and Darren Clarke along with Padraig Harrington, Shane Lowry and McIlroy's caddy J P Fitzgerald.
McIlroy's long-time coach, Michael Bannon will be attendance and three of McIlroy's closest friends in Harry Diamond, Mitchell Tweedie and Ricky McCormack.
And you can expect the likes of Dermott Desmond and J P McManus to grace to ceremony.
By coincidence McDowell had his entire family of five out last week at Hilton Head for a first time since his son, Wills was born last September along with his wife's daughter from her first marriage.
And with his wife, watching on, and his son saying "Dadda, Dadda", McDowell spoke how he felt McIlroy would deal with marriage and his golf.
"Firstly, it was very good of Rory to extend Kristin and I an invitation but he knows all too well my golf comes first and I need to play this week in Texas," he said.
"Kristin and I sent them a nice gift to their house and unfortunately you can't do everything as the Texas Open has been on my schedule for most of the year but then we will have many opportunities to catch-up with them.
"But getting married is not a bigger milestone in your life as having kids.
"When you start having kids it changes your outlook and perspective and your priorities, I suppose.
"So, I don't think getting married for Rory is going to be that big a deal for him golf-wise, and it will be when they decide to have children that will be the big change for him.
"And in saying that, I could not be happier with my life as I have a great little crew here as you can see, and it is one of the first weeks we have had a chance to travel out to a tournament given the little man here is still so young.
"It is tough to travel with them and it is not fair on them as they don't know what you what you are doing and they don't care."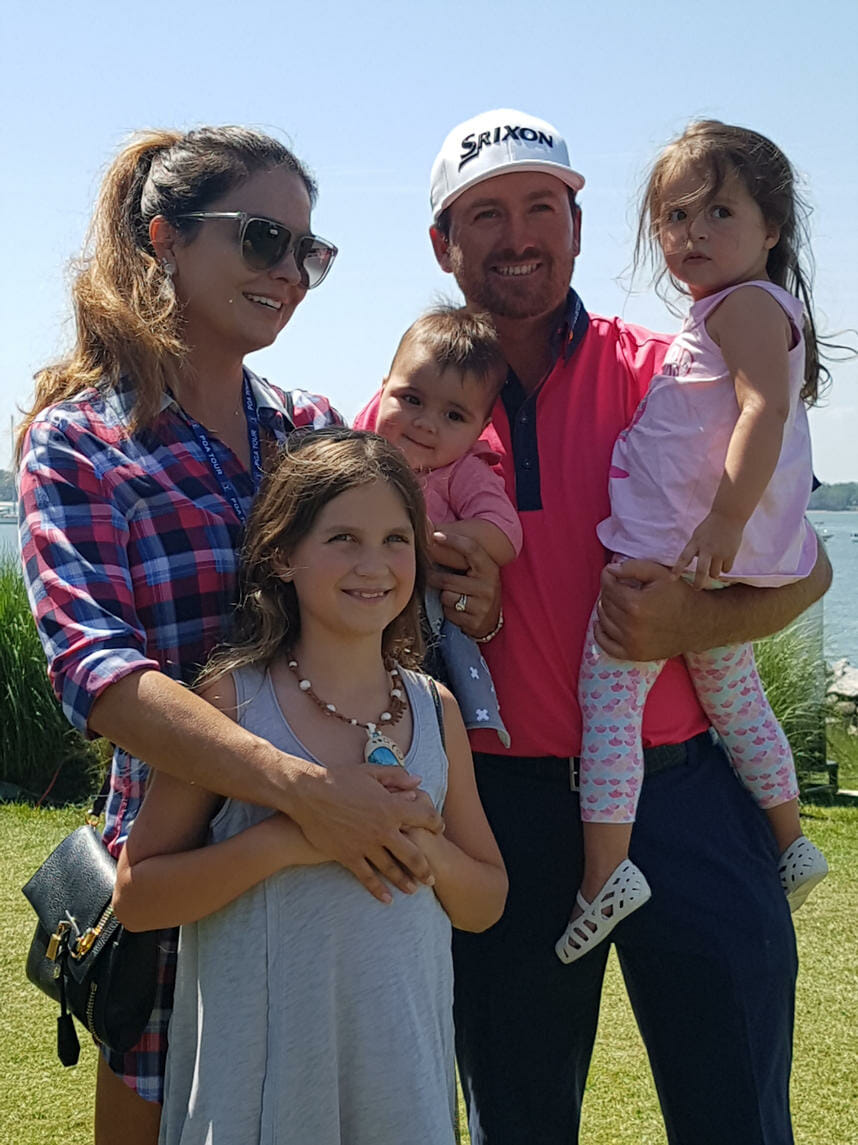 Above – The McDowell family this week at Hilton Head. Wife Kristin, son Wills and daughter Vale in McDowells arms and a daughter by Kristins first marriage
Sir Nick Faldo has the same views as McDowell and despite being married three times and fathering four children, and with his two youngest and daughters, Georgia and Emma also at Hilton Head last week.
"It's a lonely lie to be honest the life of a professional golfer and it is going to be great and exciting times for Rory to now be married and have a companion there by his side," said Faldo.
"They will now be there for each other and there will be bambinos on the way and all that sort of thing.
"But that is when it gets tough when babies come along and then when they get old enough to start going to school.
"That will be the hardest test as dad will be on the road competing and not being there every night for dinner or what have you.
"Though knowing Rory, he is clearly in a happy place and looking at him last week, I thought he would go close to finally winning that green jacket.
"He got that wicked kick on 18 on Friday that was two shot swing against him but, and as I've said before, I still expect him to achieve that Masters goal in his career and even now as a married man."

Stay ahead of the game. Subscribe to our newsletter to get the latest Irish Golfer news straight to your inbox!