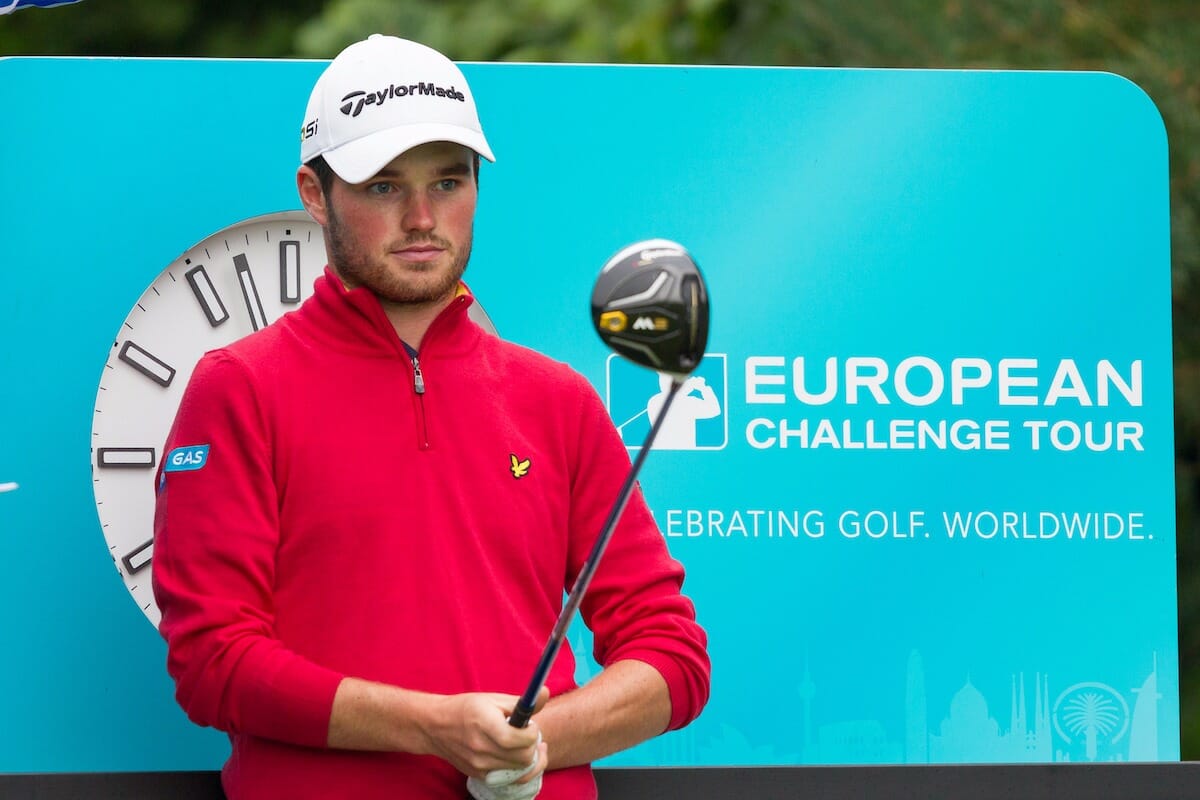 Cormac Sharvin recovered from a bogey, bogey start to his second round at the Barclays Kenya Open to card a 68 and lie just five shots off the lead at the halfway point.

The Ardglass man's second round included five birdies and an eagle on a low scoring day in Kenya.
Michael Hoey followed up his opening 70 with a 69 on day two to lie in a tie for 36th on three under with Gary Hurey a further shot back after a 72. Chris Selfridge crashed out carding two sevens on his front nine on his way to posting 74 and missing the cut by three.

At the top of affairs Adrien Saddier fired a flawless second round of 62 to carry a one-shot lead into the weekend of the Barclays Kenya Open, the first tournament of the new European Challenge Tour season.

On a day packed with drama, with an early albatross and a prize-winning hole-in-one, the Frenchman was irresistible around Nairobi's Muthaiga Golf Club, mixing seven birdies with an eagle to move to 12 under par as he searches for a second victory in less than a year.
The 24 year old triumphed in last season's Fred Olsen Challenge de España before experiencing heartbreak at the season-finale NBO Golf Classic Grand Final as he fell narrowly short of securing European Tour graduation, finishing 17th in the Road to Oman Rankings.

However, he gave notice of his class at this level once again with the round of the week so far, and is hopeful he can carry this excellent form into the weekend.
"I played very well. I was very close to the pins so I had a lot of birdie chances and I chipped in on the 18th for eagle – I could have shot even lower but nine under par is a very good score.
"It was quite a basic chip on 18, I just wanted to carry the fringe and let it roll and it went straight into the hole, so I was very happy with that.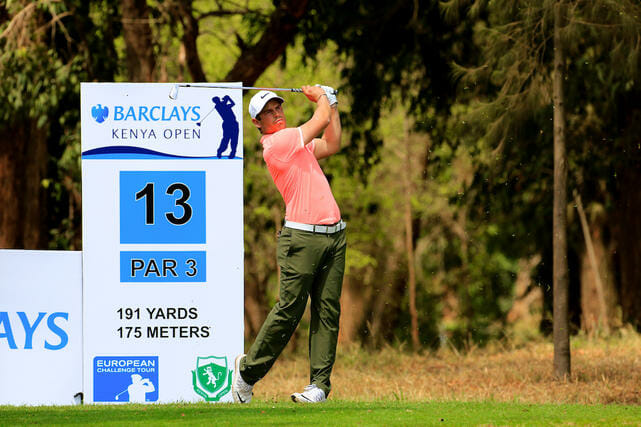 "It's a very nice course and there are different ways you can approach it. You can be aggressive with the driver or, like me, you can hit a lot of long irons off the tee – the key is just to hit the fairway because then you can have a lot of birdie chances.

"To have won once gives me confidence for the weekend because I know how to do it, I just need to try to do it again this week – keep playing well and make lots of birdies.
"I just tried to shoot under par and see what would happen and tomorrow and Sunday I need to just keep hitting fairways and greens and seeing if the putts go in."

Finland's Kalle Samooja is Saddier's closest rival after a second round of 66 took him to 11 under par at the halfway point, while his compatriot Oliver Lindell also made headlines on day two with a hole-in-one at the 13th.
The Barclays Kenya Open is part of the Challenge Tour schedule for the 25th time this year but the event's own history dates back far longer, first taking place in 1967.
In the 50 years since, a prize has been offered for a hole-in-one at every tournament but nobody has managed to ace the required hole – until Lindell found the cup with a seven iron from 189 yards to drive away with the keys to a new car.

"It was straight at the flag," said the 18 year old. "It landed just in front a bit and rolled to the hole. It was a great thing for me in this tournament because it helped me to make the cut.
"It's been an unbelievable week so far and I now hope that I will play well over the weekend."
Welshman Rhys Davies holds third place on ten under par while England's Aaron Rai is one shot further back, with Jacques Kruyswijk and Matt Wallace tied for fifth on eight under par.
Kenyan legend Dismas Indiza thrilled the local crowds with an impressive round of 66 as the 48 year old made the cut in his home event for the fifth year in succession.

Two of his compatriots also made it to the weekend, including Riz Charania, who was aided greatly by an albatross on his first hole of the day, as the cut ultimately fell at one under par.

Scores after round 2:
130 A Saddier (Fra) 68 62,
131 K Samooja (Fin) 65 66,
132 R Davies (Wal) 65 67,
133 A Rai (Eng) 67 66,
134 M Wallace (Eng) 68 66, J Kruyswijk (RSA) 66 68,
135 C Sharvin (Nir) 67 68, M Delpodio (Ita) 69 66,
136 J Garcia Pinto (Esp) 70 66, C Doak (Sco) 66 70, S Fernandez (Esp) 66 70, O Wilson (Eng) 67 69, L Gagli (Ita) 67 69, M Lampert (Ger) 69 67, M Baldwin (Eng) 67 69, A Meronk (Pol) 67 69, J Ahlers (RSA) 64 72,
137 R James (Wal) 69 68, F Laporta (Ita) 68 69, J Kunzenbacher (Ger) 68 69, B Robinson (Eng) 67 70, J Dantorp (Swe) 65 72, J Rutherford (Eng) 70 67,
138 G Boyd (Eng) 67 71, D Van Driel (Ned) 70 68, O Lindell (Fin) 73 65, C Sordet (Fra) 71 67, C Lee (Sco) 67 71, N Lindstrom (Swe) 66 72, R Santos (Por) 70 68, T Murray (Eng) 67 71, M Lafeber (Ned) 66 72, B Virto (Esp) 67 71, D Indiza Anyonyi (Ken) 72 66, L De Jager (RSA) 68 70,
139 M Kinhult (Swe) 72 67, R McGowan (Eng) 71 68, M Orrin (Eng) 69 70, T Shadbolt (Eng) 69 70, M Hoey (Nir) 70 69, R Dinwiddie (Eng) 71 68, M Laskey (Wal) 70 69,
140 O Lengden (Swe) 65 75, S Connor (Eng) 71 69, C Braeunig (Ger) 71 69, J Hansen (Den) 72 68, G Hurley (Irl) 68 72, B Neil (Sco) 73 67, J Suri (USA) 72 68, R Charania (Ken) 70 70, A Wennstam (Swe) 66 74, C Griffiths (Eng) 70 70, R Evans (Eng) 70 70, E Dubois (Fra) 70 70, D Law (Sco) 71 69, S Ngige (Ken) 67 73, M Lundberg (Swe) 72 68,
141 M Madsen (Den) 69 72, W Besseling (Ned) 67 74, P Widegren (Swe) 68 73, D Van Tonder (RSA) 74 67, C Mivis (Bel) 69 72, O Stark (Swe) 65 76, B Evans (Eng) 68 73, N Johansson (Swe) 70 71,
142 M Ovesen (Den) 67 75, R Ainley (Ken) 71 71, P Howard (Eng) 68 74, R De Smidt (RSA) 68 74, E Van Rooyen (RSA) 72 70, C Berardo (Fra) 73 69, N Geyger (Chi) 72 70, S Engell Andersen (Ken) 71 71, S Forsström (Swe) 72 70, P Tarver-Jones (Eng) 69 73, B Easton (RSA) 67 75, J Van Der Vaart (Ned) 72 70, D Huizing (Ned) 71 71, A Chesters (Eng) 67 75,
143 J Brun (Fra) 75 68, D Odhiambo (Ken) 70 73, A Odoh (Ngr) 69 74, R Saxton (Ned) 68 75, E España (Fra) 71 72, J Lando Casanova (Fra) 73 70, A Rozner (Fra) 71 72, G Porteous (Eng) 74 69, A Pavan (Ita) 70 73, P Maddy (Eng) 71 72, F Maccario (Ita) 72 71,
144 J Roos (RSA) 70 74, C Selfridge (Nir) 70 74, J Makitalo (Fin) 69 75, M Ford (Eng) 72 72, F Bergamaschi (Ita) 71 73, N Ravano (Ita) 73 71, J Guerrier (Fra) 73 71, A Nandwa (am) (Ken) 69 75,
145 G Snow (Ken) 73 72, S Ferreira (Por) 68 77, R McCarthy (Aus) 69 76, M Haastrup (Den) 72 73, C Ford (Eng) 70 75, M Kramer (Ger) 72 73, V Riu (Fra) 72 73, C Bull (Eng) 68 77, S Brown (Eng) 72 73, O Farr (Wal) 72 73, H Joannes (Bel) 72 73, M Eggenberger (Sui) 71 74,
146 A Connelly (Can) 72 74, D Wakhu (Ken) 75 71, R Kellett (Sco) 75 71, A Schwartz (Fra) 75 71, N Rokoine (Ken) 72 74, F Daux (Fra) 72 74,
147 B Rusch (Sui) 73 74, K Hesbois (Bel) 71 76, V Perez (Fra) 74 73, K Timbe (Ken) 73 74,
148 R Sciot-Siegrist (Fra) 74 74, A Tadini (Ita) 72 76, A Velasco (Esp) 72 76, B Simwa (Ken) 81 67, S Jeppesen (Swe) 73 75, J Senior (Eng) 74 74, E Di Nitto (Ita) 75 73, N Ngugi (Ken) 74 74, G Kubwa (am) (Ken) 77 71,
149 H Casey (Eng) 71 78, J Sjöholm (Swe) 77 72,
150 J Girrbach (Sui) 69 81, M Williams (Zim) 69 81, C Wangai (Ken) 75 75, M Fenasse (Fra) 74 76, S Shah (am) (Ken) 76 74,
151 S Heisele (Ger) 71 80, J Okello (Ken) 78 73,
152 C Blomstrand (Swe) 78 74, J Madoya (Ken) 78 74, D Opati (Ken) 74 78, N Mudanyi (Ken) 76 76, F Wanzala (Uga) 74 78, N Simwa (Ken) 75 77,
153 J Allan (Eng) 79 74, D Foos (Ger) 75 78,
154 T Omuli (Ken) 72 82, J Karanja (Ken) 74 80,
155 N Molell (Tan) 79 76,
157 J Karichu (am) (Ken) 78 79,
159 B Njoroge (Ken) 75 84,
161 K Bollo (am) (Ken) 74 87,
167 A Is-Haq (am) (Ken) 84 83,
** S Soderberg (Swe) 70 WD, M Omondi (Ken) DQ 0, B Hellgren (Swe) RT