Simon Thornton, Neil O'Briain, Colm Moriarty and Cian McNamara have all earned their right to tee it up at this week's Irish Open after coming out on top at qualifying in Rosapenna.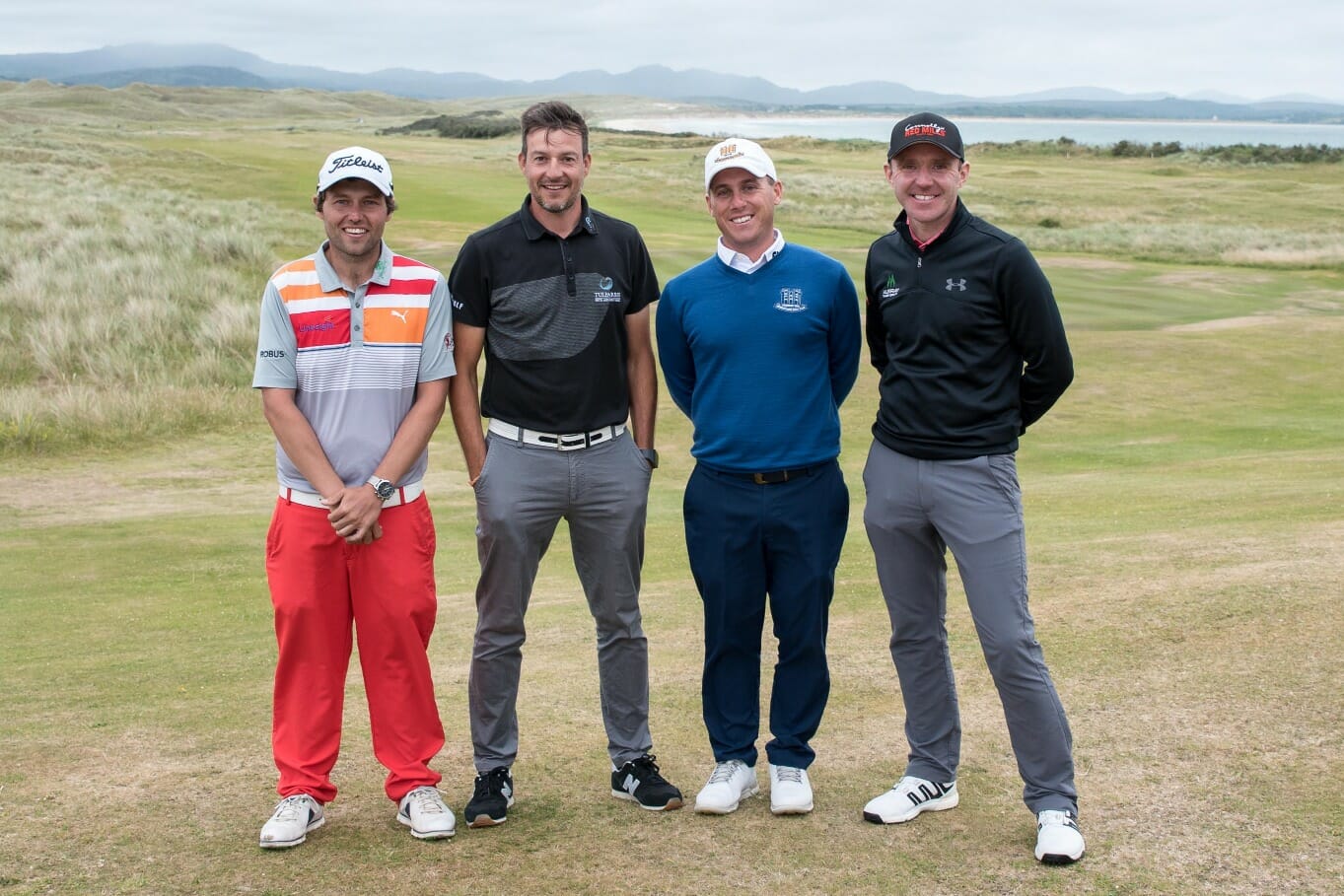 Above – the four happy qualifiers for the DDF Irish Open – Image by Martin Fleming Photography

With four places up for grabs across the tight, treacherous Donegal layout, the quartet advanced against a star studded field with McNamara's faith decided by a sudden-death playoff.

The Limerick golfer will tee it up with the stars of world golf at Ballyliffin after overcoming Waterford's Kevin Phelan for the last spot in the 7 million euro Rolex event.

The Monkstown professional fired a final round 73, to finish behind winner Simon Thornton, second placed Neil O'Briain and Colm Moriarty.
Thornton's one-under 71 coupled with his 67 on day one was enough to pip Sunshine Tour Rookie of the Year O'Briain to the first place prize pot of six thousand euro.

The quartet will hope to take advantage of the forecasted balmy conditions with each having shown promise in their own right already this year. It will be McNamara's third Irish Open appearance while both O'Briain and Moriarty enjoyed regional circuit wins last month.

However it's Sandy Hills Links winner Thornton who'll be most hopeful of all, with the former European Tour winner, now playing out of Tulfarris, surely brimming with confidence ahead of his return to the main stage.

"It was a battle but I'm used to that from practicing at Newcastle," said Thornton. "Overall, I played two good rounds. I played lovely, only one sloppy shot which cost me a bogey on the last but I committed to everything. I'm delighted obviously."

The fourth place at Ballyliffin went to Cian McNamara who hung on to beat Europro Tour regular, Kevin Phelan on the second play-off hole after both finished the event on two under par.

"I haven't been in that situation for a long time so I just said that I need to stick to my game plan and not look at what is going on around me," said McNamara.

"I stuck to my plan and I holed a crucial putt on the 17th in normal play. In the play-off I hit the same clubs off the tees. I was unfortunate to three-putt the opening play-off hole and then I got lucky on the second play-off hole when Kevin just tugged his second shot into a bad lie."

"It is a huge boost, it's not something I thought I would ever get playing in again because I really haven't had a lot of time to put into my game but now I have qualified for another Irish Open with the wife caddying, it's been a great couple of days."

All four qualifiers won't have long to wait for their chance to play for some potentially life changing money, with today being the first official practice day for the Dubai Duty Free sponsored event.
Dubai Duty Free Irish Open Qualifier
hosted by The Rory Foundation
at Rosapenna Golf Hotel (Par 71)
Leading scores
139 Simon Thornton 68 71 (Won 1st place €6,000 at first extra hole), Neil O'Briain 67 72
140 Colm Moriarty 67 73
142 Cian McNamara 69 73 (Won 4th spot at 2nd extra hole), Kevin Phelan 72 70
143 Stuart Grehan 70 73, David Higgins 69 74
144 Mark Staunton 70 74, Robert Giles 70 74
145 Mark O'Sullivan 74 71, Brian Casey 74 71, Jake Whelan (AM), Rory McNamara 70 75
146 Brian McElhinney 71 75
147 Michael McGeady 77 70, Jack Howard 73 74 , Conor O'Rourke 72 75
148 Reece Black (AM) 78 70, Glen Robinson 77 71, Joe Dillon 75 73
149 Andy Hogan 76 73
150 Steven Quinlan 78 72, Richard Weldon 76 74, David Barry 75 75
151 Conor Coyne 76 75, Paul O'Neill 76 75, David Carey 76 75, Padraig Dooley 75 76, Alec Myles 74 77, Niall Kearney 74 77, James Sugrue (AM) 71 80
152 Andrew Peoples 77 75, Michael O'Shea 76 76, James Quinlivan 76 76, Richard Kilpatrick 75 77, Seamus Duffy 74 78, John- Ross Galbraith 73 79, Dara Lernihan 73 79
153 Tim Rice Ross 81 72, Peter Martin 80 73, Jimmy Bolger 78 75, Adam Dunmore 75 78, Alan Dunbar 75 78
154 Damian Mooney 82 72, Gary Madden 81 73 , Shane Jenkinson I 78 76, Stephen McCarthy 77

Stay ahead of the game. Subscribe to our newsletter to get the latest Irish Golfer news straight to your inbox!