Michael McGeady made it back-to-back successes on the PGA in Ireland circuit with victory in the 36-hole Cairndhu Pro-Am.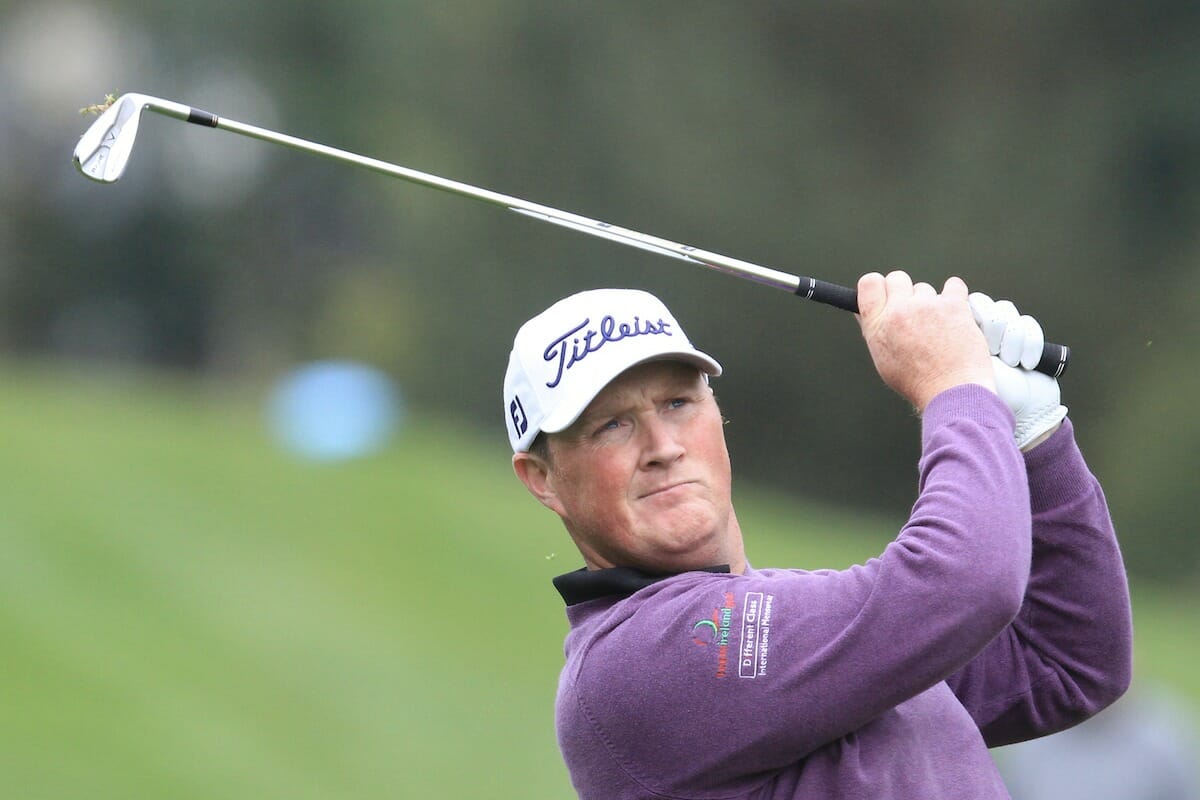 Above – Michael McGeady – Image by Golffile.ie Thos Caffrey

Trailing by two shots as the final round got underway, Michael fired a three under par 67 to top the leaderboard on five under par at the Co. Antrim venue. Overnight leader Colm Moriarty (Drive Golf Performance) and David Higgins (Waterville Links) finished in a tie for second on four under.
Michael opened his campaign with a 'disappointing' two under par 68. The 39-year-old had streaked out to six under par after 10 holes (he started his round at the 10th) but slipped up on the way home.

"To be honest I actually played better on the first day," said Michael who won the recent Walled City of Derry/Foyle Pro-Am.
"After getting to six under I made two silly bogeys. I got one back with a birdie on the seventh (my 16th) but I made a seven at the par four eighth and wasted three shots there. You are sort of hitting it over the corner of out of bounds. I didn't quite hit it that great.
"It's disappointing to do that on the 17th hole of the day because you don't have time to make it back up again. I played much better than the two under score I finished with."

Moriarty led the way at the close of play on day one with a 66 (-4). Ted Higgins (www.tedhiggins.com) and Simon Thornton (Simon Thornton Golf) shared second on three under par with Michael back in a share of fourth, two shots off the pace.
"It sounds a bit like a repeat of the win up in Derry but on the second day I holed out really well," continued Michael.

"I holed from five and six feet consistently to save par and make a few birdies. They are so important to keep a round going."
Out in two under 32, Michael came home in one under 35 with birdies at 17 and 18 proving decisive in getting him over the line.
He continued: "I went for a lesson with Donal Scott in the middle of May and I noticed an improvement in my putting straight away.
"It left me for a while, but I just kept working on it and kept practicing. Hopefully, I am not jinxing myself now but I feel like I have discovered something in my putting which has helped me, especially to keep the scores going."
The team event was won by Richard Kilpatrick (Banbridge) and his amateur partners, Paul Steinson, Stephen Watts and Hugh Logue with 175pts.
RESULTS – Cairndhu Pro-Am (Par 70)
1 – M McGeady 68/67 (-5)
T2 – C Moriarty (Drive Golf Performance Ltd) 66/70 , D Higgins (Waterville Golf Links) 70/66 (-4)
T4 – D Mooney (Damian Mooney Golf) 68/69, S Thornton (Simon Thornton Golf) 67/70 (-3)
T6 – B Jnr McCormack (Edenderry Golf Academy) 68/70, D Beattie (Deer Park Hotel Golf & Spa) 70/68 (-2)

Stay ahead of the game. Subscribe to our newsletter to get the latest Irish Golfer news straight to your inbox!