The Leinster Women's and Girls' Teams began the defence of their Interprovincial titles at Castle Dargan Golf Club, Co. Sligo today.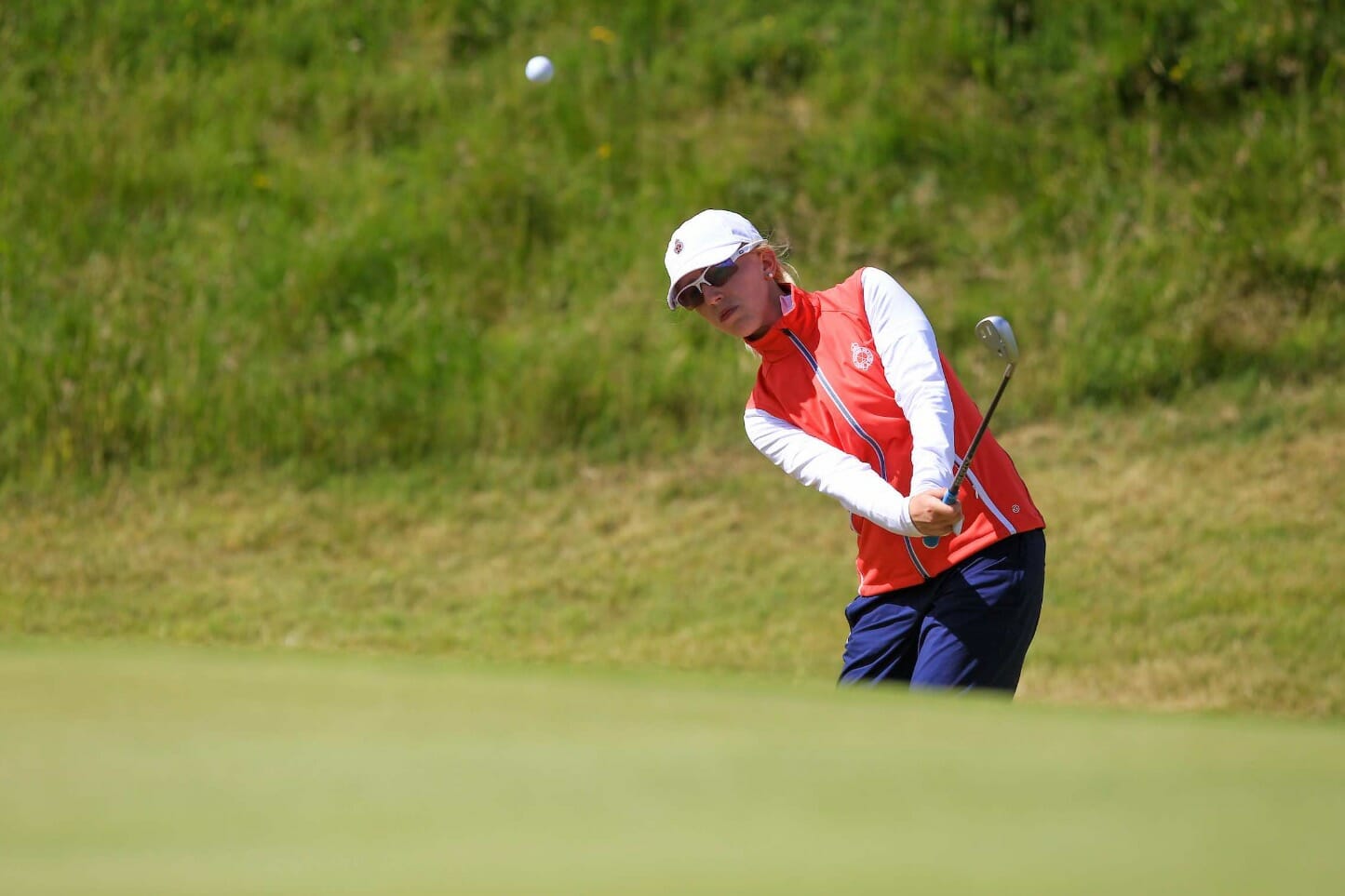 Lucy Simpson / Image courtesy of ILGU/Golffile

A clean sweep for team Leinster in the girls morning foursomes matches was followed by a sole win for the Connacht side from Roscommon's Chloe O'Connor and a halved match between Canice Screen and Annabel Greham leaving the final score of 6.5 – 1.5.

Meanwhile the tie between the Ulster and Munster girls was too close to call at lunch time but wins for Anna McVicker, Olivia McCrystal and Rebekah Gardner in the singles confirmed a 5 – 3 win for the northern side.

The strong pairing of Shannon Burke and Anne McCormack led out the Connacht Women's team and posted the first blue point as they overcame Meadhbh Doyle and Molly Dowling 3&2. Burke continued her strong run of form and again overcame Doyle in the afternoon, 6&4. Ultimately the Leinster side would get the better of Connacht but only by the narrowest of margins.

The Ulster Women's team, who won the event at Castledargan in 2013, finished their opening day on a high also as they overcame Munster by 3 matches. While Sarah Cunningham (Ennis) won both her foursomes and singles matches the strong Ulster side claimed 5.5 points overall to edge ahead.

Day 2 will see Leinster now take on Munster while Connacht face Ulster.

Schedule
Tuesday 10th July: Ulster vs. Munster; Connacht vs. Leinster
Wednesday 11th July: Leinster vs. Munster; Connacht vs. Ulster
Thursday 12th July: Munster vs. Connacht; Ulster vs. Leinster

Women's Interprovincial Matches Day 1
ULSTER (5.5) –V- MUNSTER (2.5) (Ulster names first)
Women's Foursomes
Jessica Ross & Lucy Simpson beat Rachel Thompson & Catriona Griffin 5&4
Louise Coffey & Chloe Weir lost to Sarah Cunningham & Lisa O'Shea 1hole
Niamh McSherry & Maeve Cummins beat Sinead Sexton & Aideen Walsh 2&1
Women's Singles
Louise Coffey beat Paula Walsh 1hole
Emma Forbes lost to Sarah Cunningham 3&2
Lucy Simpson beat Lisa O'Shea 1hole
Niamh McSherry beat Sinead Sexton 5&4
Jessica Ross halved with Aideen Walsh

CONNACHT (3) –V- LEINSTER (5) (Connacht names first)
Women's Foursomes
Shannon Burke & Anne McCormack beat Meadhbh Doyle & Molly Dowling 3&2
Maeve Kelly & Kate Gallagher lost to Deirdre Smith & Mary Doyle 6&4
Claire Staunton & Sarah Burke halved with Ciara Casey & Georgia Carr
Women's Singles
Shannon Burke beat Meadhbh Doyle 6&4
Anne McCormack halved with Ciara Casey
Maeve Kelly lost to Clodagh Walsh 2holes
Hilary Hall lost to Georgia Carr 2&1
Sarah Burke lost to Molly Dowling 1hole

Girls' Interprovincial Matches Day 1
ULSTER (5) –V- MUNSTER (3) (Ulster names first)
Girls Foursomes
Katie Poots & Anna McVicker beat Niamh O'Dwyer & Leanne O'Shea 3&2
Rebekah Gardner & Olivia McCrystal lost to Anna Dawson & Corina Griffin 4&2
Molly O'Hara & Ellen Rodgers halved with Jemma Barry & Shannon Hegarty
Girls Singles
Katie Poots halved with Niamh O'Dwyer
Anna McVicker beat Anna Dawson 5&4
Rebekah Gardner beat Corrina Griffin 3&2
Olivia McCrystal beat Leanne O'Shea 4&3
Molly O'Hara lost to Emily Walsh 1hole

CONNACHT (1.5) –V- LEINSTER (6.5) (Connacht names first)
Girls Foursomes
Chloe O'Connor & Ada Bowler lost to Leah Temple-Lang & Emma Thorne 3&2
Annabel Greham & Sinead Lohan lost to Canice Screene & Emma Fleming 6&5
Katie Coleman & Vicki Conlon lost to Jan Browne & Katie O'Hart 6&5
Girls Singles
Ada Bowler lost to Anna Foster 4&3
Chloe O'Connor beat Leah Temple-Lang 2&1
Annabel Greham halved with Canice Screene
Sinead Lohan lost to Katie O'Hart 6&4
Corrine Mulrooney lost to Emma Thorne 6&5

Stay ahead of the game. Subscribe to our newsletter to get the latest Irish Golfer news straight to your inbox!