Led by a record five-under-par 67 by Leona Maguire, the top-seeded Duke women's golf team jumped out to a four-stroke lead at the ACC Championship by shooting a six-under, 282, at the 6,122-yard, par 72 Grandover Resort & Conference Center East Course in Greensboro, N.C.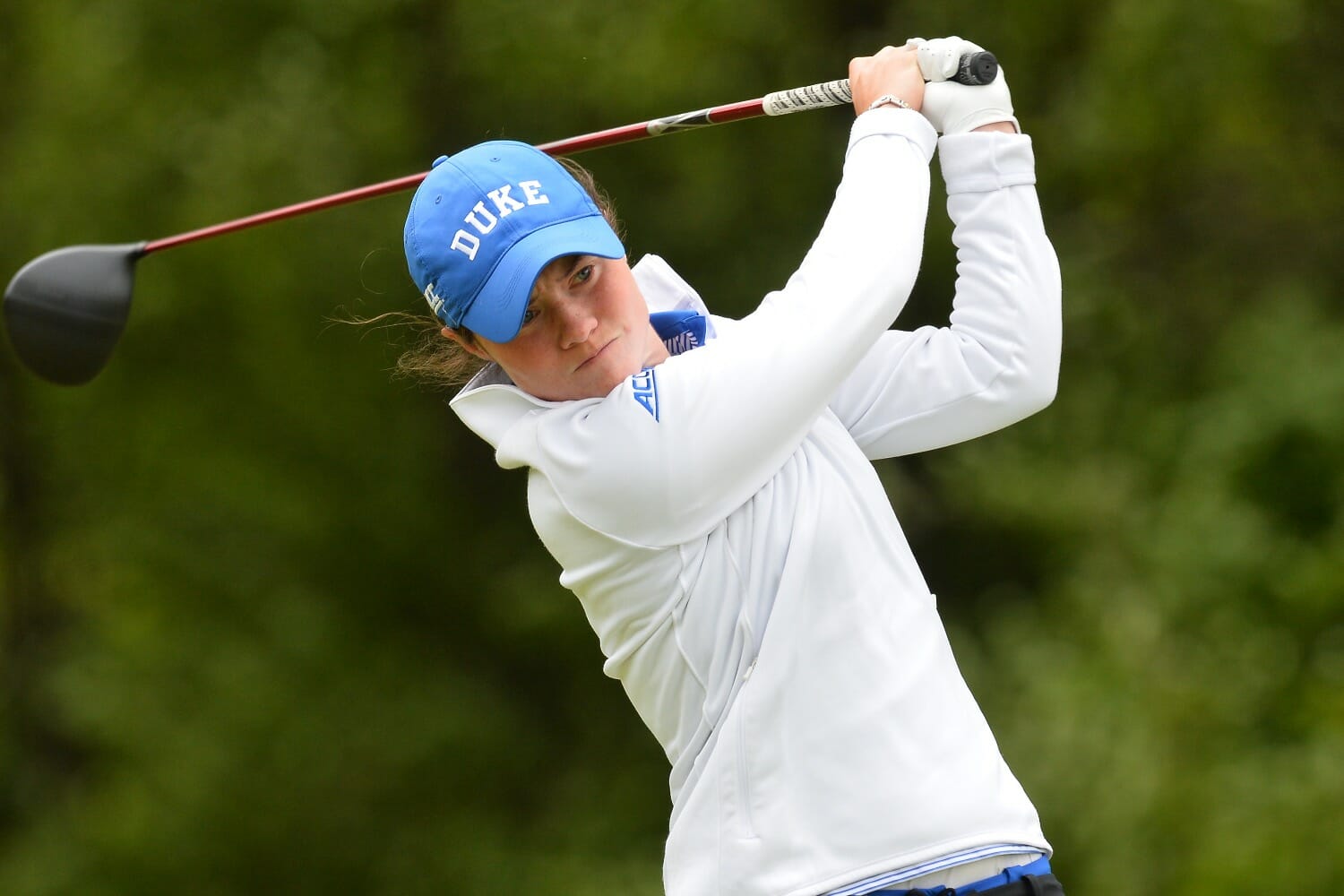 Maguire matched the Duke 18-hole record for the ACC Championship with a five-under, 67. It tied Brittany Lang (2004 on par 71) and Maria Garcia-Estrada (2000 on par 72). A two-time ACC Champion, Maguire also broke the ACC Championship course record at Grandover Resort.

"It is always nice to get off to a good start," said Maguire. "Trying to get as many birdies as possible out there and just really try to give myself a lot of chances. I hit 17 greens today, which is really nice knowing how tricky the areas around these greens are. Anytime I can shoot well under par and help my team out is always a good thing."

By connecting on an eight-foot birdie on No. 2 and a chip-in birdie on No. 5, Maguire opened with a two-under, 34, on the front nine. She got hot on the back nine with three straight birdies from 12-14. Maguire nearly hit a hole-in-one on the 114-yard, par three 12th and tapped in a six-footer for birdie, sank as six-footer for birdie on 13 and drained an eight-footer for birdie on the 370-yard, par four 14th.

Maguire was bogey-free until she suffered a three-putt bogey on No. 17, but she came back to hit the green on the 480-yard, par five 18th in two. On her eagle putt, she hit the cup and rested next to the hole, before tapping in for birdie and a five-under, 67. For the day, Maguire hit 17 greens, nine fairways and rolled 28 putts.

"I feel great about it," commented Duke head coach Dan Brooks on round one. "We counted a two-over as a high score for us and our throw-out score was three over so I feel good about everybody."

The Blue Devils carded 18 birdies on the day and lead by four strokes over Clemson (286), while Florida State (291), Miami (296) and Wake Forest (297) round out the top five teams. The six-under-282 is the lowest round by Duke in an ACC Championship since a 280 in 2012 at Sedgefield Country Club. The Blue Devils broke the team score record for a round at Grandover Resort, which was previously held by Duke in 1999 (291).

"It is great," said Brooks on jumping out to the lead and not having to come from behind. "Lately, we have been a little bit behind at the start in tournaments so it is great to come out and shoot low. We are going to need that."

In her third ACC Championship Lisa Maguire carded her own ACC Championship career-best two-over, 74, which included a one-under, 35, on the back nine. She hit 11 fairways, 13 greens and had 33 putts in the first round.

As a team, Duke collected 11 birdies on the back nine, including three each on No. 14 and No. 17. The Blue Devils managed 18 birdies on the day, but only three came on par fives. It marks the second straight year Duke has held the lead after the first day of play at the ACC Championship.

Duke Results
– 1 Leona Maguire Duke 67 -5
– T3 Ana Belac Duke 70 -2
– T6 Jaravee Boonchant Duke 71 -1
– T19 Lisa Maguire Duke 74 +2
– T23 Virginia Elena Carta Duke 75 +3

Team Scores
1 Duke 282 -6
2 Clemson 286 -2
3 Florida State 291 +3
4 Miami 296 +8
5 Wake Forest 297 +9
T6 Virginia Tech 300 +12
T6 Notre Dame 300 +12
8 Virginia 301 +13
9 Louisville 302 +14
10 North Carolina State 303 +15
11 North Carolina 306 +18
12 Boston College 313 +25



Stay ahead of the game. Subscribe to our newsletter to get the latest Irish Golfer news straight to your inbox!