David Brady and Cian Feeney​ from Maynooth University emerged victorious in the first ever Irish Student Sixes Tournament, played at The Heath Golf Club in Laois.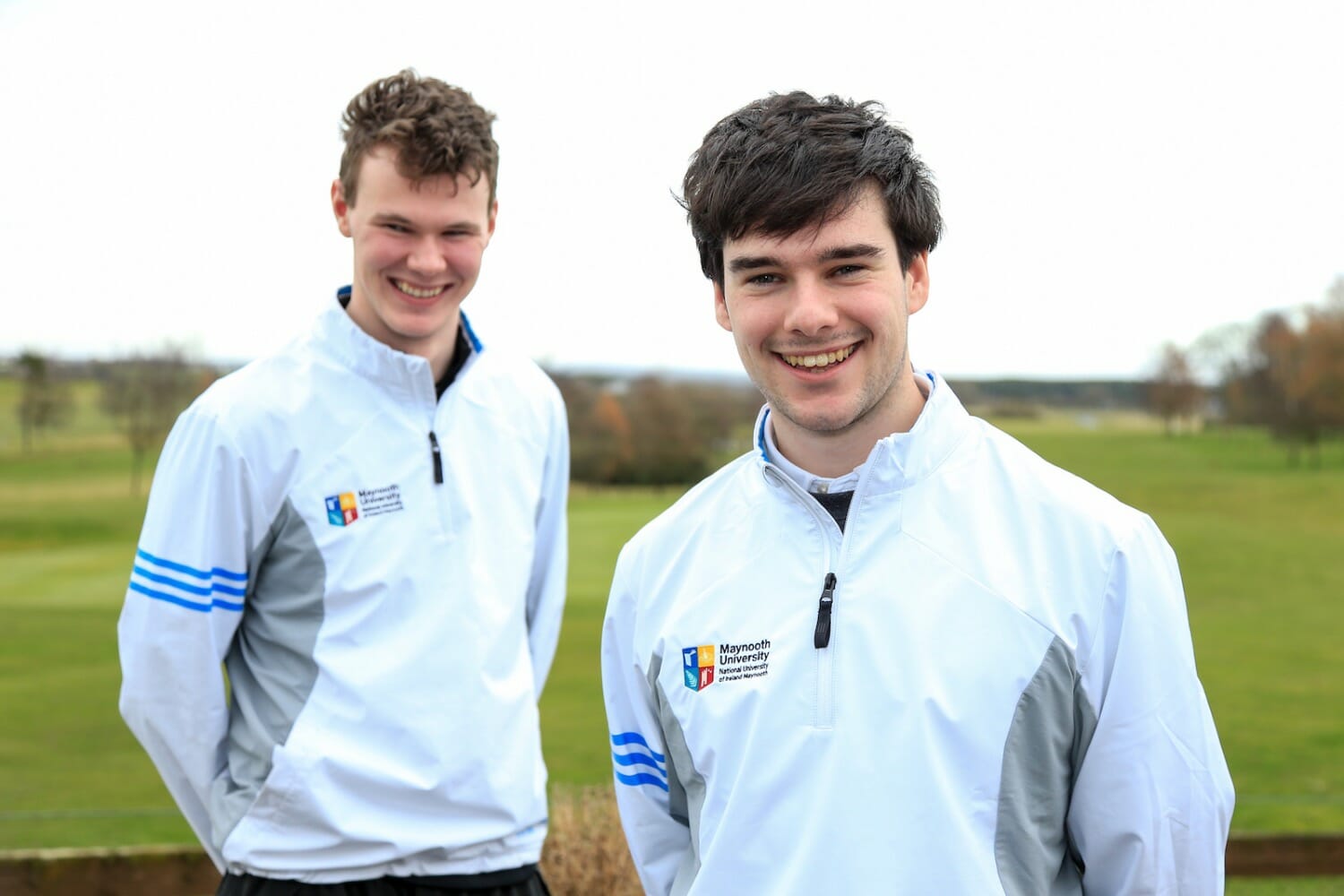 Image: Cian Feeney (MU) and David Brady (MU) winners of the Irish Student Sixes Tournament. Credit to Golffile | Fran Caffrey.

The shortened format of the game was a big hit with the players and in a time when we are all looking for a quickened form of the game it could be a good option for clubs to adopt at certain points in the season?

Although the golf had to be put on ice following a 45-minute frost delay, the rapid foursomes format more than made up for the slow start at the first tournament of its kind for amateur golfers in Ireland. Maynooth University duo David Brady and Cian Feeney took first prize thanks to a top score of 15 gross stableford points over the final six holes.

"It was really enjoyable," said DCU's Elisa Corcoran. "It's cool, I'd like to do it again in the future."

Corcoran partnered Cathal Gallagher, finishing third overall.

"I enjoyed it because there's pressure from the first tee," said Gallagher. "In a normal match, if you're all square with six to play you're kind of nervous so you feel like every shot is important."

Following the introduction of a nine-hole sprint event to the schedule last year, the sixes tournament adds another dimension for student golfers. In total, 30 different pairings took to the fairways. Divided into five groups of six, each pair was slated to play five matches, three of them on the opening day. The tournament concluded with a six-hole shootout, providing each team with 36 holes over the two days.

"It levels the playing field for the guys who wouldn't be playing as much golf because it comes down to the last six holes and anyone can have a good six holes and still win it," said former Ireland international Sean Flanagan, who was also wearing the DCU colours.

Bonus points are awarded based on the standings in each group and are added to each team's six-hole gross stableford score over the final six holes to determine the winner.

"It's quirky, there's something about it," said Flanagan, the 2016 North of Ireland winner. "It's the right time to do something like this. It's a bit of craic as well."

A champion in traditional formats of golf, Flanagan sees much value in the alternative.

"It felt a lot shorter than a normal round of golf," he reflected. "You're playing three matches in the one day but it's one round of golf. It didn't feel like we had played 18 holes."

The desire for quicker golf is shared.

"I prefer golf when it's quicker," said Gallagher. "I think everybody prefers golf when it's quicker."

At one hour and 15 minutes, the six-hole format delivered in terms of speed. There was one downside though.

"It's a little bit stop and start because you're waiting to start your next match after you finish and you're waiting on groups to come through," said Corcoran.

The teams remain on the course for all three matches, which necessitates some waiting time at the 7th and 13th holes for subsequent games to begin. Mentally that presents a challenge but it's one that the players are keen to embrace.

"It takes a lot of concentration," said Corcoran. "You say goodbye to your old partners and then you have to refocus to play against a different pairing. You have to try and suss them out."

And as Flanagan discovered, it pays to be aggressive.

"We were going out the third hole in the first match yesterday when we realised we were nearly halfway through the match," he recalled. "All of a sudden, it's a case of who can draw blood the quickest. It's fun in that sense."

IRISH STUDENT SIXES TOURNAMENT – PRIZEWINNERS

Winners: David Brady (MU) & Cian Feeney (MU) – 22
Runners-Up: Ross Steedman (MU) & Alan Fahy (MU) – 19
Best Nett (Final Six) : Luke Flynn (TCD) & Darragh Walsh (TCD) – 13
Best Gross (Final Six) : James McVicker (UU) & Stefan Greenberg (UU) – 12


Stay ahead of the game. Subscribe to our newsletter to get the latest Irish Golfer news straight to your inbox!