A repeat of last year's final is on the cards in the AIG Barton Shield as Galway and Warrenpoint emerged from the pack as the last two clubs standing.
Tralee stood in the way of the Connacht champions who have emerged victorious from their province in each of the last three years but have failed on their previous two attempts to lay claim to the green pennant. That run may end tomorrow.
The Tribesmen were never behind against the men from the Kingdom in an impressive display that was led out by veteran Joe Lyons and youngster Luke O'Neill. The Galway pair seeing off Darren O'Sullivan and Eoghan O'Donnell on the 18th green by 1 hole.
In the back match Ronan Mullarney and Liam Power were comfortable winners by 3 holes over Fergal O'Sullivan and Rory Hill.
The Ulster champions Warrenpoint survived a late scare to see off Castle, running out winners by 2 holes.
"It was a good tight game. We knew when we seen the draw that Castle are a good team and we knew it was going to be a tight game. We're delighted to get over the line and get the job done" revealed Colm Campbell Jnr afterwards.
The experienced Irish international was paired with Ryan Gribben in the bottom match for Warrenpoint, faced with the challenge of fellow international Alex Gleeson and Robert Moran of Castle. The Ulster pair were four-under par for their round and with Paul Reavey and Stephen Coulter behind in the top match, they needed to put in a strong performance to overhaul the deficit.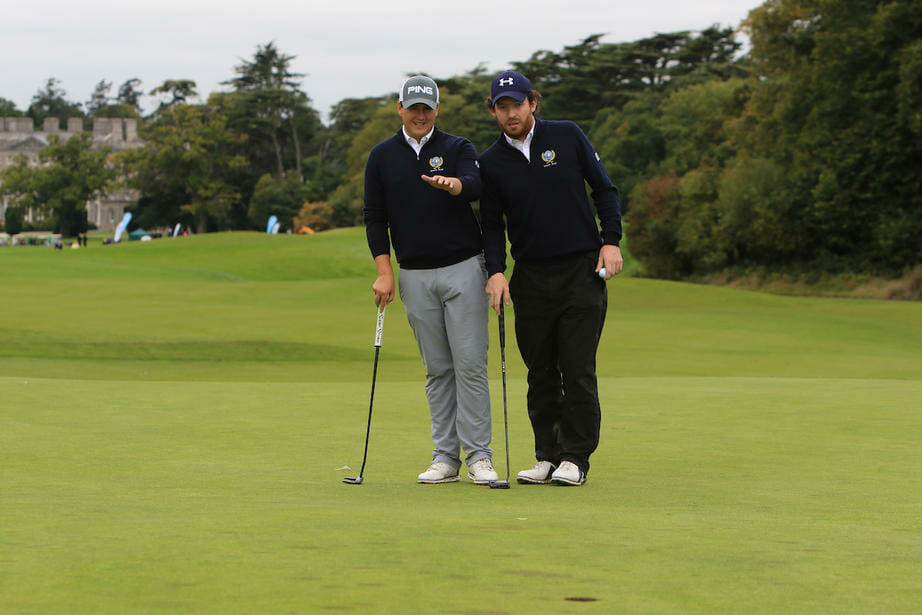 Above – Colm Campbell & Ryan Gribben (Warrenpoint) during the AIG Barton Shield Semi-Finals at Carton House Picture: Golffile | Thos Caffrey
"We got off to a nice start, I chipped in on the second form the front edge of the green after three putting the first for a half and then we held some really good putts from there on. We were very comfortable and we never really looked in trouble. Ryan held a couple of really good putts. He held two great putts on 14 and 16, two important par threes and that just kept momentum with us. We managed to make a nice birdie there on 17 to go four-up playing the last.
Campbell, a veteran of eight years on the Warrenpoint team knows the challenge ahead in the final.
"It'll be really good to do back to backs. We know Galway are going to be out for revenge tomorrow and they have a very good side but I think if we play to our capabilities we will be very difficult to beat."
AIG Barton Shield
Semi-Finals
At Carton House
Galway beat Tralee by 4 holes
Joe Lyons & Luke O'Neill beat Darren O'Sullivan & Eoghan O'Donnell by 1 hole; Ronan Mullarney & Liam Power beat Fergal O'Sullivan & Rory Hill by three holes.
Warrenpoint beat Castle by 2 Holes
Stephen Coulter & Paul Reavey lost to Alan Lowry & Jack Walsh by 2 holes; Colm Campbell & Ryan Gribben beat Alex Gleeson & Robert Moran by 4 holes
DRAW FOR THURSDAY
AIG Pierce Purcell Shield
Semi-Finals
Thursday 21st September
8am
Royal Curragh v Moyola Park
(Royal Curragh names first)
Michael Cleary & Brendan Mullins v Seamus Graffin & Timothy Steele; Eddie Trant & Jimmy Murphy v Malachy McKee & Stephen Heaney; Anthony Ryan & Thomas Powell v Bernard O'Kane & Gerald Loughlin; Martin Whitty & Bill Geraghty v Conor McKenna & Tony Johnston; Brenny Murphy & Paul Dempsey v Desmond Cleary & Martin McNabb
8.45am
Thurles v Portumna
(Thurles names first)
Tommy Quigley & Shane Quigley v Dean Cox & Brian Mooney; Stephen Quigley & Martin Fahy v Padric Cahalan & Alan Hayes; John Looby & Gerard Maguire v Dan Hogan & Padraig Hogan; Pat Coote & Sean Sherlock v Enda Quigley & Alan Page; Johnny Nevin & Adrian O'Keefe v Sean McEntee & David Hughes
AIG Junior Cup
Final
10.45am
Ballybunion v Grange
(Ballybunion names first)
Philip Byrne v Kevin O'Meara; Frank Geary Jnr v Paul McNiff; Ronan Cross v Graham McDonnell; Adrain Walsh v Niall McCormick; Brian Slattery v Jack Ward
AIG Barton Shield
Final
at Carton House
11.30am
Galway v Warrenpoint
Joe Lyons & Luke O'Neill v Stephen Coulter & Paul Reavey; Ronan Mullarney & Liam Power v Colm Campbell & Ryan Gribben

Stay ahead of the game. Subscribe to our newsletter to get the latest Irish Golfer news straight to your inbox!