Cork golfers now have access to a new "one stop shop" practice facility with the opening of the Cork Golf Centre in Ballincollig.
The "one stop shop" is essentially a range, but the key difference will be the presence of several PGA Professionals along with a fitness and mindset coach.  Brendan McDaid is making a welcome return to Cork (on a part time basis at least) and he will be joined by Liam Burns, Stephen Hoey and Wayne O'Callaghan.  All four will combine their existing commitments with the new facility in Ballincollig, using the newly fitted teaching bay and short game area to work with golfers of all levels.  O'Callaghan and Burns are both based in Cork, McDaid is based in Dublin while Stephen Hoey is based in both Cork and Killarney.
The concept is the work of Killarney's Head Professional David Keating and he has been working hard to pull together all of the moving parts.  For Keating it marks a return to a former place of work, the Charleville native worked in the Inniscarra Driving Range under Paddy O'Boyle.  Keating was actually looking at a new venture in a very different direction when the opportunity in Ballincollig arose.  "We were looking at getting involved in a range in Spain or Portugal where we could send our Pros for the winter months" explained Keating.  "By coincidence at that time I was approached about Inniscarra.  Having worked there previously for Paddy O'Boyle I knew that it had potential but as everyone knows the golf business is changing dramatically and many facilities including Inniscarra have really struggled in the recent past."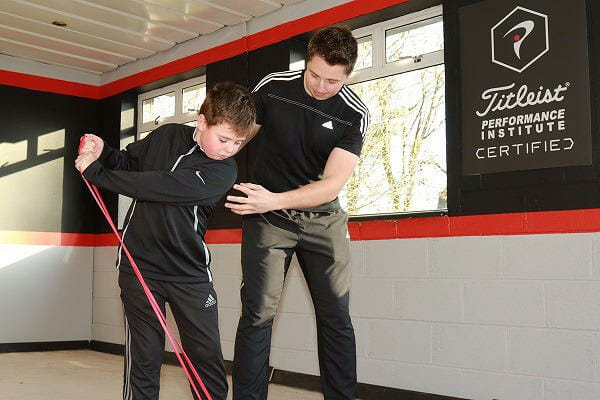 Although a huge amount of work has taken place to improve the physical appearance of the range, the real key to the venture is the addition of a number of top class teaching professionals and coaches.  "We set about creating a new business model which we term a "one stop shop for golf" says Keating.  "We will have 4 PGA Professionals operating on site.  All of the Pro's have a base elsewhere but they have agreed to spend one or two days per week coaching at our facility. We also have a Titleist Performance Institute certified coach on site as well a mindset performance coach.  Most ranges have one or maybe two PGA Pros attached, we are trying something new in Munster with four teaching professionals.  Our TPI Centre incorporating a gym is the first of its kind in a driving range in Cork and specific physical conditioning will benefit the higher handicap player as well as the elite golfer."
Having come through a generation where Irish golfers were regularly featuring on the European and International stage, David hopes that the 'one stop shop' approach that's available from Cork Golf Centre may help a Cork golfer bridge the gap from talented or elite amateur to tour standard professional.  "As a Corkman I feel that it is a massive disappointment that we haven't had anyone from Cork on the European Tour since John McHenry and Eoghan O' Connell. Niall Turner is making great progress but we believe that we can play a big part in developing players at our Centre that can make it to the top level.  Opening golf up to the masses and giving talented young boys and girls the chance to get lessons from our experts will be a major step forward. Who knows, the next golfing superstar might come from Cork Golf Centre, wouldn't that be a story?!"

Stay ahead of the game. Subscribe to our newsletter to get the latest Irish Golfer news straight to your inbox!