The great Arnold Palmer famously said, "golf is a game of inches. The most important are the six inches between your ears." 
At its core, golf remains a relatively simple game but it has become arguably the most convoluted of all when it comes to the mental anguish it can inflict upon its participants. It doesn't matter what way you're wired; whether you're a Dustin Johnson seemingly free from thought or a Bryson DeChambeau practically consumed by it, no mind will ever master the game of golf, but that doesn't stop people trying. 
Ronan Mullarney is one such person always plotting his path to improvement within our great game. The Galwegian is finalising his thesis in connection with the GUI around the fluctuation of club membership numbers, focussing on rural Ireland either side of the recession, before hopefully graduating with a Masters degree from Maynooth University, but he was a student of golf long before that. 
"I was addicted when I was younger," said Mullarney whose Dad, Tom used to sneak him out for a hit at Galway before Ronan was ever eligible for the Junior programme at the club.  
"I spent all my time at Galway, it was just so much fun whereas now, it's still fun but it's a bit more serious." 
It's more serious now because Mullarney's talent is unignorable. He'd be the first to say it wasn't prodigious; his development escalated when making Connacht Boys' teams towards his latter teens but his step-up to Senior level was more of a slow burn, a steady upward curve that only really began to ignite in his last year of Boys golf. Mullarney belatedly had heads turning. 
"I got a couple of good offers from colleges in America but I knew myself that I wasn't ready to move away; I don't know if it would've ended all that well," he admitted. 
"The golf courses here suited me more. They're maybe that bit shorter and tighter whereas over there – 7,000 yards is barely a golf course in America. They're 7,2, 3 or 4 and I wasn't necessarily the longest hitter. I was definitely glad I went to Maynooth." 
And it was easy to see why. The Paddy Harrington Golf Scholarship at the ever-growing Kildare University was in full swing and it was finally being recognised as a viable alternative to a voyage across the Atlantic by some of this island's finest fledgling stars. 
"The depth when I went in there," Mullarney recalled," Sean Flanagan, Robin Dawson, Kyle McCarron, Shannon Burke. There was a really steady group coming through. I wasn't necessarily influenced by them; it was after I made my decision that I started looking into who else was going but there was certain validation in seeing the names that were there." 
Mullarney took up an Arts degree after falling short of the necessary points needed to study Business but having flown through first year in his new surroundings, he got into Business in year two. It was a subject he always enjoyed in Secondary School but the course could never compete in the affection stakes when pitted against his love for golf. 
"I'm a bit obsessed with golf; whether it's good or bad, but especially when it's bad. I'm like, 'why, how, what happened?' I could take a day or more just trying to figure that out. I could be doing other things but not really thinking about what I'm at, I'd just be thinking about the golf." 
Although academics are of equal importance to Maynooth's Paddy Harrington Scholarship programme manager, Barry Fennelly, Mullarney can be excused for allowing golf to dominate his thoughts. At the Kildare campus, it's almost impossible to escape the culture of competitiveness created by such a tight knit golfing environment boasting some of the most exciting amateur players in the country.  
Sure, the US can be pitched as the be all and end all for budding golfers being sold the American Dream, but Mullarney is convinced that there's ample reason for golfers coming through the GUI and the ILGU to consider Maynooth before rolling the dice elsewhere. 
"I can't say first–hand, like America is brilliant by all accounts but it's not always a case of the grass is greener – there's a lot of positives to staying at home," he said.  
"The college system is getting a lot better within GB&I, and it's particularly good in Ireland. The BUCS Tour events we play in England and Scotland are getting much better, they're C&D events in WAGR now. The new R&A Student Tour Series is only going to raise that standard too. 
"And Maynooth is just so strong. If Maynooth are playing their best team – you have Caolan [Rafferty], Eanna [Griffin], Jordan [Hood], there's a lot of quality in Maynooth alone before you look anywhere else. There's a lot of good college players in Ireland so if you're competing on that circuit, you're giving yourself plenty of confidence to make the step up to the Bridgestone events throughout the year." 
It was a step-up that took Mullarney time to adjust to despite the comfort blanket of the Golfing Union of Ireland providing support along the way. 
"There's just no stress when you're with the GUI," Mullarney said. "Everything's done for you. All you have to do is show up with your golf clubs, and the right clothes!" 
Of course, that doesn't guarantee performance. Mullarney makes no apologies for his love of tight parkland golf but the Senior circuit in Ireland was dominated by long links courses that demanded a variety of shots that a young Ronan took time to acquire.  
Winning was never an issue elsewhere – he'd lifted intervarsity titles at the R&A Scholars tournament in St Andrews, the Irish Students and was a two-time winner of the Sterling Invitational, but his Maynooth form never translated to his assaults on Championship titles back home, despite a Mullingar Scratch Cup win in the mix too. 
"The thing that irritated me was that I couldn't replicate the standard of golf I was producing in the intervarsity events in championship golf – not all the time, but in some of the cases," Mullarney confessed.  
"I was wondering why my best golf was being played on the intervarsity circuit and not on the main stage. I suppose if you're a psychologist you'd say I thought I was better able to compete on the college stage as opposed to the championship one but this year was different and I definitely started to play my best golf in the bigger events." 
Indeed, Mullarney started to purr for all to see earlier this term when he fired nine birdies in a course-record 62 on day one of the Irish Amateur Open at Rosses Point back in May. 
"I remember thinking, it's about time because in the West, I played great golf but I didn't hole anything," he recalled. "Literally, nothing. It was like the hole was moving when I was putting and usually putting is one of my stronger points. Nine-under was a good day so yeah, I was OK. It was only the first round and there was so much more golf to play." 
Unfortunately for Mullarney, his superb start would only take him so far and his big opportunity unravelled on a tough last day as England James Newton laid down the law in a five-stroke victory as Mullarney's final day 78 saw him finish fifth. Had the pressure got to the Galway man? 
"I couldn't say I was all that nervous," he answered. "I don't really like saying this because it doesn't really answer the question but it was just one of those days, it didn't go my way. I hit some good shots that might've bounced left instead of right and ended up in position Z. I didn't stop trying. It just didn't happen for me." 
It left Mullarney with one of his more difficult post-mortems to dissect after the tournament as he attempted to draw a line under the week and move on. 
"It's not nice afterwards," he said. "You're thinking about all the things you could've done, a shot selection here or there. I go through the post-mortem but I do it myself. I can't do it with anyone else. A couple of weeks later I might go to Dad and ask him what he thought; whether that decision was right or maybe if he thought I could've done this differently.  
"He might say, 'well Ronan, why did you try draw it to that flag, that's kind of dangerous?' And I'd say, 'well, if you took the wind into play, the way I was feeling and the fact I was drawing the ball already,' and he'd say 'that's fair enough', so you really have to break it down yourself because nobody else knows what you're thinking." 
One thing's for sure; for better or worse, Mullarney always has golf on the brain and an increasing sticking point preventing the flow of his wandering thoughts was a grating feeling of why a home championship continued to pass him by. Sure enough, opportunity knocked once more at Ballybunion when Mullarney picked up the Silver Medal for winning the stroke play section of the AIG Irish Close. This time, he was more determined than ever to get Major over the line. 
He carried his momentum into the match play rounds, made all the more difficult by a howling gale before emulating Cormac Sharvin, who won as leading qualifier at Connemara in 2013, when defeating Irish International teammate, Robert Brazill in a tenacious final performance, 1UP. After wanting it so badly for so long, and after having had time to reflect on the success, what did it mean to the 24-year old now?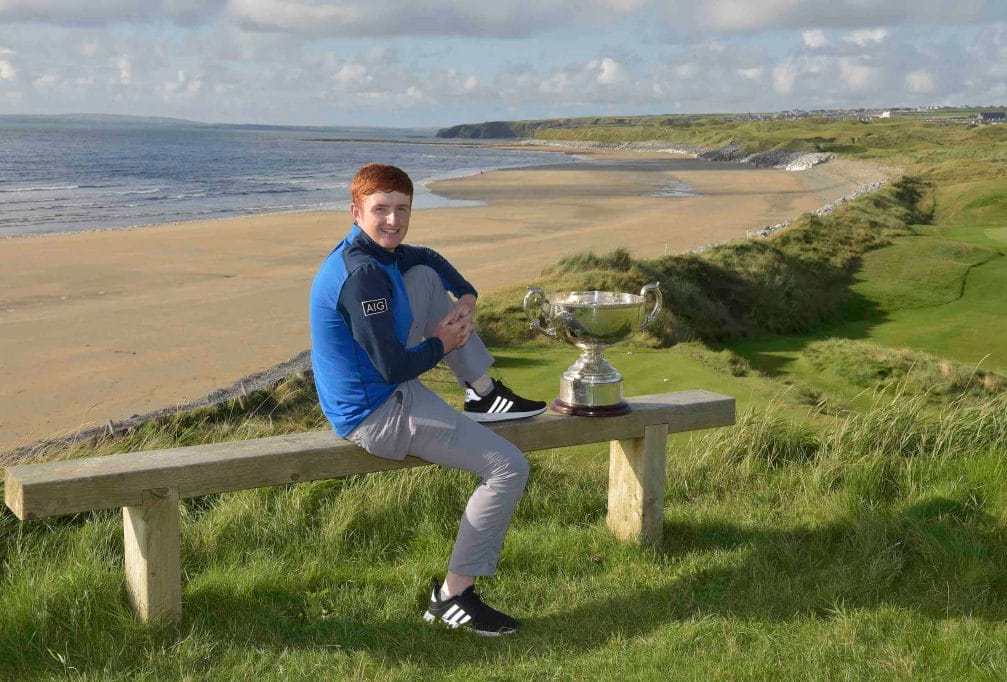 "It makes me more content," he said after a moment's thought. "I was hell-bent on winning one. I don't know if that was my last chance but it was definitely one of my last chances. It doesn't really change anything… well, other than with the members in the club! 
"It's funny, one of them came down specifically to watch me in the first match play round of 'The South' which was the week before and it was blowing a hurricane down there too. I was level par for 18 and I mean, it was blowing so hard. Cathal Butler beat me on the 19th and I was like, 'Jesus, fair play Cathal, that's great golf'.  
"I was walking around the club afterwards and your man came over to me. I was obviously disappointed and he goes, 'just didn't have it today?' And I was like, 'no, you're right'.  
"The next week we were at the Senior Cup and he was saying, 'jaysus, you were bloody shite down there!' I was like, 'thanks very much'. He was more slagging me than anything else although I didn't take it all that well… but I got on with it and it's nice to have a title in the bank now!" 
It seems that playing with that outside expectation is as true of the leading amateurs on the island as it is for our touring professionals but that didn't worry Mullarney; he'd set his own lofty goals that so nearly came to fruition. 
"One of my goals was to win the Bridgestone Order of Merit this year," said Mullarney, who finished second to the man he conquered at the Close, Naas bomber Brazill.  
"The only thing about the Bridgestone is that if you're lucky enough to play on some of the national teams, you're going to miss some events. The St Andrews Links Trophy clashes with Connacht Stroke Play. The Lytham Trophy clashes with the Munster Stroke Play. I was lucky enough to play Europeans but then you can't play the North.  
"It's a pity you can't play them all but you can't have everything. I loved the format. In my opinion, winning that is more prestigious than a championship because you're the most consistent golfer of the year. It's special." 
A first Major title was more than a little consolation for Mullarney who can now set his sights on the next chapter of a bubbling fairway journey. Whether or not that culminates in him turning professional, Mullarney remains unsure but he's experienced enough time in pro company already to realise that a significant step up will be required again should he decide on that path. Reward for winning the NI Amateur Open in 2018 was a place in the NI Open amongst the stars of the Challenge Tour; a venture into elite company Mullarney won't be forgetting any time soon. 
"The scores the professionals were shooting were pretty eye opening because it was not easy up there," Mullarney said of Galgorm. "I was thinking, if that was an amateur event and I played my best golf for two rounds, bar a freakish round, I'd say two under or three under would've been really good and that would've left me six shots back at halfway, minimum. 
"I was hitting a few balls with Cormac Sharvin on the range a few weeks later. I didn't really want to disturb him too much but I went up to him and said 'do you mind me asking but what goes on in Galgorm that those lads are shooting those scores? It's windy, it's wet, the rough is cabbage, the greens are fast' and he actually calmed me down a bit and goes, 'I wouldn't worry about that as much, the scoring is always really, really good up there', so that made me feel a bit better." 
Still, the big takeaway for Mullarney from that week was that his go-to methodical approach for navigating the fairways might need to take more of a back seat should he find himself mixing it with the professionals for money in the future. 
"If I was playing it again, I would've just gone for everything," he realised. "I wouldn't have left a putt short; I would've gone for every pin. I can't say I watched the leaders but based on the scores they shot, they must've been playing so aggressive. I really wanted to make the cut and then if I did, I would've started going for things then but I guess I learned that you need to play aggressive if you want to make the cut at all." 
And that's very much been the hallmark of the Challenge Tour this season, and most satellite tours for that matter. Mullarney's Maynooth alumni, Gary Hurley missed out on a weekend cut at the Made in Denmark Challenge over the summer despite shooting five-under for two rounds, but do such horror stories hold weight when someone like Mullarney is considering his next move? 
"It definitely makes you questions things," Mullarney conceded. "I read Padraig Harrington when he played Wentworth a few years ago. He said he didn't play bad golf – he didn't putt great – but he was happy with the way he hit the ball and he was four-over for two rounds at the BMW. 12-under or so was leading after two rounds! He said if that was one of his first Tour events, he doesn't know where he'd be now.  
"But look, even if you're being aggressive, you wouldn't be aggressive on all 18 holes. There are times when a pin might be on a slope and you've a wedge where you might favour a bit right whereas if you're a pro, you're going right at it. But if you've a four–iron going into a firm green, it doesn't really matter, you have to take a fairly conservative target. I think one of my best assets is golf IQ and how I work my way around the golf course so it's not something I'll ever abandon." 
And perhaps he'll never have to? One of the hot topics circling golf forums today is how we might go about combatting a golf ball threatening to fly into orbit. Adding mind-numbing length to already unimaginative obstacles is proving futile and in good news for players of the ilk of Mullarney, more of a plotter than a bomber, it's just as unsustainable too. 
"They're running out of land and they're running out of water to keep the land so that's going to change soon," Mullarney said, knowingly. "I think anyone who knows anything about golf and is into that type of thing is going to realise that the Ryder Cup was the biggest eye–opening experience.  
"I know Le Golf National was long but it was unbelievably tight. The best players in the world, even in fourball, weren't breaking par. They couldn't hack it. It's a very simple change to implement too. You look at a European Tour event like Valderrama, 7,000 yards or so and over par wins there regularly.  
"Don't get me wrong, I think if I'm playing well enough, I can compete on any golf course. But I know when Tiger was in college, he was thinking about the future and he could see courses were getting longer so he started going to the gym. He put on yards that way. Maybe it will go the other way now where people will have to work even more on their wedge play and putting to tackle tricky course design and that might just suit me." 
If Mullarney is to take up the game full-time, one trap he won't fall into is the common mistake of an amateur overhauling the game that got them to the paid circuit before it's had a chance to test itself in its new surroundings. With Dad the swing guru behind Mullarney's action, it's always been a case of little tweaks and minor upgrades as opposed to drastic changes and it's a formula the Maynooth man never envisages changing. 
"I've always had the same coach in my Dad and because of him, I understand my swing, maybe a lot more than people know," he revealed.  
"I know what I'm doing, why I'm doing it and yeah, there's definitely areas I want to improve on. I kind of learned my swing more inside out so changing it now wouldn't add up. It's there for a reason. Dad always says to me, 'when you're 25, are you going to ring up your Maths teacher and ask him what's eight times eight? No, he's taught you how to do it so you know what you're at and you can do it yourself'.  
"I know that's not for everyone but I'm spoiled that way. Dad had my clubs bang on for me from the age of 12 when I didn't even need them bang on and as a consequence, I've become very analytical and hands on with that stuff now too. I look at the likes of DeChambeau and I think he's brilliant. I don't know him personally, I'd like to, but I just think it's the way he says things sometimes that gets him in a bit of trouble. I don't think you have to put it out there that much." 
It's no wonder Mullarney has an affinity to the man dubbed by world golf as 'The Scientist', given his Dad, Tom became the first certified instructor of 'The Golf Machine' in Ireland in 2003, a manual on golf studied by DeChambeau himself. 
"Dad used to be an engineer so it comes to him naturally so he can nearly translate it to me," Mullarney said. "What amazes me is that I know it's not for everyone, but it's for so few people. That amazes me." 
It's that extra percentage of a percent that could prove the difference between making it in this game and not. Success has long been defined by small margins with Mullarney, like so many others, undertaking a daily battle to unearth his edge. On no occasion will such an advantage be more welcomed than when he tackles Bom Sucesso for Stage One of Q-School starting October 9th. [Mullarney has since advanced with flying colours to Stage Two in Spain on November 7]
"I would've done it last year but I was still in college," Mullarney said. "I was fairly sure I was always going to go at some stage. That's not to say I'm 100% going to turn pro but I definitely wanted to give it a go. Of all formats, it should suit my game; consistency hopefully over 10 – 16 rounds. If you can produce consistent golf you should be there, thereabouts but I'm going to go as an amateur. 
"The way I'm thinking on it, like obviously I hope it goes well but if it doesn't, there's very little professional golf from mid-October to April/May so I don't really see the point in turning professional unless you're a Walker Cup player. Hopefully I'll get the chance with the GUI to play more amateur events. The standard in them is so high that you're only increasing your chances of getting sponsorship the better you do." 
A measured approach, all outcomes calculated; did you expect it any other way? It's Mullarney IQ that stretches far beyond golf that makes you believe he has a future in this game. It's not that it'll make the road to get there that much easier; the professional route is littered with landmines that, even when avoided, wouldn't guarantee success.  
Top-heavy prize funds make sponsorship essential while the egg-timer on these speculative investments seems to be emptying quicker than ever as fledgling pros fail to make the grade. In Mullarney's case, however, there's no hurry. Each paver must be mapped out to ensure a step isn't wasted. It wouldn't make sense to him any other way. 
"If you want to be a professional at anything, you have to serve an apprenticeship," Mullarney believes. "So maybe that apprenticeship is on the EuroPro Tour or the Alps Tour, or if you're that bit better, the Challenge Tour before you get to the Main Tour and start making money.  
"To me, it doesn't really add up to think that you can start making money straight away. I've just finished working with Dad on a business plan for a golfer; what the average costs would be, where I see myself in three years – just looking at myself exactly like a business.  
"But that's what you have to do. The amateur game is a very good start but the pro game is different. It's like the transition I went through from Boys golf to Senior golf. I don't think it's as big a step but it is going to be different so you have to allow yourself an adjustment period. Ultimately, you have to invest in yourself to get the rewards down the line." 
Ronan, we wish you every bit of luck along the way.