If you told a 24-year old Caolan Rafferty that in 2019, he'd be the reigning West of Ireland Champion, he wouldn't have believed you. If you told him that in 2019, he'd be sitting in a Chicago hotel after the US Amateur at Pinehurst,  he probably would've laughed. But if you said that while in that very lobby, he'd get an email to say he'd been selected as part of the Great Britain and Ireland team to play the USA at the 47th Walker Cup, he would have asked you to pass the reefer.  
It's been a whirlwind two years for the now 26-year old Dundalk star but next month, September 7 & 8, Rafferty will join compatriots, Conor Purcell and Amateur Champion, James Sugrue at Royal Liverpool (Hoylake) for the highlight of his amateur career so far.  
Rafferty, Purcell and Sugrue will add some Irish flair to GB&I's 10-strong team bidding to win back the famous trophy after the USA secured a 19-7 victory in the 2017 match at Los Angeles Country Club. For Rafferty, it will be an occasion that a short time ago, would've only been a distant dream. 
"Two years ago, I'd knocked golf on the head; the whole idea of, 'will I turn pro or what will I be?'," recalled Rafferty who enters his final year of college as part of the Paddy Harrington Golf Scholarship Programme at Maynooth University next month. 
"That's when I decided to go back to college but through all the work I've done with the programme at Maynooth, and with my own coach Dougie Bell back home, a lot of work has gone into it and I've improved again.  
"I'm not going to say you don't expect it – I've been exposed to so much help and benefits that you're going to get better – but I didn't think at the time that I'd be this far on now. I've achieved more than I expected but at the same time, I'm happy with myself that I have done it, I suppose. It's a great achievement to have made the team and I can't wait to get going now." 
While the GB&I team members received their phone calls ahead of time from Captain, Craig Watson, Rafferty was in Chicago battling roaming charges unaware of what was happening, having travelled to the Windy City in a fruitless mission to Pinehurst No. 2 to contest the US Amateur. 
"My phone was out of action over there, I'd no data and so I had left it on airplane mode for most of the trip," he said. "I had to take a phone call at one stage and my credit obviously ran out straight away! In the meantime, Craig had been trying to ring to give me the heads up before the official announcement and he couldn't get me, so I only found out walking out the door heading to the airport on Sunday morning.  
"I actually got an email because my phone wasn't working. I took advantage of the last bit of WiFi before heading to the airport and thankfully I did because it made that journey home a whole lot easier."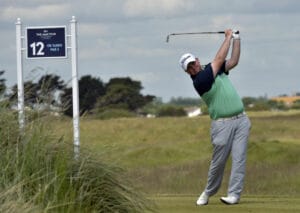 Rafferty, alongside new Walker Cup teammates, Purcell and Sugrue, was understandably feeling consoled having been exposed to the treacherous challenge that is, Pinehurst No. 2 earlier that week. 
"Easily the hardest golf course I've ever played in my life – by six or seven shots," Rafferty admitted. "I've never experienced anything like it. It's long – it was 7,500 yards and it was only a par-70. Par-4's playing 530. It was a bit of an eye opener. You're going into greens that were designed to take wedges with four irons and three irons – it's not ideal. And then the grass is so different. That Bermuda is not enjoyable at all! 
"I had a bit of a break before it and I was really looking forward to getting over there but it was like starting to play golf all over again, playing a course like that. You'd need to be there for a couple of weeks to really get used to what you have to do, the different turf, pitching and putting. You could be putting from 10 feet and you're afraid you'll hit it off the green.  
"They were running at 13 on the flat so they had to be up around 17, 18 going downhill which is just obscene. You would never, ever experience anything close to it over here. If you got a downhill putt running at 13 over here you'd chuffed!" 
Having booked his flights to take in the duration of the tournament, Rafferty fell well short of the qualifying mark for the last-64. After a few days of unwanted rest and relaxation, news that at 26, he would be the oldest player on this year's GB&I side by some three years both tickled and bewildered him. 
"It's kind of weird when I'm feeling young to know that I'm the oldest on the team," Rafferty said. "It's mad but that's golf now. The younger generation is taking over; they're getting so good, so young and you're going to see that more often on teams. In a way, it might've worked in my favour to have an old head on the team but having been around the squad and gone to sessions with them already, I see no real need for a leader in the locker room.  
"Everyone kind of leads themselves and leads each other through that so I don't see the need for a standout in the group. It wouldn't really be my forte either. I'd rather mix in with the team than have one lad stand out taking control." 
Instead, Rafferty can concentrate on emulating his individual brilliance on the amateur circuit this year on a track in Hoylake that already fits his eye. Home advantage has favoured the winners in recent matches with GB&I winning the biennial encounter in 2011 at Royal Aberdeen and 2015 at Royal Lytham & St Annes, and the West of Ireland Championship is hoping that pattern continues. 
"I enjoy the course," he added. "It's narrow, it's tight. It's not that it's massively long but at the same time, if you're in the rough, it will play extremely long.  
"It's flat like Portmarnock but then tight like The Island but it's familiar. The rough has shot up since we were there first. It's really well defined and I feel – everyone says this every year, 'it will help us, it will help us' – but I do feel like it will this year because of how narrow it is." 
The challenge for Rafferty, Purcell and Sugrue will be keeping the competitive juices flowing from now until tee off time in September.  
"We'll be going over with the team to play a few places so we'll have a nice lead up to the Walker Cup itself. There'll be no competitive golf as such but I'll get the clubs out tomorrow again and get back at it and play a bit of links golf." 
A rare lull in the golfing calendar will allow time for other things too. For Rafferty, it presents precious time for a family gathering, one of few he gets the chance to attend and one he can savour before he steps foot on the biggest golfing stage of his career to date. 
"I'll have the first family event that I've been home for, probably for the best part of two years coming up – my sister's debs is on next week! I've missed a lot over the last couple of years so I'll enjoy that and hopefully we'll enjoy a win a week later in Liverpool." 
The GB&I team:
Alex Fitzpatrick, Hallamshire, 20 
Conor Gough, Stoke Park, 16 
Harry Hall, West Cornwall, 22 
Thomas Plumb, Yeovil, 20 
Conor Purcell, Portmarnock, 22 
Caolan Rafferty, Dundalk, 26 
Sandy Scott, Nairn, 21 
Tom Sloman, Taunton & Pickeridge, 23 
James Sugrue, Mallow, 22 
Euan Walker, Kilmarnock (Barassie), 23 
Reserves: 
Benjamin Schmidt, Rotherham, 17 
Benjamin Jones, Northamptonshire County, 20 
Captain: 
Craig Watson, East Renfrewshire, 53