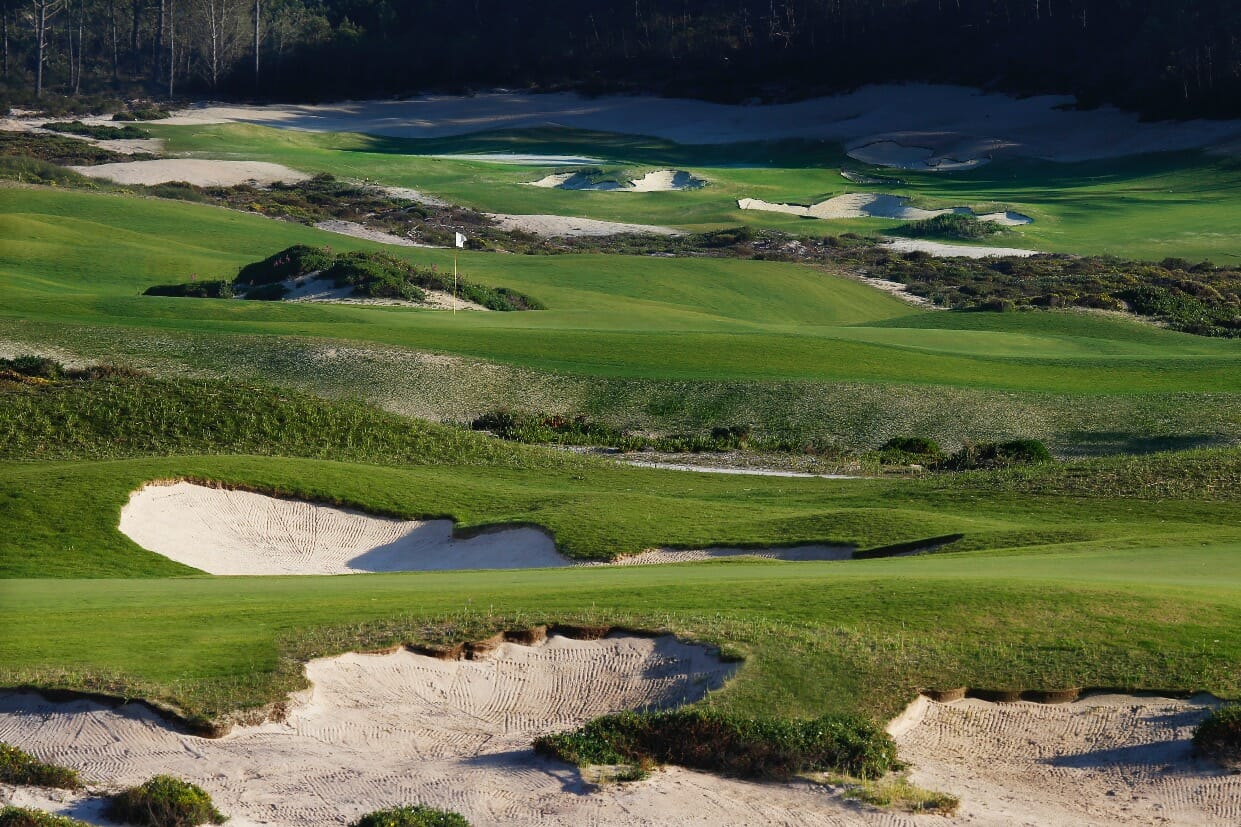 Every now and again you get the chance to do something or see something magical, something that excites you and makes you happy. Whether it's a trip you always wanted to take, a restaurant you always wanted to visit or in a golfers case, a golf course you really want to play.



One of those occasions came about for me a short while ago as I travelled to the grand opening of a new golf course just north of Lisbon called West Cliffs. A Cynthia Dye course, of the famous Dye Designs Group, the course is her first in Europe and ahead of the scheduled opening in June is being heralded as potentially one of the best courses in Portugal. You can of course therefore understand my excitement at the thought of visiting for the opening, the teased images of the course were breath-taking, the location was amazing and as it turned out I was scheduled to play in the very first group on the opening day with the designer herself. No pressure then!

Before I get into the wow's and OMG's firstly let's look at where West Cliffs is situated. As mentioned it's just north of Lisbon, one hour north to be precise, and it's managed by the same people that manage Praia D'El Rey which is an outrageously good 5 star hotel only 5 minutes away from the course. A mere 2.5 hours to Lisbon from Dublin airport was all I had to endure, carry-on luggage only as I'd had the foresight to use Clubs to Hire for my rental set on arrival and the supplied M1 driver and irons didn't disappoint….but more about that later.

Praia D'El Rey was the base for this trip and to say that the views from the outdoor public areas are outstanding would be an understatement. They were glorious and they also have the Praia D'El Rey golf course on site there too which we got to play on the arrival day. The scenery on the course is breath-taking, particularly on the back nine and while there is the usual abundance of villas and apartments which can be a blot on the landscape you can understand why they're there.

And so it was on to the main event, the par-72, 7000 yard West Cliffs, situated on 200 hectares of natural landscape and when I say natural I mean natural. Dye was at pains to explain how she left as much as she could of the natural terrain and the place looks fantastically rugged and not at all like a modern day new build. Having spent a lot of time at Praia D'El Rey over the years with her family, Dye had been involved with this project in one form or another for over 14 years, since it was first mooted. With construction only started in February last year though things moved slowly but once underway they didn't hang about.

The course is definitely a challenge. It's a thinking course where you are required to look at each hole and choose your strategy before teeing off. This is NOT the place to just pull driver everywhere and hit it as hard as you can and you definitely feel that when you stand on the tee. The layout and design have made the fairways appear very narrow and far away but in reality there is plenty of room and it is the use of topography and clever design that gives the visual impression of holes being long.

That said, some of the tee shots are daunting, none moreso than the first with a crowd watching as Dye teed up the ceremonial first shot. Next on the tee, yours truly. Thankfully a fairway found, the pressure off and we're driving up the fairway with Cynthia Dye chatting non-stop giving an insight into the layout of the hole and why she used certain design elements on it. This set the tone for the day and it was amazing to get an insight into just why the layout is what it is.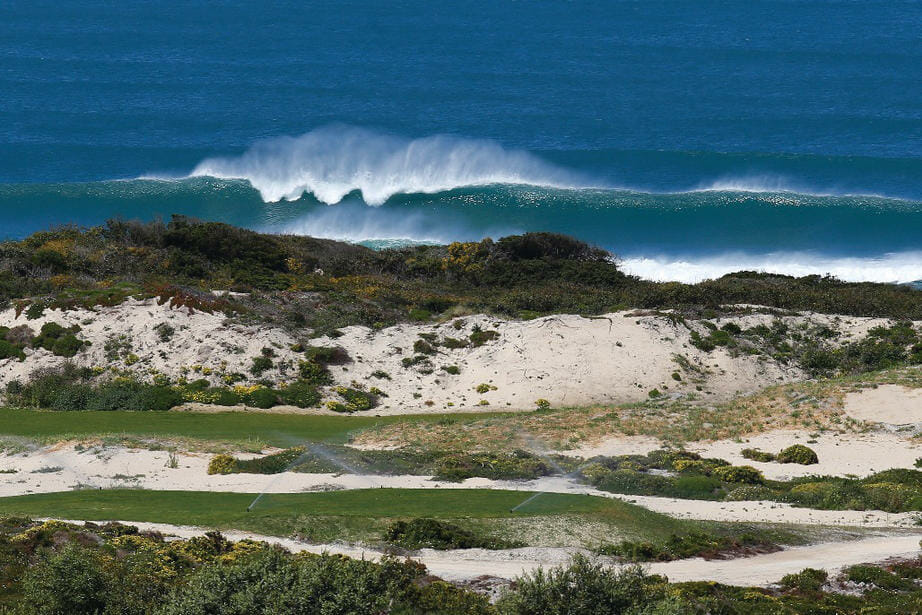 The best way to describe West Cliffs is that it looks like a links course and but doesn't quite play like one in the way we would know a links course. It's completely sand based with hard, fast fairways and greens, a multitude of tees to suit each handicap and a variety of uphill and downhill holes which utilise the natural landscape perfectly. Interestingly, rather than use coloured tees, West Cliffs have used numbered tees and advise that players with different handicaps play from different numbered tees. Of course it's the equivalent of playing from the yellow, green or white tees here at home but the numbered system seems to take some of the stigma out of it and perhaps it will encourage golfers to play the appropriate tees for their ability, play in a reasonable time and hopefully enjoy the game more?

So how does the course play and compare? Simply put it's an absolute joy. It was a little soft around the edges as it was just opened but these spots will toughen up as the weeks pass and it plays like a dream. The undulations in the fairways make it very interesting and even though your reporter managed to hole an uphill 160-yard shot from the fairway on the 4th (thanks Clubs to Hire) it was a challenge to select the right shot and make it stick. Green shaping and slopes make for very tricky pin positions and as the greens are built to run quite fast you would ideally like to be coming in with a mid to short iron.

So strategy is all important at West Cliffs, a point that became more evident as the holes ticked but was particularly to the fore on the dog leg 9th, a short par 4 (300 metres), where Dye created something a little bit special. From the elevated tee box you can play directly across the water (all carry) to the green, but the strategic shot is to take 5-iron down the right hand side of the dog leg and then play a gentle mid iron to the green. If you take on the drive you can end up wet, or in one of the cavernous bunkers that line the left hand side of the fairway and from which you'll need a fire brigade to escape! If you manage to hit the green from the tee there are numerous bunkers waiting for you greenside so while we'd all like to think we can reach, perhaps common sense should prevail?

There are, as you'd expect from the name, some spectacular views from all over the course but with the course set some 500 metres back from the cliff edge for nature preservation reasons you don't get the Old Head style clifftop experience. That said, you can see plenty of the ocean from most tee boxes and with the elevation changes you're up and down the hills aplenty with lots of photos opportunities.

The back nine is where the course really gets going and the closing stretch from 16-18 are marvellous. It's hard to imagine that the entire landscape had once been lined with trees but when you venture off line you can see the stumps and holes where trees used to be but the natural topography has been maintained so there is a really natural flow to the course.

As for a signature hole, it's really quite tough to call. Visually it would be hard to beat the 7th 10th and 18th tee shots but really the 5th, 9th 16th and 17th are the contenders for me. You''ll have to visit and pick one for yourself.

This article is taken from the August edition of Irish Golfer Magazine. To read it digitally free of charge just CLICK HERE