Kevin Markham's recent visit to Northern Ireland uncovered a golfing region brimming with confidence.
"I'm sorry sir, we don't open till 5 o'clock."  It was 4.30pm and the Ramore, in the seaside town of Portrush, was closed. I hadn't eaten lunch and was ravenous after driving from Co. Sligo Golf Club.   I returned at 5.15…."I'm sorry sir, you'll have to wait a few minutes for a table."
You would think on a Monday night, at the start of April, you'd have your pick of tables overlooking the harbour but, in the space of 15 minutes, over 100 people had descended on the restaurant and the place was humming.
Sleepy and quiet are not adjectives to describe Portrush. What's it going to be like in July, when the Dubai Duty Free Irish Open arrives in to Portstewart, just down the road?
When it comes to golf, Northern Ireland is buzzing at the moment. There is so much happening along this 10 mile stretch of coastline (from Castlerock to Portrush) and you could surmise that it all dates back to McDowell winning the US Open, in 2010.
Darren and McIlroy followed, and of course Rory kept the streak going. Then there were the Irish Opens in 2013 and 2015. Both sold out ahead of the event – the first (and second) time that had ever happened on the European Tour. In July of this year, Portstewart will host the third Irish Open in five years to be held north of the border. Some 130,000 fans are expected and another sell-out is almost assured.
And then there's the Challenge Tour's Northern Ireland Open, held at the refined Galgorm Castle, which is going from strength to strength. It is now in its fifth year and takes place on August 10-13. They've introduced a superb new format this year where 156 players will take part with a 36-hole cut followed by a 54-hole cut and then a very exciting five rounds of six-hole strokeplay on what is being called 'Shootout Sunday'. It promises to be a marvellous event and definitely one worth checking out.  More information can be found on www.niopen.golf and there is free entry for spectators.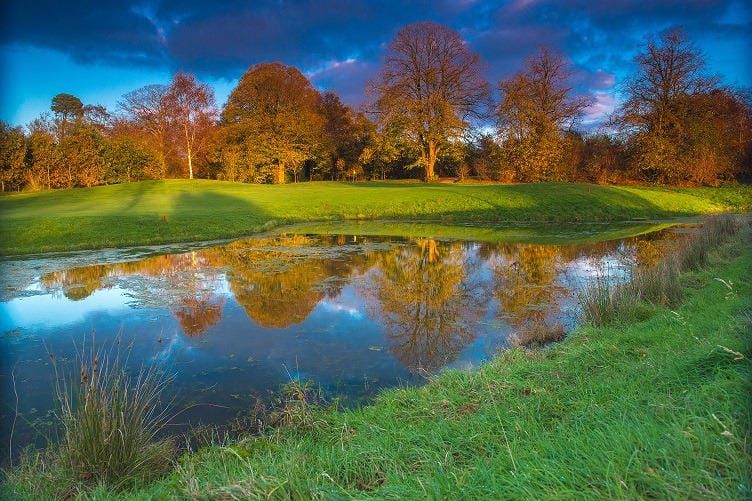 As you can see, the momentum has been building in Northern Ireland for a while, an unstoppable juggernaut rolling on to 2019, and the hosting of the world's biggest major: the Open Championship. No wonder Tourism NI introduced the brand Made for Golf.
But it's not just professional golf where Northern Ireland is thriving. For the regular green fee paying golfer you can of course choose to pay and play at any of the courses, which are all open for green fee business, unlike many top courses in other countries. However, the real opportunity is in the amateur tournaments.
What's an amateur tournament?  Well, they are typically 3-4 day affairs played across a number of different courses, giving you a great opportunity to experience some of the very best courses in Ireland (and the world for that matter) as well as playing some other top courses in the vicinity and usually these tournaments cost only a fraction of the combined green fee rate, so it's a winner all round.
A Golfer's Choice
There are several of these amateur tournaments in Northern Ireland: the newest is the Belfast International Parkland Tournament (3-5 July) which plays over the prestigious Malone, Shandon Park and Royal Belfast courses. The starting entry fee of £369pps includes entry fee, golf, four nights' accommodation (twin room), breakfast, a Welcome Reception at Malone Golf Club and prize giving at Shandon Park. And yes, it is the same week as the Irish Open. For more information visit www.belfastparklandinternational.com
The Causeway Coast Golf Tournament (4-9 June) plays Royal Portrush (Valley), Castlerock, Ballycastle & Ballyliffin (Old Course). Remarkably, this event is celebrating its 50th anniversary this year and it attracts over 600 amateur golfers from around the world, many returning year after year to meet up with friends and enjoy the hospitality, food and drink of this northern coastline. Packages start from £525pps and include entry fee, golf and six nights' B&B accommodation.  For more information visit www.causewaycoastgolf.com
Another of these is the well named Great North Links Challenge (11-13 October) which takes in Ballyliffin (Glashedy), Royal Portrush (Dunluce) and Portstewart (Strand), a wondrous combination of magnificent links courses. This is a four person team event where three scores count each day and the golf only price comes in at a mere €230 per person which is amazing value. You can get more information on this one by contacting any of the golf courses directly or visiting www.ballyliffingolfclub.com
There are other events such as the Newry, Mourne and Down Summer Trophy from 9-11 August. The courses for this one include, St Patrick's Downpatrick, Ardglass & Royal County Down and it's a snip at only £200pp. For more details you can check out www.countydowngolf.com
Tourism in NI is on the rise in a significant way and right now represents a great time to visit. Some 3,000 new rooms are being constructed in Belfast hotels (almost doubling the current number), but they are also increasing closer to the heart of the golfing action. Construction projects which have lain dormant for close to a decade on this coastline have sprung to life: from my Portrush bedroom window, in the excellent Blackrock House B&B, cranes loom over the town. Blackrock House is the first five star B&B in Portrush, and it too is new, having only opened last year. You'll discover the sort of breakfast – and welcome – that will keep you smiling for the whole day.
Aine Kearney, Director of Business Support and Events Tourism NI, recently commented: "The potential of golf tourism is huge with the average golf visitor spending over £1700 per trip. Tourism NI wants to grow total revenue from golf tourism from £32 million to £50 million by 2020. There is no doubt that the Dubai Duty Free Irish Open will showcase the destination on a local, national and international stage and provides a perfect lead up to The Open in 2019."

North Coast Links
Portstewart Golf Club is being prepared for the biggest event it has ever hosted. Bernard Findlay, the Course Superintendent, is working with a team of 20 to get everything ready. Bunkers are being upgraded, new tee boxes have been introduced (holes 4, 8 and 18), spectator paths have been routed through the enormous dunes of Thistly Hollow, and the 14th tee – formerly set between the 10th and 13th greens – has been relocated. This now creates a left-to-right dogleg and a very real eagle opportunity for the Pros as the par five will measure 522 yards. The tees' relocation has enabled some changes to the two greens: the 10th green has been lifted about two feet on the left hand side; and mounding now embraces both greens to separate them. The trees which once sat behind the 13th green have gone.
The course is in magnificent condition and visitors to the Irish Open will get to experience some remarkable views, both of the holes and the Pros playing them, and the surrounding area.  Tickets are selling fast, so if you want to see many of the world's best golfers now's the time to get on board. Visit www.dubaidutyfreeirishopen.com. Prices begin at £20 for the Pro-Am on Wednesday, with tickets for Thursday and Friday costing £40 and day tickets for the weekend costing £45.
Royal Portrush has introduced far more significant changes to the Dunluce course with two new holes by Ebert & MacKenzie, a golf design firm who have established a reputation as the go-to-company for Open Championship courses. Gone are the two weak finishing holes on 17 and 18 replaced by a new par five 7th (which boasts a replica bunker of the 17th's famous Big Nellie') and par four 8th. These have been laid out on ground once occupied by holes of the Valley course and will be brought into play in July. They sit very well within Colt's classic design.
There is a new green on the 2nd, making the hole 50 yards longer, a new tee box on the 10th which turns a dogleg into a straight hole where all the hazards are visible, and another new tee box on the 15th (currently 13th) which will increase the dogleg and create the only blind drive on the course. An elaborate three-entrance tunnel is buried between the 6th, 8th and 9th greens: the Pros will walk through it, while spectators stand on top of it. Intriguingly the par four 5th tee has been moved forward, making the dogleg a bigger risk vs. reward hole – reachable for the most adventurous – and with only the sea and the Skerries (islands) beyond the green it will look spectacular on TV.
Five miles of fibre optic cable have been laid beneath the ground, at a cost of £1 million. It will help with the media extravaganza which surrounds the Open.
The Valley course, meanwhile, has additional holes to replace those lost to the Dunluce. Martin Ebert has worked his magic here too, and the course now finishes with a par four as opposed to a par three. This under-rated links – well, it's hard to compete when your sibling is world top 20 material – has also been improved.
The final club in this triumvirate is Castlerock, to the west. They are not resting on their laurels either, employing Martin Hawtree to implement some sizeable changes over the next couple of years.
Elsewhere around Northern Ireland, Lough Erne has invested £1 million in John Deere machinery, Royal County Down opened three astounding new holes on the Annesley Links, in 2016, and Ardglass is investing heavily to upgrade their picturesque, seaside course. That's not to say other clubs aren't investing – they are – because every club has to invest to maintain their course.
For play and stay offers look no further than Hilton Templepatrick or Roe Park Resort. Both have exceptional offers available with Roe Park (which won the Golf Hotel of the Year award recently) offering an unlimited golf package on a short stay from as little as £67pps including breakfast.  Hilton Templepatrick also have an unlimited golf package on an overnight stay which starts at £74.50pps including breakfast.
Northern Advantage
Irish golfers heading north will find many reasons for doing so: the choice of courses is impressive and Brexit-influenced exchange rates make Northern Ireland increasingly attractive.
It's also a beautiful place for a family holiday. The Glens of Antrim, Giant's Causeway, the Titanic Experience, and Game of Thrones tours (there's a new passport which takes you to 10 key locations in Northern Ireland) all offer a family something a bit different. Golf can always be intertwined with these. Take the kids to Morelli's in Portstewart, let them order an ice cream sundae they'll never forget and while they tuck into that you can slip off for a round at Portstewart.