This year was my second time to make the pilgrimage  the Masters and what a special week it turned out to be.  It's hard to believe a year has passed since i played Augusta National and being back this year brought all the memories back like it was yesterday.
Augusta National is a magical place that no golfer will ever tire of looking at. Like most, all of my early golfing memories were of watching the Masters on TV. It was the one Sunday of the year that I didn't have to go to bed after Glenroe and didn't care about not having my homework done. It was the early 90s (I was 12) and the European domination was underway at Augusta National with Lyle, Woosnam, Langer, Faldo and Olazabal all claiming green jackets. From my first glimpse I was hooked. It was like being transported to another world. My best friend Trevor Cassidy (Chass as I called him ) and I had taken up pitch and putt around that time too so when we saw the Masters our natural instinct was to try move onto the big course and play some golf.
Seve was our idol growing up and every putt we had on an 18th green was a putt to win The Masters. Our dreams were set, and we both agreed one day we will make the trip to our mecca, Augusta National for The Masters.
Unfortunately Trevor's last Masters was 2012 with Bubba's heroics as my friend was tragically taken away in a traffic accident, we never made that Masters trip together but this year my chance came to take the trip alone after being accepted to cover the Masters for Irish Golfer Magazine. I knew it would be an emotional trip as all of my childhood Masters memories would come flooding back, little did I know how close I would get!
I arrived on course early on Monday morning for the first practice day and was instantly blown away with my first sight of Augusta National. As I assume most first timers do, I headed straight down the 10th hole looking for Amen Corner, the drop from tee to green was hard to comprehend. I have seen the hole hundreds of times on the TV but nothing can prepare you for how steep the incline and the dogleg on 10 is. I rushed through the green and headed down the 11th with butterflies in my stomach. Then the magic happened. Halfway down the 11th hole I looked up and was instantly overcome by emotion and excitement, there it was, Hogan's Bridge sitting in front of the 12th green. I will never forget that moment and those feelings. It's so easy to get overawed by Augusta National, it's an incredible place. You're dealing with the history and all of the Masters memories you have witnessed on television. The memories of being a little boy looking at the Masters in awe and hoping one day that you'll get there. All that history just descends upon you and the sense of familiarity around Augusta gives you that deja-vu feeling with every footstep.
My first instinct on course was to seek out every famous spot I could remember. The spot Seve hit it in the water on 15, where Jack holed his putt on the 17th in 1986, the bunker Sandy Lyle hit an incredible shot from on the 18th, where Phil hit it from the pine straw on 13 and where Rory's drive finished on the left of 10 as he collapsed in 2011.
Before The Masters had officially started on Thursday I had already walked the course six times, I was hooked and my mind was well and truly blown.
What happened next was indescribable. Around 1000 media personnel cover the Masters for international television, newspapers, magazines and websites each year. A ballot draw is held on the Friday night, and 24 lucky souls are told they will be teeing it up on the course the Monday morning after the tournament. My number was drawn and I knew exactly how Charlie Bucket felt when he opened that Wonka Bar and found the last golden ticket. It was official, on my first trip to the Masters I was scheduled to play Augusta National and I knew I had a helping hand from above, thanks Chass.
Two decades after first laying eyes on my mecca I was scheduled to drive down Magnolia Lane and play Augusta National for real the morning after the 81st Masters.
The experience
10:20 was my entry time and 11:20 was my tee time and obviously in anticipation I was awake at 5am. You can't arrive early to the club so I had a morning of preparing my one hour pre tee time. With my clubs polished and gleaming I left my hotel and parked in a Subway carpark about 500 yards from the main gate to ANGG from 9:30 until 10:18, just watching my clock tick down. Where ANGC is located on Washington Road is hard to explain, the road is full of every fast food joint America has to offer, not what I pictured at all. As I approached the entrance gate the Members Only sign appeared in the tree line and I to turned up Magnolia Lane. As I drove toward the Augusta National clubhouse, it was like I entered another world. I wanted to enjoy every yard of the drive and, at a snail's pace, I made my way to the front of the clubhouse. I was brought into the clubhouse and assigned a locker in the champion's locker room and I know it was no coincidence, Chass had one final way to put his stamp on my day. I could only smile as I was brought to the inner sanctum that is the champion's locker room. The bronze name tag was inscribed "Seve Ballesteros Champion 1980, 1983." To share a locker with Seve was just mind blowing.
I was met by my caddie Joel then and whisked off to the practice range. After hitting about 20 balls Joel said to me "I think we should spend some time on the practice green". Joel is a pro trying to make it on one of the feeder tours in the States. He turned pro three years ago and was nearing the end of his first year looping around these hallowed grounds. He was a +4 handicap before turning pro and I knew I was in perfect hands. Nothing can prepare you for the speed of the greens at Augusta National. It was no time at all before we left for the first tee, and the advice from Joel was simple "We can miss fairways but we need to try not miss too many greens and we will try to leave as many uphill putts as possible". 
After a nervous snap left into the trees off the first, I pitched out leaving 105 to the flag and then the fun began. "We can't go right of this pin" says Joel. "If you can hit a 110 shot slightly left of the pin there is a back stop that will funnel the ball back down to the hole". I hit a gap wedge perfect and sure enough the ball funneled down to the hole leaving me a six foot uphill putt for par which I made.  Rather than aim to a score, my goal for the day was simply listen to my caddie on all approaches and putts, not just aim to try find the green but find the right portion of the green.  The greens were running close to 14 on the stimp and frightening if you got the wrong side of the hole. My first downhill put was a fifteen footer on the second, I hit it like I would a two footer and it went ten feet past. It's hard to get your head around it. Joel broke it down well for me visualising a hole to play deadweight for instead of the hole itself. On the 9th for example I left a forty footer that had at least ten feet of break downhill. I had to aim nearly 90 degrees away from the hole and hit a three foot putt and trust that the weight of the ball will do the work, it was the best two putt of my life.
I hit some good shots and some really awful ones throughout my round but enjoyed every minute of it. I hit one of the purest 7-irons of my life on the 6th, a downhill par 3 with the pin perched on a small back right shelf. I was a yard from perfection and made double. I had 95 yards in on the 7th and hit what I thought was an ok approach – I made a quadruple bogey. I went flag hunting on 12 and got a par and went for the green from the Mickelson Pine Straw on 13. I nearly had my first hole in one on the 16th and in true Augusta National fashion I missed a 4 footer for birdie.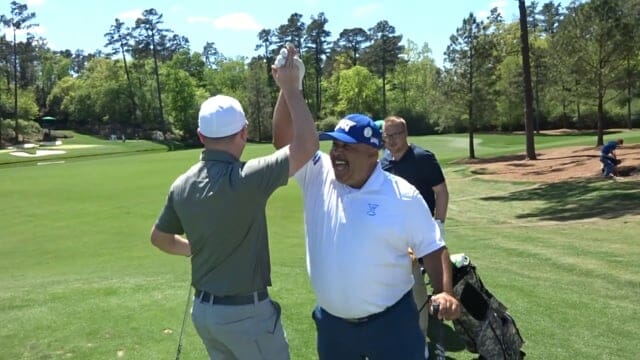 The course just draws you in at every opportunity and it's hard to resist the "just go for it" mentality but that's when big numbers are a real possibility. We had a stunning day weather wise and I carded an 86 that Monday at Augusta National. We played from the members tees, which made the course 6,365 yards long as opposed to the 7,435 the professionals played the day previous. The pins were in the Masters Sunday positions and all very familiar. I savoured every moment and it's an experience that will resonate with me for the rest of my life. The ball and marker I used now sit proudly on Chass's grave and I know somehow he enjoyed the experience as much as I did.