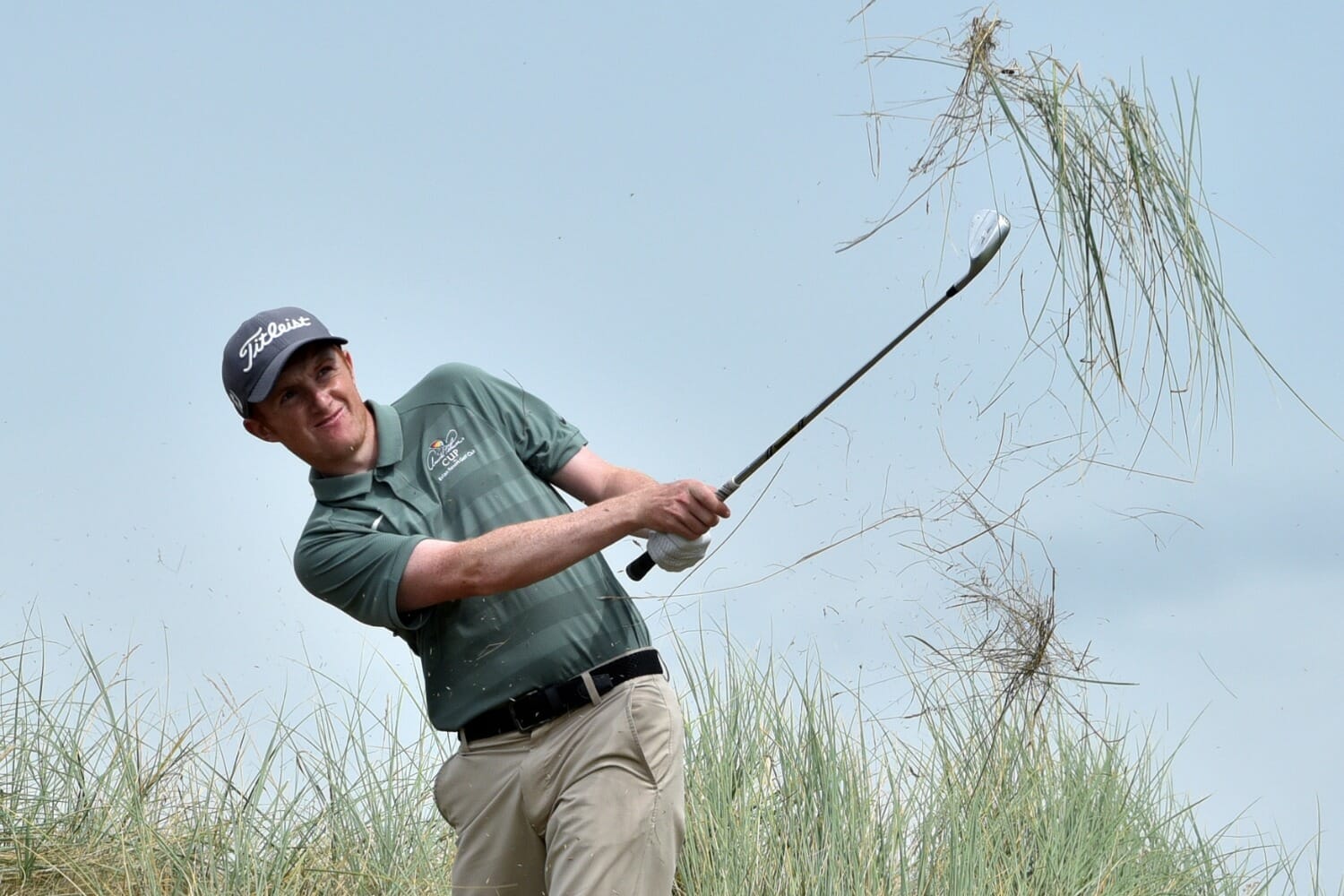 Silver Medallist, Ronan Mullarney remains on track to land the AIG Irish Amateur Close title after coasting past Dun Laoghaire's Keith Murphy in the opening round of the Matchplay stages.

Above – Ronan Mullarney – Images by Pat Cashman

The leading qualifier took care of business 4&3 before beating Castle's Peter McKeever 2&1 in round two. Where Mullarney excelled, other leading qualifiers struggled. Most notably, Caolan Rafferty and John Murphy who both failed to advance at The European Club.
South of Ireland champion Rafferty bowed out in round two when Eoin Leonard (Wentworth) edged him by one hole while Peter O'Keeffe (Douglas) claimed bragging rights as he beat fellow Corkonian John Murphy (Kinsale).

Ireland teammates Rowan Lester (Hermitage) and Alex Gleeson (Castle) will play each other in round three after they safely progressed as did Portmarnock's Conor Purcell, who now faces Mallow's James Sugrue. Notably, Castle Golf Club have three players through to the last 16 with Jack Walsh and Robert Moran joining Gleeson in the third round draw.
Mullarney's next mission is to find a way past Dylan Brophy from Castleknock in round three on Tuesday morning. Rest will take priority for the 22-year-old silver medallist between now and then.

"I'm a little bit tired," said Mullarney after completing his second round victory on 17 where his opponent lost a ball off the tee. "I'm staying with Jake Whelan in Newlands so I was up at five this morning to come over here to play for seven. I'm going to go to bed early tonight but I'm feeling good."
Being out first in round one may be the downside of finishing top seed. Still, Mullarney was largely untroubled in his opening game, closing out on 14 against Murphy. Playing McKeever proved a tougher task.

"Very relieved," was Mullarney's initial reaction. "Peter played lovely golf. He hits it really well. he was awful unlucky. He hit a lot of good putts that stayed on the lip. I think 16 was kind of a turning point. I hit it just inside him. I was about 12 feet and he was 15 or 18 feet. His ball rolled over the lip and I holed mine for birdie. That put me one up. Then I won 17 so that was the end of it."

McKeever lost his drive left on 17, leaving him scrambling for a double bogey with his provisional. Mullarney found the fairway and landed his approach in a safe spot just short of the front edge. From there he could afford a bogey as McKeever failed to hole a putt for six.

"Conditions were a lot tougher this afternoon," said Mullarney. "It was more like what I was expecting coming here. I only had 130 yards into the first and I hit a little 7-iron. It's usually only a wedge."
The Maynooth University scholar has already won twice on links terrain this season — the R&A Foundation Scholars tournament at St Andrews and the Irish Students Open at Tralee.

A win at The European Club would seal a sweet hat-trick although Peter O'Keeffe has a double in mind and would dearly love to add the Close to his collection having captured the Flogas Irish Amateur Open at Royal County Down last year.

"I'd love it," he said after completing a 3&1 win against John Murphy. "That's obviously in my head. I've been playing nicely all year, I just haven't been getting anything out of it. Every tournament I show up at, if I get into this way of playing and this frame of mind, I know I can win. It's just getting into that position."

An opening round of 66 put O'Keeffe in the frame and after surviving two demanding matches, his prospects remain healthy.
"If I keep doing what I'm doing I'll be in with a good shout," he said. "I'd be fairly hard to beat, that's the way I'm looking at it."
Murphy could certainly attest to that. The St Andrews Links Trophy champion had a one-hole lead at the turn but O'Keeffe wrestled control on the back nine, winning 10 and 12 to move ahead. It all ended at 17 when Murphy lost a ball with his drive.

"We all know John [Murphy] is one of the best amateur golfers at the moment so I knew it wasn't going to be easy, and it wasn't. I just had to hang in there," said O'Keeffe.

Plotting his way through the afternoon winds at The European Club served to remind O'Keeffe of his previous success at Royal County Down.
"I'm starting to get the same kind of feelings," said O'Keeffe, who plays Jack Walsh next. "I'm hitting it lovely and I'm really swinging it well. The thing for me is when I'm happy with my swing, I'm a calmer golfer. I'm around long enough to know to just keep it steady and stay as calm as possible but it's not easy at times."

For Conor Purcell, controlling emotions never seems problematic and he moved into the third round in nonchalant fashion, coolly dispatching Thomas Neenan (Lahinch) 6&5 and Jack McDonnell (Forrest Little) 4&3
"It was a good win," said Purcell of his second round victory against McDonnell. "I'm just trying to make as many birdies as I can. I made a few coming in which helped. Birdies and pars win most holes."

A superb birdie at 17 saw Rowan Lester progress to round three following a tight match with Peter Kerr (Royal Portrush). Lester had beaten Mark Mullen (Rosslare) by two holes in his morning encounter but he was determined to avoid a return trip down 18.

"I don't like going down 18," said Lester. "It's never nice even if you're one up. You're putting yourself under stress that you don't need to put yourself under. it was lovely to get that putt. It gives me a bit of confidence going into tomorrow."

Lester lasered a 7-iron from 168 yards to within 10 feet of the cup. Kerr missed the green left and had chipped up to four feet before Lester converted his birdie to finish the match.
"I played lovely and it was nice to birdie 17," said Lester. "I was possibly going to pull out this week but the group that I had kind of helped and then the weather was supposed to be good so I was thinking what else am I going to do? I may as well try and go get a win after last week [losing South of Ireland final]."

Next up for Lester is a mouth-watering clash with Ireland teammate, Alex Gleeson, who won three holes in a row to beat Shaun Carter (Royal Dublni) 2&1 in round two. Gleeson defeated Galway veteran Joe Lyons in the first round and rallied strongly on the back nine to beat Carter.

Eoin Leonard's reward for beating Caolan Rafferty (Dundalk) is a third round clash with Dungarvan's Kevin Stack, who beat Paraic Connolly (Killeen Castle) with a birdie at 18. Castle's Robert Moran goes up against Eugene Smith (Laytown & Bettystown) and Gary Collins (Rosslare) plays Robbie Cannon (Balbriggan).
Ross Dutton (Tandragee) was the last player to make it through to round three following an epic encounter with Joseph Byrne (Baltinglass) that was only decided at the 21st. Dutton now plays Marc McCormack (Moss Creek) in the last 16. McCormack edged out Stephen Walsh (Portmarnock) 2&1 in the second round.​


Match Play Results
Round One
R Mullarney (Galway) bt K Murphy (Dun Laoghaire) 4&3; P McKeever (Castle) bt M Boucher (Carton House) 3&1; P O'Connor (Macroom) bt J McCabe (Roganstown) 1 hole; D Brophy (Castleknock) bt J Rowe (Tandragee) 5&4; M Ryan (New Ross) bt C O'Connor (Corrstown) 5&4; G Collins (New Ross) bt R O'Connor 2&1; M McKinstry (Cairndhu) bt P Coughlan (Castleknock) 6&5; R Cannon (Balbriggan) bt R Williamson (Holywood) 4&2; P Kerr (Royal Portrush) bt M Norton (Belvoir Park) 3&2; R Lester (Hermitage) bt M Mullen (Rosslare) 2 holes; S Carter (Royal Dublin) bt N Hearns (Mountrath) 2&1; A Gleeson (Castle) bt J Lyons (Galway) 3&2; P O'Keeffe (Douglas) bt N Crawford (Mourne) 1 hole; J Murphy (Kinsale) bt G Cullen (Beaverstown) 7&6; J Walsh (Castle) bt R Latimer (Knock) 19th; C Woodroofe (Dun Laoghaire) bt G Lenehan (Portmarnock) 2 holes; C Purcell (Portmarnock) bt T Neenan (Lahinch) 6&5; J McDonnell (Forrest Little) bt S McDermott (Co Cavan) 1 hole; N McCann (Lurgan) bt O Devereux (Carton House) 19th; J Sugrue (Mallow) bt D Lowry (Corrstown) 5&4; H Gillivan (Westport) bt M McClean (Malone) 6&4; R Moran (Castle) bt S Irwin (Killeen) 5&3; E Smith (L'town & B'town) bt T Plunkett (Crover House) 2&1; TJ Ford (Co Sligo) bt H Foley (Royal Dublin) 1 hole; C Rafferty (Dundalk) bt O Crooks (3&1); E Leonard (Wentworth) bt J Blake (The Island) 3&2; P Connolly (Killeen Castle) bt A Fahy (Dun Laoghaire) 20th; K Stack (Dungarvan) bt A Smith (Mullingar) 2&1; S Walsh (Portmarnock) bt G Ward (Kinsale) 20th; M McCormack (Moss Creek) bt C Geraghty (L'town & B'town) 2&1; R Dutton (Tandragee) bt C Butler (Kinsale) 3&2; J Byrne (Baltinglass) bt J Hickey (Cork) 3&1.

Round Two
Mullarney bt McKeever 2&1; Brophy bt O'Connor 5&4; Collins bt Ryan 2&1; Cannon bt McKinstry 5&4; Lester bt Kerr 2&1; Gleeson bt Carter 2&1; O'Keeffe bt Murphy 3&1; Walsh bt Woodroofe 1 hole; Purcell bt McDonnell 4&3; Sugrue bt McCann 1 hole; Moran bt Gillivan 2&1; Smith bt Ford 3&2; Leonard bt Rafferty 1 hole; Stack bt Connolly 1 hole; McCormack bt Walsh 2&1; Dutton bt Byrne 21st

Round Three – Tuesday 7th August – 8am at 10 minute intervals
Mullarney v Brophy; Collins v Cannon; Lester v Gleeson; O'Keeffe v Walsh; Purcell v Sugrue; Moran v Smith; Leonard v Stack; McCormack
Quarter Finals at 1pm at 15 minute intervals