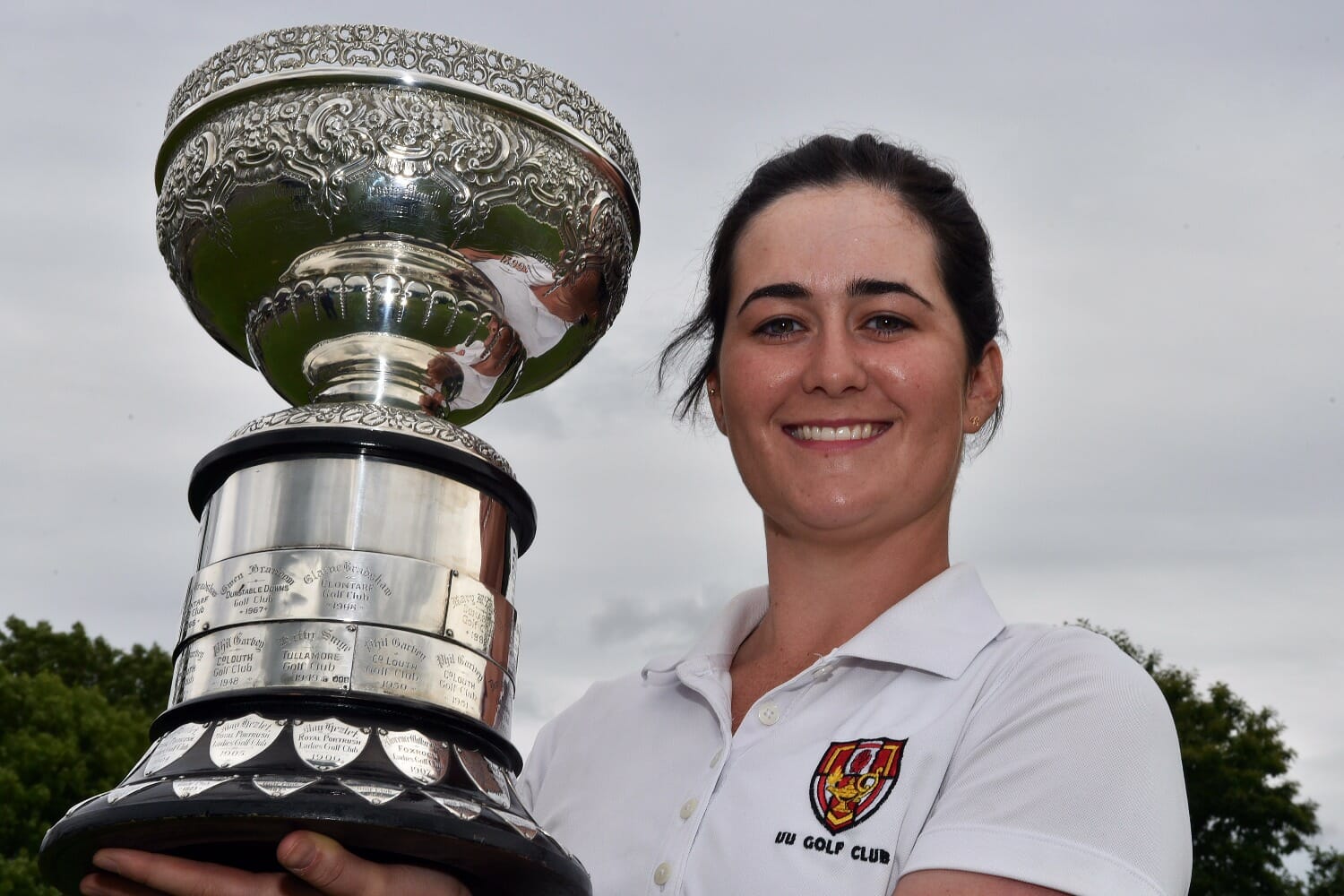 The final day of the 2017 Irish Women's Close Championship provided a spectacle of golf as the semi-finals and finals of the Irish Close Championship and the Ita Wallace Plate got underway.



2010 Irish Close Champion and this year's Leinster Women's Team Captain Mary Dowling (New Ross) won the 9th hole with a par to level the match against Hermitage's Ciara Casey in the first of the semi-finals. Dowling proceeded to win the 10th and by the 13th had a 2 hole advantage with 5 holes to play. Casey rallied however, winning the next 3 holes to head to the 17th 1 up. Casey closed out the match on the 17th green, 2&1.

Past International Sarah Cunningham (Ennis) and Paula Grant (Lisburn) would play for the second place in the 2017 Final. Grant, fresh from her successful week at the British Ladies Amateur, was in control of the match from the beginning and after turning 3up, she kept the pressure on, finally winning 4&3.

Chloe Ryan (Castletroy) had just the 7 birdies in her win over Shannon Burke (Ballinrobe) in the first of the Ita Wallace Plate Semi-Finals. Chloe showed a short iron masterclass, taking the pressure off her putter, however she held a substantial putt on the 15th green to close out the match. The second of the semi-finals was nip and tuck throughout, turning at all square. Lauren Walsh (Castlewarden) managed to get in front early on the back 9 but again Lanigan, who will represent Leinster on the Girls Interprovincial Team in Shannon in a couple of weeks, won the 16th with an eagle to go 1up and held on to close out the match on the 18th green.

After 4 days of play, and 78 competitors, the final two; Ciara Casey (Hermitage) and Paula Grant (Lisburn) battled for the title of Irish Close Champion 2017. The first two holes were halved and after a small error from Grant on the third Casey went 1 ahead. A superb shot from Grant on the 176 yard par 3 5th to within concession distance levelled the match once more. The pair traded holes over and back making the turn still level. It looked as though Casey was determined to win when she won the 10th and 11th to go 2up. It was then that Grant showed her experience by birdying the 12th and 13th to level the match and a birdie on the par 4 17th would be enough for her to be crowned 2017 Irish Women's Close Championship for the second time in her career.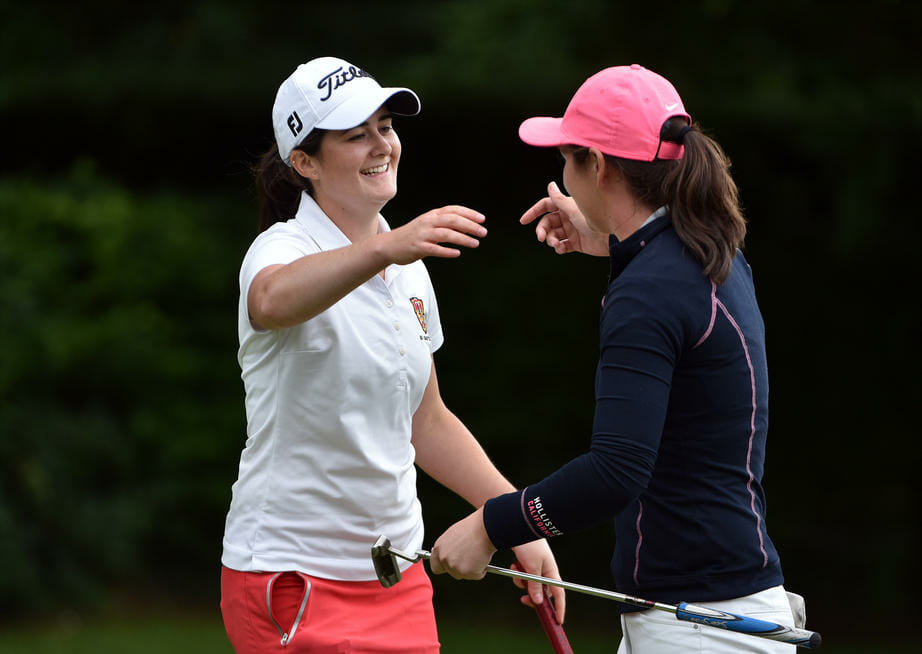 "I'm absolutely chuffed, I can't believe it really, it hasn't really sunk in yet but it feels good!" When asked did it feel different to her previous Irish Close win in 2013, in which she bet Lisa Maguire (Slieve Russell) on the 19th in Ballybunnion she said; "I felt more expectation this time but I felt a bit more in control as well, I just felt like I was a better golfer this time around! It feels different but still feels as good!"

Up ahead Chloe Ryan had gone 3up after 6 holes vs. Kate Lanigan. Lanigan then won two holes before the 10th but Chloe won 3 holes in quick succession to go 4up with 6 to play. The experienced international, who will travel with the Irish Team to the European Team Championships in Portugal in a couple of weeks, never let up and the match finished 4&2 in favour of the Limerick woman.

The course at Mullingar has impressed many, none moreso than the Champion herself, "I've absolutely loved the golf course, it was set up so well and the greens are lovely, they were getting faster and faster every day! My home course, Lisburn, is a parkland too so I knew the course was going to suit me as you just had to keep it straight off the tee and putt well which is what I did!"

LISTEN: Paula Grant speaks after winning the 2017 Irish Close Championship

Championship
Final
Ciara Casey (Hermitage) lost to Paula Grant (Lisburn) 3&1

Semi Finals
Mary Dowling (New Ross) lost to Ciara Casey (Hermitage) 2&1
Sarah Cunningam (Ennis) lost to Paula Grant (Lisburn) 4&3

Quarter Finals
Maria Dunne (Skerries) lost to Mary Dowling (New Ross) 4&3
Ciara Casey (Hermitage) beat Valerie Clancy (Killarney) 4&3
Sarah Cunningham (Ennis) beat Niamh McSherry (Lurgan) 2&1
Paula Grant (Lisburn) beat Lisa O'Shea (Shannon) 2&1

Last 16
Mairead Martin (Kanturk) lost to Maria Dunne (Skerries) 4&3
Ariana Coyle Diez (Elm Park) lost to Mary Dowling (New Ross) 1down
Ciara Casey (Hermitage) beat Sara Byrne (Douglas) 1up
Valerie Clancy (Killarney) beat Eleanor Metcalfe (Laytown & Bettystown) 4&3
Sarah Cunningham (Ennis) beat Maeve Cummins (Lurgan) 19th
Rachel Thompson (Cork) lost to Niamh McSherry (Lurgan) 1 down
Paula Grant (Lisburn) beat Orla Dunphy (Kilkenny) 6&5
Sinead Sexton (Lahinch) lost to Lisa O'Shea (Shannon)2&1

Ita Wallace Plate
Final
Chloe Ryan (Castletroy) beats Kate Lanigan (Hermitage) 4&2

Semi-Finals
Chloe Ryan (Castletroy) beat Shannon Burke (Ballinrobe) 5&3
Lauren Walsh (Castlewarden) lost to Kate Lanigan (Hermitage) 1 hole

Quarter Finals
Paula Walsh (Doneraile) lost to Chloe Ryan (Castletroy) 4&2
Alice Hutchinson (St. Anne's) lost to Shannon Burke (Ballinrobe) 7&5
Emma Forbes (Royal Portrush) lost to Lauren Walsh (Castlewarden) 2 holes
Beth Coulter (Kirkistown Castle) beat Kate Lanigan (Hermitage) 19th

Last 16
Paula Walsh (Doneraile) beat Clodagh Walsh (Castlewarden/MU) 2&1
Chloe Ryan (Castletroy) beat Louise Coffey (Malone) W/O
Anna Dawson (Tramore) lost to Alice Hutchinson (St. Anne's) 8&6
Shannon Burke (Ballinrobe/MU) beat Aine Donegan (Woodstock) 2&1
Emma Forbes (Royal Portrush) beat Meadhbh Doyle (Portarlington/MU) 1up
Lauren Walsh (Castlewarden) beat Kate Dwyer (Rossmore) 5&4
Roisin Brady (Co. Louth) lost to Beth Coulter (Kirkistown Castle) 4&2
Kate Lanigan (Hermitage) beat Aoife Lowry (Tipperary) 3&2

First Round Results
Mairead Martin (Kanturk) beat Paula Walsh (Doneraile) 3&2
Maria Dunne (Skerries) beat Clodagh Walsh (Castlewarden/MU) 4&3
Ariana Coyle Diez (Elm Park) beat Chloe Ryan (Castletory /UCD) 4&3
Mary Dowling (New Ross) beat Louise Coffey (Malone) 6&5
Ciara Casey (Hermitage) beat Anna Dawson (Tramore) 4&3
Sara Byrne (Douglas) beat Alice Hutchinson (St. Anne's) 2&1
Shannon Burke (Ballinrobe/MU) lost to Valerie Clancy (Killarney) 3&1
Aine Donegan (Woodstock) lost to Eleanor Metcalfe (Laytown & Bettystown) 22nd
Sarah Cunningham (Ennis) beat Emma Forbes (Royal Portrush) 2&1
Meadhbh Doyle (Portarlington/MU) lost to Maeve Cummins (Lurgan) 4&3
Lauren Walsh (Castlewarden) lost to Rachel Thompson (Cork) 2&1
Niamh McSherry (Lurgan) beat Kate Dwyer (Rossmore) 3&2
Paula Grant (Lisburn) beat Roisin Brady (Co. Louth) 5&4
Beth Coulter (Kirkistown Castle) lost to Orla Dunphy (Kilkenny) 3&1
Sinead Sexton (Lahinch) beat Kate Lanigan (Hermitage) 19th
Lisa O'Shea (Shannon) beat Aoife Lowry (Tipperary)19th