Golfers at La Hacienda Links Golf Resort have the chance to sit back and bask in spectacular uninterrupted views of the Mediterranean, Gibraltar and the distant coast of north Africa with the opening of a new halfway house at the luxury Spanish resort.
Situated by the tenth tee of the 36-hole venue's Links course, which reopened to widespread acclaim in 2022 after a major redesign, 'Calma' offers players the opportunity to enjoy one of the most breathtaking seaside locations in European golf while sampling a mouthwatering menu based on local Andalusian produce.
Open daily from 9.30am to 7.30pm for golfers and from 8pm to midnight to the public, the new facility – which has been constructed using the best bioclimatic practices and sustainable materials with an almost zero carbon footprint – offers a choice of freshly made tapas, snacks and desserts for golfers to enjoy, with members and visitors all invited to stop for 15 minutes before continuing their rounds.
Featuring a small restaurant and large terrace area, 'Calma' can also cater for events of up to 200 people and is managed by Sal Verde – the new beach bar and restaurant at La Hacienda – and is the latest investment to be unveiled by the resort as part of its ongoing transformation into one of Europe's leading modern 36-hole golf venues.
Javier Jimenez-Casquet, director general at La Hacienda Links Golf Resort, said: "Without a doubt, the halfway house is situated in one of the most privileged places at La Hacienda and on the Costa del Sol, with unbeatable views of our Links course, the beach, sea, Gibraltar and Africa. It is a place where players and customers can enjoy an idyllic setting, relax and have an aperitif or even stop for lunch or dinner.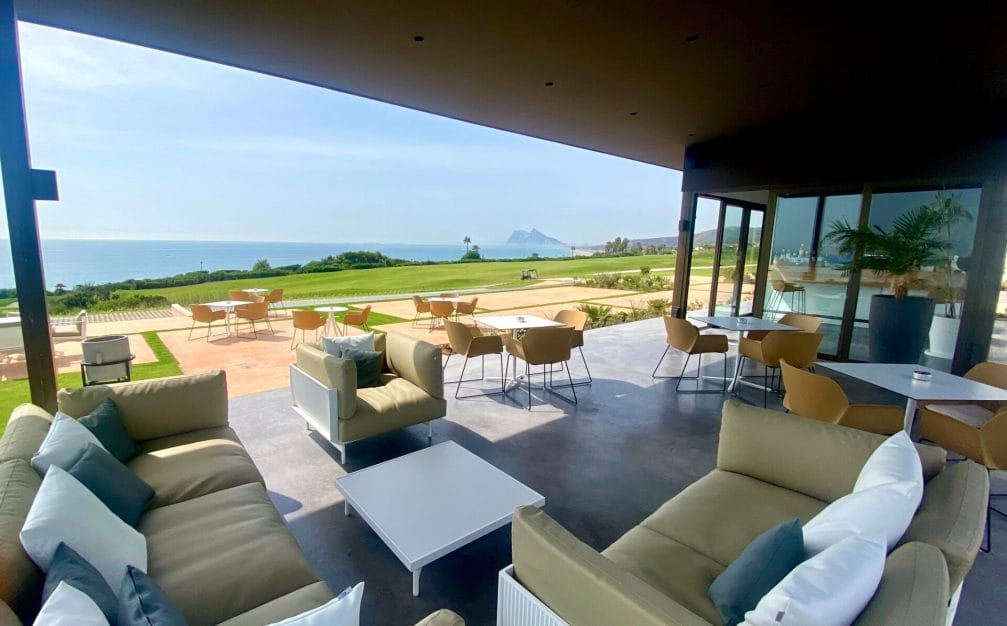 "Since we began the renovation of the Links course, we were clear that this location was perfect for an unparalleled halfway house. It is another facility that makes the course an incredible place to play golf and is a further demonstration of Millenium Hospitality's commitment to turn La Hacienda into a premium golf destination of international repute."
Located in the Cadiz municipality of San Roque close to Sotogrande, La Hacienda Links Golf Resort has undergone a significant redevelopment in the last 18 months with an array of improvements made on and off the golf course.
As well as the relaunch to widespread acclaim of its Links course last summer after a major renovation by American architect Kurtis Bowman and the opening of a new clubhouse, the resort is carrying out a fresh series of upgrades to its golf and leisure amenities including new investment on its other 18-hole layout, the Heathland course.
Other improvements include the launch of a new state-of-the-art website while La Hacienda will fully launch a new 300-plus-room Fairmont hotel and villas in spring 2024 – underlining the resort's ambition to become one of the most exclusive and luxurious golf developments in Spain.
For more information on La Hacienda, please click here.