In the 1914 Annual Report of the Dublin Fire Brigade it was noted that defective construction, electrical defects and gas explosions were causes of fire that year, along with rats.
'Rats with matches' were an issue, matches at the time were made of a high gelatine content, when the rats gnawed on the matches the friction with their teeth would cause the match to catch fire – the rat would become the torch.
At the same time, Captain Thomas Purcell was Chief Officer of the Dublin Fire Brigade, a man who is a legendary figure in the fire service here. He invented and patented a turntable ladder and purchased the first breathing apparatus used in Dublin.
He had an extraordinary engineering brain and went to study in USA before returning to help fight the 'The Great Fire' in the capital in 1916.
Purcell had a keen interest in sailing too and that followed on to his son, Pierce, who would later become immortalized in Irish golf.
"Well this was kind of a slightly different era, I was obviously quite young, you can imagine I remember him being very, very tall even though my sons are as tall as he was now but I always remember him being a very tall guy," said Pierce Purcell, grandson of Professor Pierce Purcell.
"He was a well-respected guy, he was president of Portmarnock, he was involved in the golfing union. He would've been a member of the Royal Irish Yacht Club in Dun Laoghaire, probably from a social point of view he did a bit of sailing there with his father."
Pierce Purcell lives in Galway now, his focus has always been sailing but he knows the significance of his grandfather's name in the golf game.
And this weekend the AIG Men's Pierce Purcell Shield is down for decision at Knightsbrook Golf Resort in Trim, Co Meath. It dates back to 1970 and Castlebar are the reigning champions.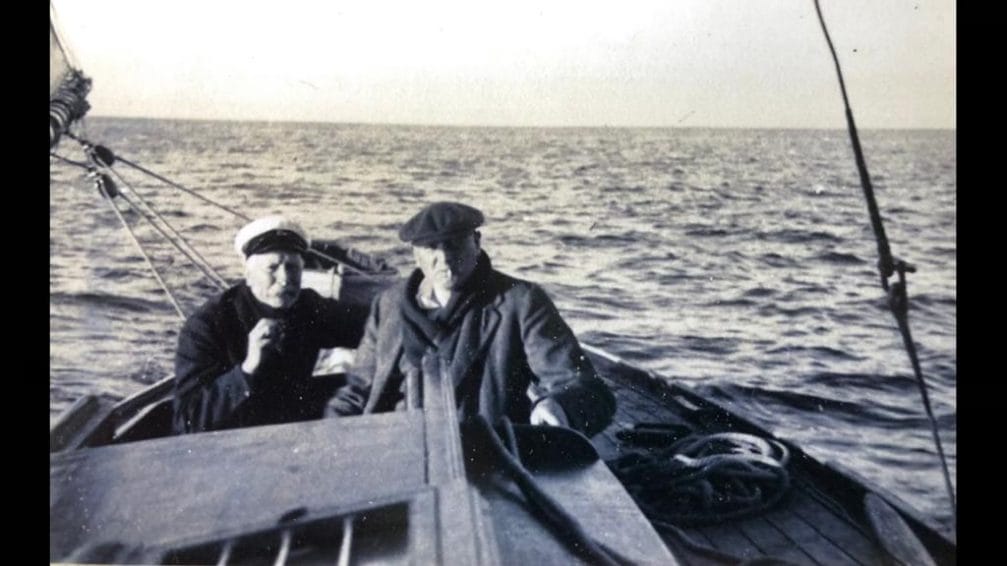 "I haven't really been to the event I went a couple of years back in Carton House. I actually went along with one of the boys and the other fella wasn't available, we just had a look and we had a nice afternoon," said Purcell.
"I'd like to get my other son, Pierce Junior, there he hasn't been before."
Royal Belfast was the only golf club in Ireland when Professor Pierce Purcell was born in Kilkenny in 1881. The game grew as did his own and he went on to get his handicap down as low as three at one stage.
He played in the Irish Close and Irish Open Championships while one of his biggest wins came in his own Portmarnock, in 1933, where he captured the Gold Medal.
Professor Purcell was Captain there on two occasions in 1925 and 1937, in 1937 he was also elected to the Golfing Union of Ireland. He was chairman of the Leinster Branch between 1947 and 1948 and President between 1948 and 1950.
He went on to become a member of the R&A Committee and played a huge role in bringing the Canada Cup to Portmarnock in 1960.
Just like his father, he excelled in Engineering circles too, and was the first Professor of Engineering in UCD when he was just 28 – he held that role for 44 years and eventually retired in 1953.
"People all over the country, from all over the place in different circles actually ask me about him," said Purcell.
"They don't really know the history of it. It's incredible actually from all kinds of circles and different business even boating where a lot of people play golf that sail too but I think it's hard to they cross over the same seasons.
"I do meet people and they're actually kind of surprised. It comes up quite often because obviously he was virtually a scratch golfer himself and he was a great administrator in the sport of golf, and he always felt golf should be opened up a bit more and more competition.
"The golfing union put up that shield when he died as a result of that, that's how it started."
Today in Galway the name Pierce Purcell is almost as famous in boating and yachting, with Professor Purcell's grandson setting up his base in Clarinbridge.
He is originally from Dublin but has spent almost half a century out west and the family have a boat marine business, Galway Maritime. Purcell effectively retired from the marine business back in 2019 when he finished up in Purcell Marine Clarinbridge.
He was only eight when his father Pierce Senior passed away and from the early days sailing in Dun Laoghaire, he made a home in Galway and he helped to build a base for boats and sailing there.
In 1970, Purcell was a founding member of the Galway Bay Sailing Club and he was commodore there when he was just 30. In 1983 he started a boat sales and chandlery business in Oranmore, which he moved to Clarinbridge 18 years later.
"My father died when I was very young and my mother remarried, the family played quite a bit of golf so I played a bit when I was at school," said Purcell.
"I was lucky enough to have some golf lessons because there was a great pro, I think he was Portmarnock, a guy called Eddie Hackett. He was the coach that came along to the school and my grandfather was alive at that stage and he said make sure you give young Purcell there a few extra lessons.
"It was quite incredible, this was down in Rockwell in Cashel, Tipperary and they have a course they still have. It was kind of a bit boggy and rough at the time but there were great exercises done, standing on one foot hitting golf balls and things like that.
"I enjoyed it but just don't get the time now. I'm kind of half-retired, working seven-days-a-week for the last couple of years, as a result I just don't get time. I'd love to play a couple of nine holes or something at some stage, even with my sons.
"I'm trying to encourage them because of the family history but they are very involved with boating."