by Fatiha Betscher, Saudi Arabia
Graeme McDowell was heading straight for Oman for the first time in his career, buoyed by taking Route 66 on the final day of the Saudi International after his first outing for season 2023.
McDowell holed a 15-footer for birdie at the last for an overall seven-under tally in glorious conditions on the host Royal Greens course to the north of Jeddah. The effort handed the 2020 tournament champion a three-way tie for 25th place with fellow major champ and LIV star Patrick Reed.
McDowell returned to competition since last October when he competed under lights on this same host course in the LIV Series event and with the Irishman admitting to feeling stronger in each round in this $US 5m tournament.
"That's Route 66, baby", said McDowell smiling. "It just got better every day which was nice, as I started off a bit rusty on Thursday, so it got a bit better on Friday and then a bit better over the weekend. "It was also nice to shoot a few under there today, and nice to take into next week".
Indeed, it could have been easily a 63, 64 or 65 with McDowell burning the hole a few times, including the par-3 16th laid out on the Red Sea shoreline.
"I played very quite well out there today, leaving not only a few out there on the greens but also yesterday, so there's a lot of good early signs in my game," added McDowell "So, happy enough. There's a lot these four days I can build on".
When quizzed what was good about his game, McDowell instead singled out more what he needs to work on in sharpening his game as he also heads into a 21st anniversary pro season.
"I know what I need to work on and those seem fairly obvious to me, and they are my short-game and bunker play", he said. "My putting has really turned the corner in the past five months which is such a key part of my game, as I was really around late summer and early autumn last year, I didn't putt well.
"I actually figured something out in this event last October and thanks to Clive Tucker, who I did some work with pre-US Open while I also worked with David Howell as he is very good at putting and he got me back on track, so that I am starting to putt really well again.
"So, if I can just build the other aspects of my game around that then it will continue to move in the right direction." McDowell was jetting out Sunday night from Jeddah, located around a 90-minute drive to the south of this week's venue bound directly to Muscat for this coming week's $US 2m Oman event, and the second on the 2023 Asian Tour schedule.
"I've not travelled to Oman before in my career, so I'm looking forward to it as I hear the golf course is stunning, laid out along the Gulf of Oman", he said. Joining McDowell will be fellow Major winners and LIV stars in Louis Oosthuizen, Brooks Koepka, Sergio Garcia and Charl Schwartzel.
Texas-based Mexican Abraham Ancer has led from start to finish to capture the fifth anniversary hosting of the Saudi International.
Ancer, who turns 32 later this month, was never headed in posting scores of an opening round of an equal course record 63 along with additional scores of 66, 64 and a closing 68 to win by two shots with a 19-under-par winning tally in glorious conditions on the Royal Greens course.
The win is Ancer's fourth pro career success having captured the 2015 Nova Scotia Open on the PGA Tour's secondary Web.com tour, the 2019 Emirates Australian Open and 2021 WGC – FedEx St. Jude Invitational.
That's also four wins on four different tours. "The win is the first time I've won in my career wire-to-wire, so it was nice to lead going into the closing three days", he said.
"When I got here I saw the golf course was incredible shape and that had me excited from the outset
Ancer collected a $US 1m first prize cheque while the win should see the LIV golfer jump a likely 10 places to new World No. 27 and with the Mexican already assured of a fourth successive Masters tee-time by behind inside the top-50 on the World Rankings at the close of 2022.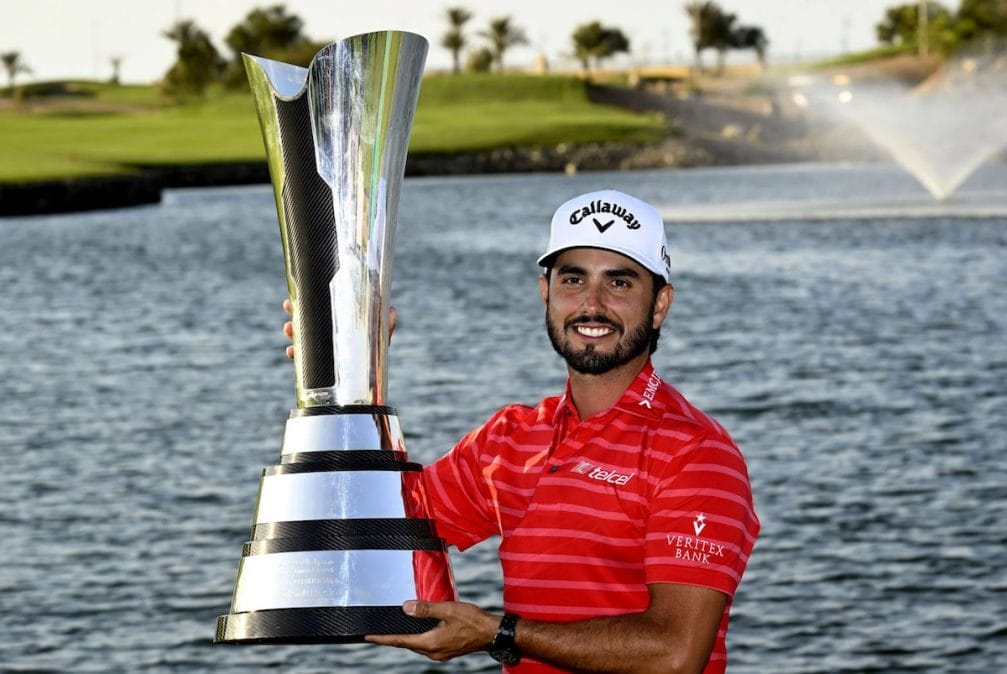 The PGA Tour's Cameron Young, who needed a 'release' to compete in Saudi Arabia, finished a gallant second in signing also for a 68 for a 17-under tally. Young commenced the final round two shots behind Ancer and, in fact, tied the lead at 19-under with four birdies in his opening seven holes but it proved the highwater mark of his challenge when he bogeyed the par-3 eighth hole.
There was a two-shot swing in Ancer's favour when he birdied the downwind par-4 17th and Young bogeyed that saw Ancer head down the 72nd leading by three at 20-under only for him to drop a shot on 18 but still good enough to secure a two-shot win. The World No. 17 ranked Young will trade places with Jordan Spieth moving up one place to the new No. 16 for his efforts in Saudi.
Aussie and former Irish Open winner Lucas Herbert, who needed a release from both the DP World Tour and PGA Tour, secured his second straight third place finish in recording a closing round 65 for a 15-under tally. Though Herbert's quest for success was not helped when he doubled the second hole.