Graeme McDowell has spoken of his pride in being appointed by fellow Irishman Padraig Harrington as a 2021 Ryder Cup vice-captain and labelling Harrington as one of the 'most decorated players in Europe'.
McDowell has been chosen by Harrington along with double major winning German Martin Kaymer ahead of this September's Wisconsin showdown and with McDowell's appointment clearly another step closer to being appointed as the 2027 European captain for Adare Manor.
Harrington announced the appointment of McDowell and the relatively young 36-year-old Kaymer as vice-captains and joining Robert Karlsson and Luke Donald who were selected prior to the cancellation of last year's Ryder Cup.
McDowell has played in four Ryder Cup's having written himself into Ryder Cup folklore in holing the 2010 winning putt at Celtic Manor in Wales. He was then appointed to a first vice-captaincy role under Thomas Bjorn for the victorious 2018 Versailles winning team.
And with the enormous experience of having played under four different captains and been a huge part of success under Bjorn in France, McDowell was asked by Irish Golfer Magazine what it would now be like to work under a fellow Irishman, a three-time Major winner and a golfing legend as Harrington.
Bizarrely, McDowell was sitting behind the wheel of his own private vehicle in the car park of an Orlando shopping centre on today's Zoom call and with Harrington and Kaymer in Munich where they are contesting this week's BMW International Open.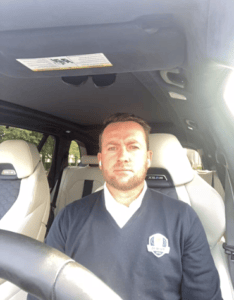 "Firstly, apologies I can't be with you guys in Germany and Munich this week at the BMW but I have the next best thing, I'm sitting in my BMW, so I hope that works okay," said McDowell smiling.
"It's goes without saying, being a vice captain under any European Captain is very special but when you're talking about one of the most decorated players in Europe, also an Irish player like Pádraig, who my relationship with him goes back nearly 20 years, so we've had a lot of shared experiences together.
"A huge amount of respect for what he brings to the table and what he's done in the game of golf. You know, he is obviously a hugely intelligent and analytical and process-driven captain, and I can't wait.
"You always learn so much in a week like The Ryder Cup being around the best players in the world, the most experienced players in the world. You know, to me, it's one part. I want to do everything I can to help Team Europe but it's another part learning and being inspired and kind of pouring that back into what's left of my golf career and the things that I want to achieve.
"So, there's so many layers to it. "Obviously the No. 1 thing is to win The Ryder Cup, but there's so much experience and so much to learn on a week like that, and especially being surrounded by guys like Pádraig Harrington".
McDowell also spoke in general terms what it does mean to be a vice-captain, and the role he again sees himself playing along the shores of Lake Michigan. "It's a huge honour to be vice- captain, again," he said.
"You know, Captain Harrington is going to do a fantastic job and it's a huge honour to be in the team room with him bringing some experience and joining the huge amount of respect and experience that we already have in the captaincy and captaincy roles.
"It goes without saying, we have a huge amount of talent in the room, and I learned a huge amount in 2018 about what it takes to be behind the scenes. "Like Pádraig mentioned, the captain is under a huge amount of pressure and the vice captains really have to try and pick up the pieces for him a little bit around the team room.
"It's a huge pressure week. There's a lot of stuff going on, and like I say, I felt I learned a huge amount in 2018 about how to communicate with the players, what everybody needs, what the captain needs to help them do his job.
"There's so much to it. It goes without saying that we'd love to be playing but if we can't, this is the next best thing, helping Team Europe achieve its goals, watching these great young players come up and achieve their dreams, and I'm really, really excited to kind of get going and hopefully win The Ryder Cup at Whistling Straits".
And while McDowell revealed his location, he also indicated he was attending to a few matters ahead of jetting out of Orlando on Friday night and home to Ireland ahead of preparing to host next week's Dubai Duty Free Irish Open at Mt. Juliet.