Glenmuir, the Scottish golf clothing brand, has agreed a historic five year partnership with Ryder Cup Europe which brings their association to nearly 40 years. Glenmuir will be the Official Licensee of the 2020, 2022 and 2024 matches and to celebrate the partnership the brand has launched the Official 2020 Ryder Cup collection.
The collection is showcased and available online at www.glenmuir.com as well as the Official European 2020 Ryder Cup Shop. Glenmuir have embarked on a marketing campaign with video and image content with #RyderCupReady on their Instagram account @glenmuir1891 to activate this partnership.
Mikhel Ruia Managing Director, Glenmuir adds: "Being part of this truly global sporting spectacle since 1987 is a great honour for Glenmuir. The Ryder Cup is the most treasured trophy in the game of golf and represents pride, passion and partnership. This ethos is aligned with Glenmuir's own team values with everyone focused on crafting premium quality, functional and elegant products which are made using sustainable and renewable methods. We very much look forward to building upon the great past success of our Ryder Cup partnership as we embark on this next 5 year chapter".
Tom Johnson, Ryder Cup Europe Head of Marketing said: "Ryder Cup Europe and Glenmuir have a long-standing association and we are delighted to extend this partnership across the next three Ryder Cups, offering fans the chance to purchase high quality products from the Official Ryder Cup collection."
Sunderland of Scotland has also become Official Licensee for the 2020 Ryder Cup. The five year agreement will see the brand appointed Official Licensee of the 2020, 2022 and 2024 matches. Like Glenmuir the Sunderland brand also have a longstanding relationship with the Ryder Cup having first produced outerwear for the then Great Britain & Ireland Ryder Cup Team for the 1965 matches against the US held at Royal Birkdale.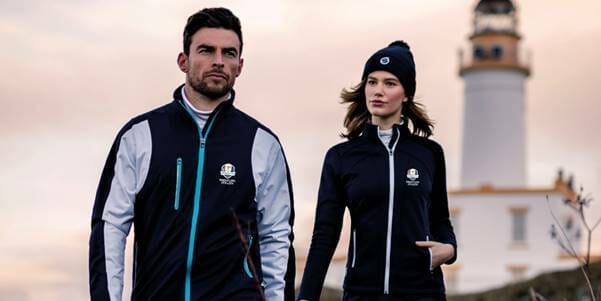 Mikhel Ruia, Managing Director, Sunderland of Scotland adds: "The Ryder Cup captures the essence of athletes competing at the very highest level with changing match pressures, weather conditions and climate. Sunderland of Scotland's high performance technical golf wear is engineered to perform by allowing players to own the elements ensuring they're #NEVERWEATHERBEATEN so they can remain focused on factors of the game they can control."
To celebrate the partnership the brand has launched their Official 2020 Ryder Cup collection which includes high performance waterproof suits, lightweight soft shell windshirts and thermal midlayers and padded down jackets for both men's and ladies'. The collection is showcased and available online at www.glenmuir.com/sunderland