Fifty players under the age of 18 took to the links at Seapoint on Wednesday for the ILGU Junior Medal National Final.
In addition to the 50 players with the lowest aggregate of three net scores relative to CSS in the months of June, July and August, 10 juniors nationally who have reduced their handicap by the greatest margin this year also qualified for the event.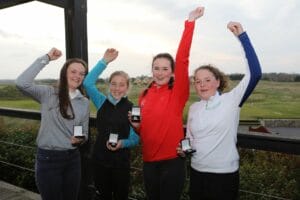 Killarney's Aine Martin, who has taken inspiration from her older sister Mairead, cut her handicap by 19.5 shots this season. Now playing off 17.5 she finished in 11th position with a score of 33 points.
The overall Gold Medal winner was Olivia Currie who carded the score of the day in very windy conditions. The Moyola Park member has a handicap of 31 and had a whopping 45 points, a score which included four pars.
Niamh Grealy (Beaverstown) won the 0-20 handicap category and the Silver Medal while Erin McClure (Royal Belfast) took home the Bronze category medal for her 40 points. Katie Poots (Knock) was the winner of the gross medal.
The Club Junior Medal is awarded to the player with the lowest aggregate of 3 net score differentials relative to CSS, one in each month of the school holidays, June, July and August.