Tramore Golf Club won their first AIG Junior Cup Munster Final in 13 years, winning on their home course during a glorious day for golf.  Dave Bennett led the way for the hosts, he closed out his match on the 12th hole.  David Spillane followed with a second win for Tramore when he won 4&3.  Even though East Cork were leading in the last two matches, they wouldn't be counted.  Martin Walsh and James Gillespie we having a titanic battle in the first match, one dominated by long putts and birdies.  Walsh got the upper hand at the end and he sealed the win for Tramore on the 18th green, to the delight of a large home crowd.  Team Manager Paul Flynn was delighted to accept the blue pennant, which adds to Tramore's 125th Anniversary celebrations.  In the morning semi-finals Tramore beat Adare Manor while East Cork beat Newcastle West.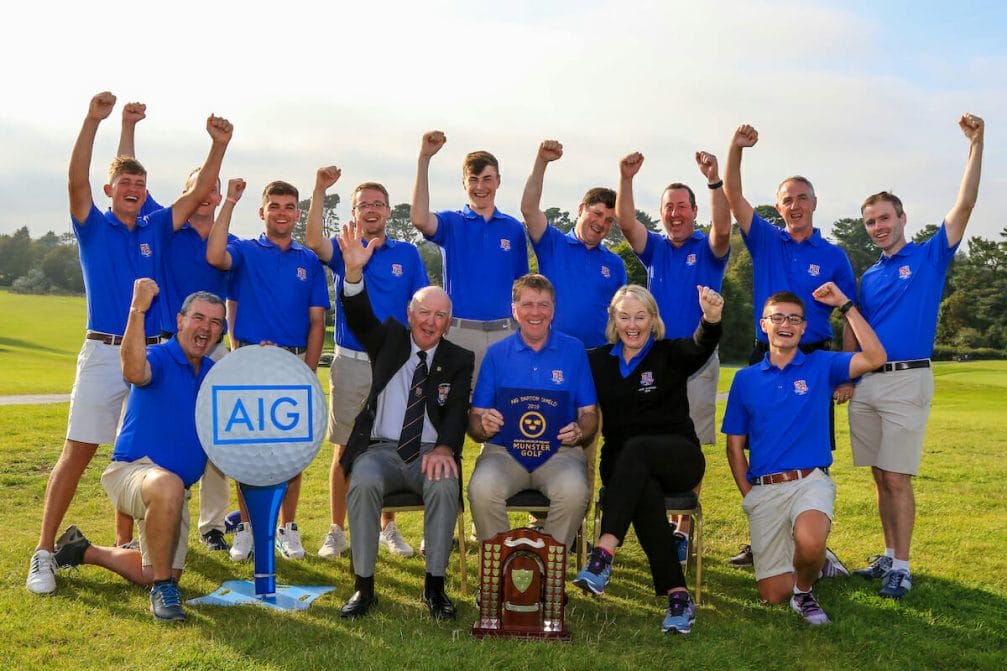 Limerick Golf Club were the winners in the AIG Barton Shield, in a close match they finally edged out Tralee when both matches were on the final hole.  There was just one hole in the match with three to play, but Limerick halved the 17th in the back match, and their front pairing won the 18th, giving them a 2&1 aggregate win.  Thanks in part to that win on th 18th, Ciaran Vaughan and Michael Reddan recorded a three-hole win over Darren O'Sullivan & Eoghan O'Donnell, and in an exciting match where there was only one halved hole over the course of the 18.  Justin Kehoe & Owen O'Brien lost to Ger Deegan & Fergal O'Sullivan by one hole, and they were called in on the 18thfairway, much to the delight of the large travelling party from Limerick.  In the morning semi-finals, Limerick beat Kinsale on the final hole while Tralee beat Dungarvan.​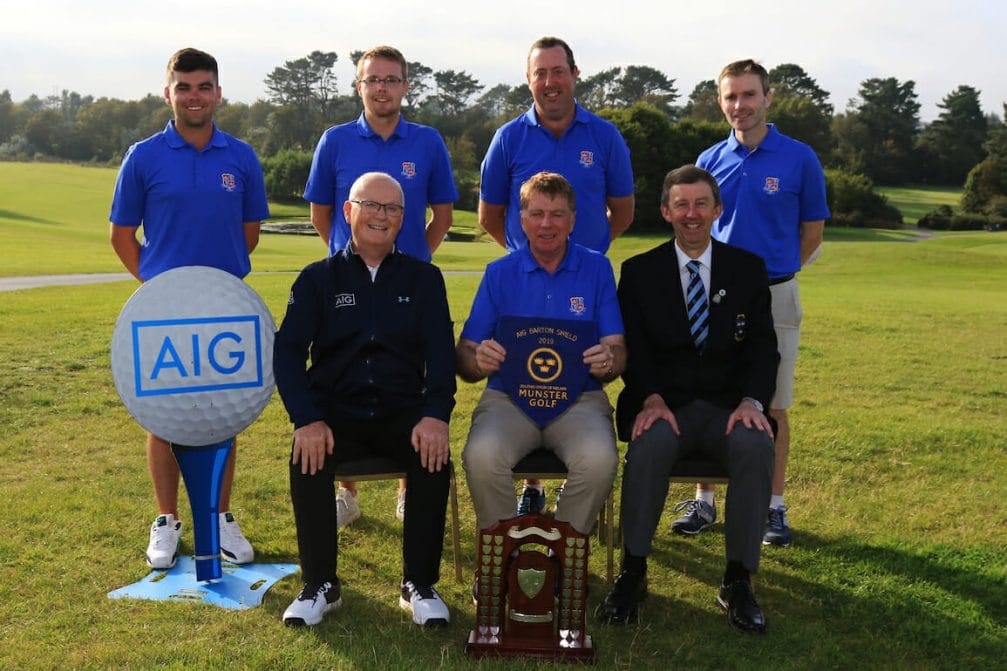 It was a great day for golf in Waterford, the sun was out from 8am and with only the slightest of breezes it was an ideal setting for golfers and spectators.  The action continues tomorrow with the AIG Senior Cup semi-finals and final.
AIG Junior Cup Munster Final
Tramore 4-1 East Cork
Martin Walsh beat James Gillespie 1up, David Bennett beat Michael Daly 7&6, David Spillane beat Ian Maher4&3, Rory Kiery halved with Eoghan Collins called in, Paul Power halved with Shane Connor called in
Semi-Finals:
Tramore 3.5-1.5 Adare Manor
Martin Walsh beat Cian Hall 19th, David Bennett beat Chris Ronan 2 up, David Spillane lost to Seamus Twomey 5&4, Rory Kiery beat John Roche 5&3, Paul Power halved with David O'Connor called in
East Cork 3.5-1.5 Newcastle West
James Gillespie beat Dan Dore 2&1, Conor Whyte lost to Thomas Sexton 3&2, Muiris Quirke beat Conor Whelan 1 up, Eoghan Collins halved with Jamie McCormack called in, Shane Connor beat Shane Scanlan 7&6
AIG Barton Shield Munster Final
Limerick beat Tralee 2 holes
Ciaran Vaughan & Michael Reddan beat Darren O'Sullivan & Eoghan O'Donnell 3 holes, Justin Kehoe & Owen O'Brien lost to Ger Deegan & Fergal O'Sullivan 1 hole
Semi-Finals:
Tralee beat Dungarvan 7 holes
Darren O'Sullivan & Eoghan O'Donnell beat Alan Thomas & Danny Raher 6 holes, Ger Deegan & Fergal O'Sullivan beat Gavin Smith & Jake O'Riordan one hole
Limerick beat Kinsale 2 holes
Ciaran Vaughan & Michael Reddan beat Gary Ward & Keith Fitzpatrick 2 holes, Justin Kehoe & Sean Poucher halved with Cathal Butler & Robbie Walsh