Rory McIlroy arrives in Switzerland on Monday on top of the golfing globe after an emphatic near $17m victory windfall Tour Championship victory in Atlanta.
Twelve months after playing second fiddle to Tiger Woods, McIlroy captured a second season-ending PGA Tour success in three years.
McIlroy brushed past new arch rival in Brooks Koepka with a final round 68 to win by four shots with an 18-under par tally on the famed East Lake course just to the east of the Georgia capital.
In securing a third PGA Tour success of the season, the effort matched the three Tour titles he also won in 2014 and is just one victory shy of a career-best of four Tour titles in 2012.
And finally, after far too many 'Sunday Horror Shows' this season, McIlroy was at his dominant best capturing a 17th PGA Tour crown and the 26thwin of his pro career.
"This is awesome to win the Tour Championship and it's amazing to end what has been a great season in this manner," he said.
"My goal today was to go and win, not the normal tournament but win by even strokes.   So, it was like everyone started on even this week and not added strokes, and my goal was to shoot the lowest score of the week and with that birdie on the last I did that, and that is why I was concentrating so hard on it.
"It looked like it was a three-horse race between Xander, Brooks and I but in the middle of the back nine it was just Xander and I, and I was able to seperate myself but then it was tough coming in as I made those two bogeys on 14 and 15 but I made a huge par save on 16, and then I was able to birdie the last two.
"It was such a cool way to end and what has been for me a great season. I will look back on this season and there has been a lot of good things I have done and try to improve for next season."
Unlike much of the 2019 season, McIlroy stepped forward to put real pressure on Koepka, who clearly does not endear himself to the overall golfing public like McIlroy. The pressure soon told.
A Koepka double-bogey at the seventh sandwiched between birdies on six and eight was the first sign of a chink in the American's armour but it was when Koepka bogeyed three holes in succession from the 12th to 14th that he handed McIlroy a then four-shot lead and the initiative.
McIlroy's victory not only earned him a cool $1.7m first prize cheque in winning the Tour Championship but he will pocketed an additional $15m victory windfall in landing the FedEx Cup trophy, up $5m on a year ago.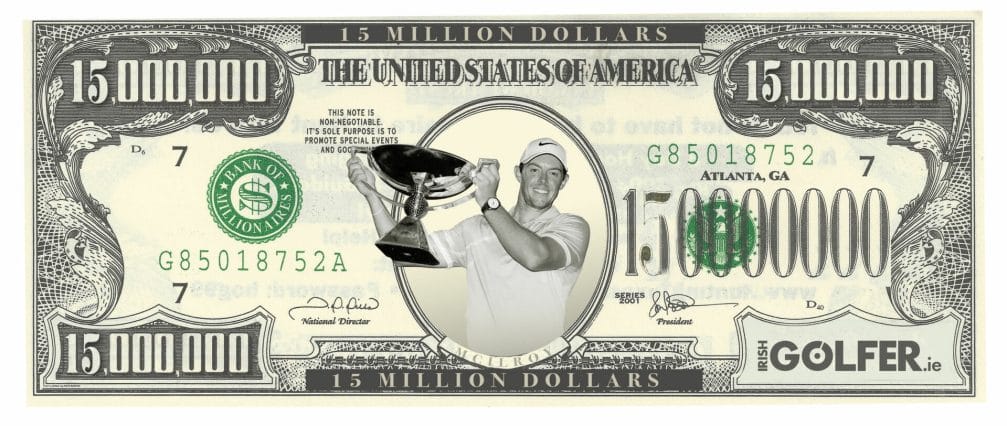 A violent electrical storm had halted play early afternoon on Saturday with McIlroy having sent his second shot to 44-feet at the par-5 sixth hole.
Players were whisked from the course as spectators scurried to take cover and many patrons taking to Twitter complaining to the PGA Tour of the lack of shelter.
This was horribly highlighted when a lightning bolt struck a tree injuring six close-by spectators who required medical attention but fortunately none of the injuries were life-threatening.
McIlroy, and his fellow 29 competitors, returned early Sunday morning (local time) with the Northern Irishman leaving the eagle putt some six-feet shy of the cup but finding the hole for a birdie.
He went on to post a 68 for a 10-under par three-round total but 15-under par in the 'strokes added' controversial format for the PGA Tour's season-closing event.
McIlroy, for a third occasion in the past four Tour events, found himself staring at Koepka for a last day playing partner.
A month ago, Koepka brushed McIlroy aside in capturing the WGC – FedEx St. Jude Invitational in Memphis before McIlroy got back some revenge a fortnight later in posting a first round 65 to Koepka's 71 at the Northern Trust.
Now McIlroy has snuffed-out Koepka's threat to his second Tour Championship crown in a dominating manner, smacking the backside of the current World No. 1 in bruising style.
Koepka will remain officially the game's best but the win moves McIlroy into World No. 2 for a first occasion since May 2016.  In fact, McIlroy was ranked World No.2 when he last captured the Tour Championship in 2016.
After the official presentation ceremony in Atlanta, McIlroy along with his wife, caddy and manager were heading for nearby Hartsford-Jackson International Airport for their flight to Switzerland.
McIlroy will tee-up in Thursday's starting Omega European Masters, returning to the Alpine event for a first occasion since 2011 where he has lost out in a play-off on his Swiss debut in 2008 to Frenchman Jeff Lucquin.
McIlroy will then contest the BMW PGA Championship in the third week of September and then team a week later with his father, Gerry in the Alfred Dunhill Links Championship.
Joining McIlroy in Scotland will be fellow Open Champion, Shane Lowry.