The multi-millionaire, honed and toned, mega-sponsored stars of world golf might not appreciate the irony that a hole bearing the name of a club pro reared in the age of hickory-shafted clubs defied the best efforts of some great Open Champions at Royal Portrush.
Hole 11, named in tribute to the late, legendary Philip "PG" Stevenson who was the Portrush professional for 55 years from 1922 to 1977, yielded precious few birdies to the field of 156 starters.
Naturally the travails of Rory McIlroy who took eight at the first and seven at the 18th combined with Graeme McDowell's seven on the final hole overshadowed the toll taken by "PG Stevenson's", a par-4 measuring 474 yards when played at full distance by the Tour pros.
Statistics, however, revealed that the 11th was the hardest hole on the course, varying throughout day one of the 148th Open Championship from an average high of 4.51 strokes to 4.40 – and this, despite being moved up to 452 yards for the round due to anticipated wind direction and speed.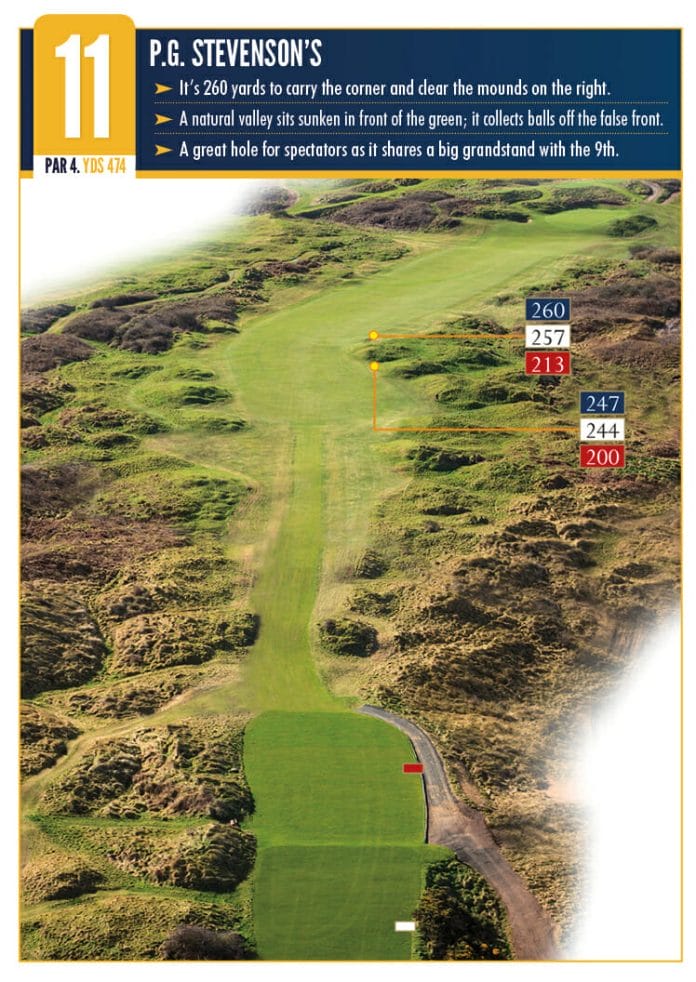 Perhaps the difficulty it posed was best revealed by a roll call of Open Champions and how they performed at "PG Stevensons."
Franceso Molinari, Jordan Spieth, Henrik Stenson, Zach Johnson, Phil Mickelson, Darren Clarke, Louis Oosthuizen, Stewart Cink, Pádraig  Harrington David Duval, and Tom Lehman all made bogey.
Rory McIlroy and Tiger Woods might consider it a bitter-sweet achievement to have each scored a par four at the 11th, given their ultimate round scores of 79 (+8) and 78(+7) respectively, but par there was not to be taken lightly.
Garrick Porteous, for one, would have snatched their hand off for a four at 11 as he ran up a horrid eight.
Danny Willett, the 2015 Masters champion, Marc Leishman who won the PGA Tour's CIMB Classic this season, and Xander Schauffele, tied third in the US Open, all double-bogeyed the memorial to PG Stevenson.
Graeme McDowell knew all about the threat the hole posed, as he revealed in his hole-by-hole guide in Irish Golfer Magazine's Open Championship preview.
"Traditionally a par 5 for members. It's one of the most intimidating tee shots on the course and you'll see a lot of missed fairways from guys trying to cut the corner.
"It's probably one of the toughest holes because even if you find the front portion of the green, your ball can roll 40, 50 or 60 yards back down the fairway, leaving a blind chip shot up the hill," was G-Mac's verdict.
All in all, the 11th offers a fascinating test to the mix that ensures Royal Portrush will produce a very worthy champion.
Not everybody suffered. A handful, including Alex Noren, Webb Simpson, Rickie Fowler and Sergio Garcia escaped from Stevenson's with a birdie and possibly wondered what all the fuss was about.
PG Stevenson's will not necessarily be a card-wrecker, given that anyone who comes a cropper there has seven holes to repair the damage, but it deserves the utmost respect. Take your par and move on swiftly is the message on this hole.
And what of the man himself? Well, Philip Stevenson started as professional at Royal Portrush in 1922. Known to generations of members as "Stevie", PG retired in 1977.
His son, Dai, who gained his PGA qualifications in 1956, was the club pro at Massereene from 1964 until he took over at Royal Portrush 13 years later.
Dai continued the Stevenson link with Royal Portrush until he was succeeded by the club's current Head Professional, Gary McNeill, in 1999.
Dai passed away in 2013, but his son Gary Stevenson, grandson of PG, is a senior caddie at the club and was booked for The Open by Japanese amateur Takumi Kanaya from Hiroshima.
Kanaya (20) who works with Hideki Matsuyama's coach, qualified by winning The Asia-Pacific Amateur Championship last year.
He began his challenge for the Silver Medal awarded to the leading amateur in The Open with a solid two-over-par 73.