With many Irish participants across all categories, The American Golf  2017 Championships will be airing during prime time on the new Sky Sports Golf channel.
There are ten hour long programmes in the schedule this year.  The first will be the ever popular Junior Championship which will be shown on Tuesday 17th October at 7pm and the series will conclude with the season's highlight programme on the 19th December.  All shows will air more than once, so don't worry if you miss the premier!
In addition to its well established events, new tournaments were introduced this year and The Family Pairs event 9 Hole Singles Championship and Scratch Championship all have their own programme.  Daniel Gathercole, Director of Marketing and Communications, has been delighted with the reaction to the events and is looking forward to sharing the finished programmes, "A lot of our competitors get nervous when they realise that the Sky Sports cameras are at the Grand Final, but after they tee off they generally forget that they are there and that makes for great television.  I love seeing the Juniors' interviews in particular, but whatever age they are I know all of our competitors will all be excited to see if they made the final cut."
The full line up for the shows is listed below.  Jason Wessley, Head of Golf at Sky Sports, is looking forward to seeing the programmes as well.  He comments, "The American Golf tournament programmes will air during prime time on the dedicated Sky Sports golf channel.  The programmes always provide great entertainment and we know that our viewers, as well as the thousands of competitors who took part, will enjoy watching all the action from the 2017 finals."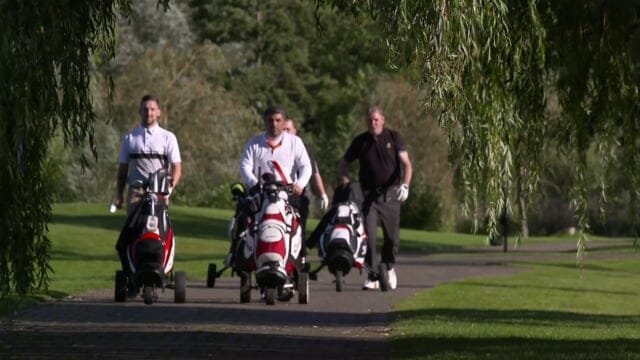 AMERICAN GOLF CHAMPIONSHIPS TV SCHEDULE
17/10, 7pm: – The American Golf Junior Championship
24/10, 7pm: – The American Golf Long Drive Championship (Women & Men over 45)
31/10, 6.30pm: – American Golf Long Drive Championship (Under 45)
07/11, 7pm: – American Golf Family Championship
14/11, 6.30pm: – American Golf Ladies Championship
21/11, 7pm: – American Golf Senior Championship
28/11, 7pm: – American Golf 9 Hole Individual Championship
05/12, 7pm: – American Golf 9 Hole Pairs Championship
12/12, 7pm: – American Golf Scratch Championship
19/12, 8.30pm: – American Golf Season Review

Stay ahead of the game. Subscribe to our newsletter to get the latest Irish Golfer news straight to your inbox!