Irish Golf Expo have partnered with McGuirks Golf to offer #IGE2017 ticket holders a custom fitting and retailing experience at Ireland's No.1 Golf Show, taking place on the 25th and 26th February at Citywest Hotel, Dublin.
McGuirks Golf have been supplying the golfing market In Ireland for the past 44 years and are Ireland's leading supplier of golf equipment both in store and online.
Irish Golf Expo attendees will have the opportunity to try out and get custom fitted for clubs from the biggest brands in golf on the event's indoor driving range. Ticket holders will also be able to pre-book a custom fitting experience on the Irish Golf Expo website, which is a first for the event.
To celebrate the announcement, one lucky winner will get their hands on a brand new TaylorMade M2 Driver and custom fitting experience with one of McGuirks PGA pros. To enter simply head over to the Irish Golf Expo Facebook page.
Paul Shaw, Irish Golf Expo is delighted to welcome McGuirks Golf as the official retail partner of the 2017 event, "To have McGuirks on board will ensure a first class retailing experience for all Irish Golf Expo attendees. Offering custom fitting for all major golf brands and exclusive offers across the weekend, the McGuirks shop will be the perfect opportunity to pick up the latest equipment at a great price before the new golf season gets underway."
Philip Ring, "McGuirks Golf are very excited about the Irish Golf Expo 2017. This one-of-a-kind event will bring together the golfing community and allow them to test and purchase the latest golf equipment such as Callaway Epic and TaylorMade M1/M2 family. We will also be retailing the latest apparel from leading brands such as Under Armour, Galvin Green and much more."
To buy tickets to the Irish Golf Expo CLICK HERE or head to the facebook page of McGuirks or Irish Golf expo to enter the M2 competition below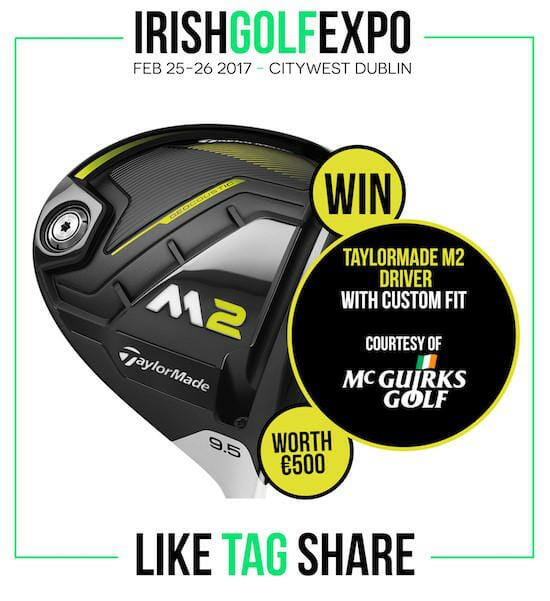 I

Stay ahead of the game. Subscribe to our newsletter to get the latest Irish Golfer news straight to your inbox!