FootJoy has once more joined forces with Harris Tweed Hebrides in celebration of a summer of Scottish golf, introducing an extended limited edition footwear range that celebrates hand craftsmanship, heritage and tradition.
Following the popular release of the Black Watch Packard in 2021, the second iteration of the collaboration – 'Shawbost' – welcomes a unique Premiere Series Packard upper to the new limited-edition range.
Introduced during the pinnacle of the golf calendar by some of the world's best players at this week's 150th Open, an event adorned with its own storied tradition and innovative play, Harris Tweed brings a distinctly auld accent to FootJoy's Premiere Series Packard – itself renowned for timeless design infused with innovative performance technology.
"Few sports with such rich histories as golf have such traceable beginnings," said Guy Smith, FJ Product Manager.
"Scottish golf is celebrated the world over and given the rich heritage of both FootJoy and Harris Tweed, which are interwoven in golf's past and present, it seems fitting to continue celebrating this great sport's origins in Scotland."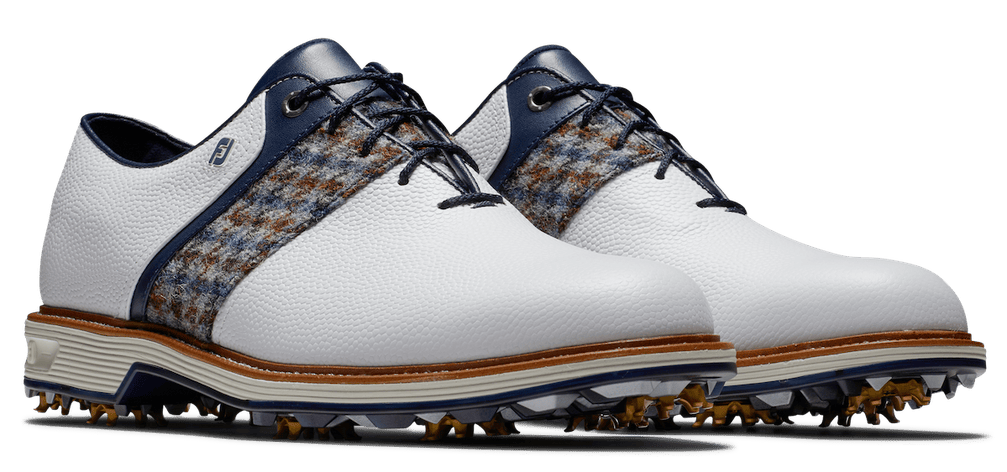 The Shawbost collection, so named in tribute to the small town Hebridean location of the Harris Tweed mill where pure virgin wool is handwoven to create unique and beautiful designs, features a distinct tweed and design character, hand selected to recognise both brand's intrinsic role in the history of the game and shared celebration of heritage.
The Premiere Series Packard Shawbost is presented within an authentic Harris Tweed shoe bag as a nod to the hand craftsmanship, design detail and dedication to the golfer that inspires the collaboration.
Governed by The Harris Tweed Act, the fabric must be handwoven in the homes of residents of the Outer Hebrides, Scotland, to be able to use the Harris Tweed name and logo. This maintains the integrity and distinctive character of the fabric which is recognised globally for its quality.
Unusually, the wool is dyed before being spun, allowing a multitude of colours to be blended into the yarn, creating a cloth of great depth and complexity. Harris Tweed cloth has been produced on the islands of Lewis, Harris, Uist and Barra for generations using truly traditional methods.
Each year Harris Tweed cloth is exported to over 50 countries worldwide – with every metre handwoven on the islands and then inspected by the Harris Tweed Authority before being stamped, by hand, with the Orb Mark. 1920-A1
Mark Hogarth, Creative Director, Harris Tweed Hebrides said; "It is a very special year for golf and FootJoy's Harris Tweed collection showcases this heritage with authenticity and style. The Shawbost Packard celebrates an era when houndstooth Harris Tweed was the choice for the discerning golfer. We are proud that they will be worn by golfers playing courses around the world – we continue to value our partnership with the number one shoe in golf."
Available via www.footjoy.co.uk and in select retailers from July 12.