PUMA Golf are taking traction to the next level with its cutting-edge PWRADAPT traction system in its new line of footwear for 2018.
The new IGNITE PWRADAPT collection offers three designs (IGNITE PWRADAPT, IGNITE PWRADAPT DISC and IGNITE PWRADAPT Leather) to provide golfers with state-of-the-art technology, comfort and stability in three stylish silhouettes.
Each of the models in the family utilises PUMA Golf's proprietary PWRADAPT sole technology that introduces revolutionary 3-dimensional traction pods and responsive cushioning with IGNITE Foam, utilised the entire length of the midsole for the first time in a cleated shoe, for the ideal blend of industry-leading technology, style and performance. PUMA's IGNITE Foam is an ultra-responsive cushioning foam with incredible energy return properties for comfort, support and stability, while the PWRADAPT pods provide ground-grabbing traction and enhanced comfort from tee-to-green, with every move a golfer makes.
"Without question, our new IGNITE PWRADAPT collection is the most technologically advanced golf shoes we've ever made," said Grant Knudson, Global Head of Footwear & Accessories, PUMA Golf.  "Not only will golfers experience unrivaled traction and comfort thanks to our PWRADAPT pods, but the fit, feel and the overall design of the shoes are truly game-changing. Our goal each season is to provide the perfect blend of style and performance – and with our new PWRADAPT cleated footwear we've done just that."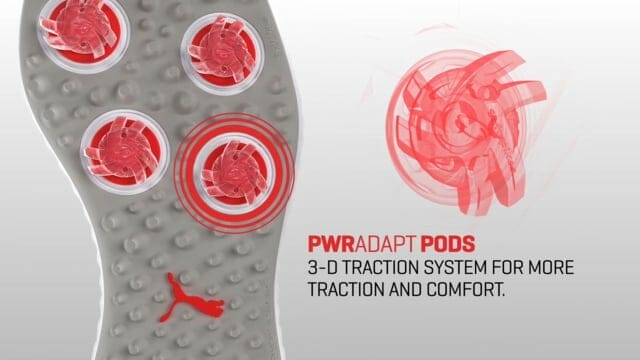 Each style in the collection utilises premium Aniline Leather accents for added style, as well as some discoverable design elements including a unique sockliner featuring a map of Carlsbad, highlighting COBRA PUMA GOLF headquarters, the exact location where the shoe was designed.
IGNITE PWRADAPT
The new IGNITE PWRADAPT provides golfers with the power to adapt to any number of changing surfaces throughout the round. Combined with the full-length IGNITE Foam cushioning platform, PWRADAPT delivers responsive comfort and 3-dimensional traction that seamlessly adapts to the way a golfer moves. The new Comfort Construction mesh bootie replaces a traditional tongue for improved fit, comfort and support, while the PWRFRAME, an ultra-thin TPU frame, is strategically placed in high stress areas on the shoe's upper for lightweight support and enhanced stability. Available in three stylish colorways (Quiet Shade/Quite Shade, Black/White and White/White)
IGNITE PWRADAPT DISC
Like the traditional lace version, the IGNITE PWRADAPT DISC utilises the same blend of PWRADAPT, PWRFRAME and IGNITE Foam technologies to deliver multi-surface comfort and enhanced stability golfers will love.  However, PUMA's proprietary DISC tightening system delivers ultimate convenience with a micro-adjusting dial system that quickly and easily secures golfers' feet for a locked-in, consistent and custom fit.  Available in the same on-trend hues (Quiet Shade/Quiet Shade, Black/White and white/White)
IGNITE PWRADAPT – Leather
The new IGNITE PWRADAPT Leather shoes offer sophisticated style and crazy comfort with a premium full-grain leather upper combined with a mesh hybrid bootie lining for an ideal fit.  PUMA then combines is proprietary PWRADAPT, PWRFRAME and IGNITE Foam technologies to over more traction and better comfort across the full range of golf playing surfaces.   Available in classic white/white and black/black colorways,
Each of the three styles in the IGNITE PWRADAPT family comes with a two-year waterproof warranty and will have an RRP of €180. They will be available at retail from February 15 2018.