Galvin Green has set out to redefine high-performance clothing for serious golfers with even more lightweight fabrics and contemporary designs in its 2017 Part Two range now available from stockists.
The latest premium collection from the Swedish brand features a total of 37 brand new lines across five different layers and in six fresh colour choices. These include a selection of garments in sleek black and bright yellow combinations that feature the most advanced fabric technology and designs for the winter months.
Highlights include revolutionary lightweight GORE-TEX® stretch waterproof jackets with C-KNIT™ backer offering greater breathability and extra softness, plus distinctive tonal spring-loaded zippers; a totally windproof jacket with hybrid technology and top-quality padding; thermal regulation with an Insula™ pullover with padded inserts; an extremely breathable VENTIL8™ Plus shirt; and a new-look hi-tech Skintight™ Thermal baselayer with bold print on shoulders and sleeves.
"Having pioneered the Multi-layer Concept for greater breathability and comfort more than a decade ago, we're now looking to raise the level of overall garment   performance and looks," said CEO/Managing Director Christian Nilsson. "Golfers can choose to adapt different colourways, while matching up compatible layers to contend with whatever the weather brings out on the course," he added.
Revolutionary performance fabrics
The new ACHILLES waterproof full-zip jacket in ultra-lightweight stretch GORE-TEX® fabric with C-KNIT™ backer features a high collar and cuffs in a rubber-like neoprene material designed to repel heavy rain fall. The revolutionary C-KNIT™ backer enables the garment to 'slide & glide' over garments worn underneath and avoid restrictions to the swing. The jacket also includes adjustable chest tabs, an elasticated waist for maximum comfort, plus a prominent tonal zipper and back pocket. Colour options are Iron grey/Black/Yellow, Kings blue/Black/White & Black/Iron grey/White in sizes S–3XL at an RRP €500.

Another pioneering garment in the latest collection is the versatile full-zip BRUCE jacket in GORE® WINDSTOPPER® fabric that is totally windproof and highly breathable. The upper-body and sleeves feature a light and soft Polyamide fabric with PrimaLoft® padding and GORE® WINDSTOPPER® lining to keep out windchill. The lower front and back of the garment is made in lightweight GORE® WINDSTOPPER® 3-layer fabric to sustain a core body temperature, enabling the player to fully focus on the game. Available in Black (S-3XL) at €330.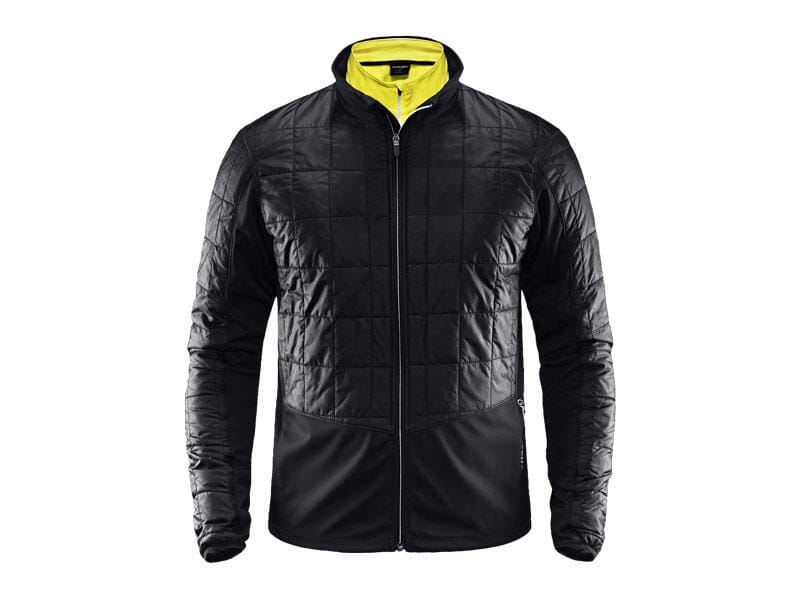 New to the popular INSULA™ line is the DASH half-zip pullover, which combines outstanding thermal regulation with maximum breathability for the perfect garment in cold conditions. The pullover incorporates soft and light Polyamide fabric with new padding around the shoulders and elbows and features a single contemporary chest pocket. Available in Black/Iron grey (S-3XL) at €175.


Offering an extremely high level of breathability and moisture wicking properties, the MAX is a stylish short-sleeved shirt from the exclusive VENTIL8™ Plus range. It has a distinctive yarn-dyed stripe design on the front and back, plus a two-ply constructed curling-resistant collar and cuffs. Available in Navy/White/Electric red; Kings blue/White/Black; Black/Iron grey/White & Iron grey/White/Yellow  (S-2XL) at €110.


The EBBOT is a top quality SKINTIGHT™ Thermal base layer with long sleeves, a crew neck and a striking pattern design on the shoulders and halfway down each sleeve. Advanced knitting techniques and hi-tech fibres provide warmth without bulk, while being able to transport moisture away from the body. Available in White/Kings blue/Iron grey and Black/Yellow/White (S-2XL) at €90.


Ladies Collection – Tone on tone concept
The new Ladies' collection encourages female golfers to forget about traditional colour lines and consider the Galvin Green tone-on-tone concept to match garments in a personal touch in up to nine modern colourways.
"Pure, smart and classic colours offer endless opportunities to create the perfect game-day combination and we have given lady golfers the chance to create their own look out on the course without fear of clashing," said lead designer Antonia Brändström.
The new lightweight waterproof jacket in GORE-TEX® Paclite® technology fabric is the AKITA, which features stretch inserts and shaped sleeves for maximum freedom of movement and styling. It has a two-way front zipper with a spring-loaded puller; cuffs with tab and a touch & close fastener; front pockets with zipper closing, an elastic drawstring on the hem; and a repositioned side seam for optimum comfort and fit. Colour options are Navy/White, Moonlight blue/Dusty blue, Heather/Wineberry (XS-XL) at €350.


The distinctive new Hybrid jacket called DASIA comes in a lightweight polyester fabric with INSULA™ stretch inserts for thermal insulation and unrestricted movement. Lined with PrimaLoft® padding for extra warmth, it's available in two colour options of Moonlight blue & Dusty blue or Wineberry & Wild orchid (XS-XL) at €290.


Another newcomer to the INSULA™ range is the DAY single colour jacket with tone-on-tone embroidery. The soft fabric combination of 90% polyester and 10% elastane insulates the body, while still allowing it to breathe. It comes in both Navy or Wineberry (XS-XL) at €140.


The two-tone, short-sleeved MARILYN shirt offers contrasting colours on the sleeves and collar and features an unusual mix of cotton and polyester. The sporty finish provides a slit at the back of the collar for extra breathability and there are four colour choices in White/ Navy, Nectarine/White, Dusty blue/Moonlight blue & Wild Orchid/Heather (XS-XL) at €100.


For full details of the 2017 Part Two range, visit www.galvingreen.com.