Over the last number of years Wilson Staff have made serious moves to try sit at the top table and compete with the big metalwood developers in golf. Unlike the TaylorMade's, Callaway's and Titleist's though they have tended to just focus on the mid to high handicap bracket offering lightweight forgiving speed sticks at a very competitive price.
This was the message from D100, D200, D300, and last year's D7 and it makes total sense, they know their target demographic. Well with the new Staff D9 driver, Wilson is still catering for that segment but the D9 may have more appeal to a bracket of slightly better players too offering a more traditionally weighted driver but giving it a new face technology that can deliver more yards off the tee.
Wilson refers to it as PKR Face technology (peak kinetic response), and it likely will be a significant factor in Wilson's wood designs for years to come. So what is PKR you ask?
Well with the Staff D9, Wilson broke down the hitting area into hundreds of tiny regions and programmed computers to analyse each of those regions during simulated impacts. Wilson instructed the system to prioritize distance enhancement and ball-speed protection. Based on what the computer learned after each test, it made modifications and adjustments before running new simulations.
The result in the Staff D9 is a face that has tiny ridges and valleys spread in seemingly random spots from heel to toe that Wilson say it produces more ball speed all across the face.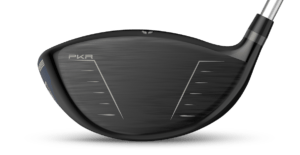 "The process we used required over 100 processor cores of computing power and it helped us as an engineering team get to a final design quicker than ever before," said Jon Pergande, Manager of Wilson Golf Club Innovation. "We had 120 computers running for seven days a week to create the overall design and we're delighted with the result in creating an aesthetically-pleasing range with more distance and control than ever before."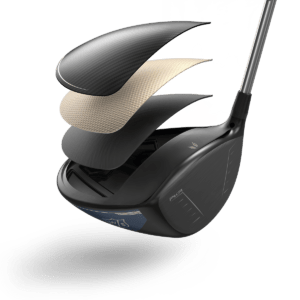 The Wilson D9 driver also features a three-layer, carbon-fibre crown that saves a significant amount of weight and Wilson have positioned this weight back, away from the face with a 10-gram fixed weight to increase the clubs MOI making this the most forgiving driver Wilson have ever created.  Wilson is making a 3-gram sole weight available for players who want an even lighter driver again.
You won't see the D9 in the bag of Padraig Harrington and the Wilson Tour Staff as it does not feature an adjustable hosel to really dial in ball flight like a Tour pro is accustomed to, but don't let this put you off. For most weekend warriors it's a perfect choice and one of the easiest off the shelf clubs we have tried out this year. It will save your pocket over €150 compared to some of the bigger brand name offerings this year and Wilson even offer the  Mitsubishi Tensei CK Blue shaft as standard which is a serious upgrade from the D7 offering.
The new Wilson Staff D9 Driver is completed with the MRC Tensei CK Blue shaft in stock A(50g), R(50g), S(60g) flex options and the new Lamkin Genesis Crossline grip. Available for an RRP of €355. The 10.5o loft offering also comes in left hand.
Wilson Staff D9 also has a women's driver option (14˚) which is completed with the Quaranta Blue graphite shaft and a Wilson Staff Women's Performance grip. Available from mid-January, at an RRP of €355.
Fairway Metals & Hybrid
For the first time ever, the Wilson Staff D9 fairway woods and hybrid feature Variable Face Technology, which delivers high ball speeds and high launch angles, regardless of where the ball makes contact on the club face. Both clubs feature a premium maraging steel insert to provide a thin, hot face for more speed, feel and distance performance.
The D9 fairway woods are available in three loft options – 15˚ (3-wood); 18˚ (5-wood); and 21˚ (7-wood) – with the same MRC Tensei CK Blue shaft in A-, R- & S- flexes, plus Lamkin Genesis Crossline grips as used on the driver. Left hand models are available in 15° and 18° loft options. Available from mid-January at an RRP of £179 (€215).
The D9 hybrid is available in four progressive loft options (19˚, 22˚, 25˚ & 28˚) with the MRC Tensei AV Silver shaft in A(55g), R(60g), S(70g) flexes and Lamkin Genesis Crossline grip. Left-handed versions are available in 19°, 22˚ & 25° loft options.  RRP of €190.