The new Scotty Cameron Special Select putter line for 2020 blends timeless designs with modern craftsmanship to deliver pure Tour-validated performance in eight new blade and mid-mallet setups.
Available from March 27, Special Select putters are inspired by the classic, solid milled designs that Master Putter Maker Scotty Cameron has crafted for Tour players around the world – featuring sleeker putter head profiles with thinner and flatter toplines, refined neck configurations, soft tri-soles and performance balanced weighting.
Each Special Select putter has been completely reworked, including Scotty's classic Newport, Newport 2 and Newport 2.5 blade styles. A refined Del Mar joins the new Fastback 1.5, Squareback 2, Flowback 5 and Flowback 5.5 mid-mallet models.
Special Select blade models are milled with a Tour-inspired soft tri-sole design. This self-soling feature promotes a proper setup at address while providing a stable, aesthetically pleasing view of the top-line from the moment the putter is placed on the green.
New performance balanced weighting expands on the use of Scotty's interchangeable, customizable sole weights to tune the performance and feel of putters at all lengths. By directing more weight to the heel and toe, the sweet spot is enlarged and stability is enhanced, back and through the stroke without compromising feel or each model's unique toe flow properties. The blades come equipped with new tungsten sole weights, which allow for ultra-sleek, tour-validated shapes with larger sweet spots. The mid-mallets employ stainless steel sole weights for optimal balance and weight distribution.
Additionally, Scotty's signature three red dot pattern on the back cavity has a new look. Each dot has been milled with a recessed circular channel, polished and then hand-painted with cherry red translucent paint, creating a striking new "cherry rings" feature.
The Special Select line offers golfers the choice of three blade models and five mid-mallet options developed for every stroke style.
---
Newport, Newport 2, Newport 2.5 models feature an insert-free, solid milled 303 stainless steel putter head with performance balanced tungsten sole weighting for a larger sweet spot and increased stability. Flatter and thinner toplines, milled flange sight lines, soft tri-soles and redesigned plumbing (Newport, Newport 2) and small slant (Newport 2.5) neck styles round out these timeless blade designs.
---
A classic name returns with the new Special Select Del Mar in an updated heel-shafted, compact mallet model. Precision milled from solid 303 stainless steel, the new Del Mar features refined concave flange contours and a narrower, flatter topline for a player-preferred look at address, and customizable stainless steel sole weights. A left-handed Del Mar is also available.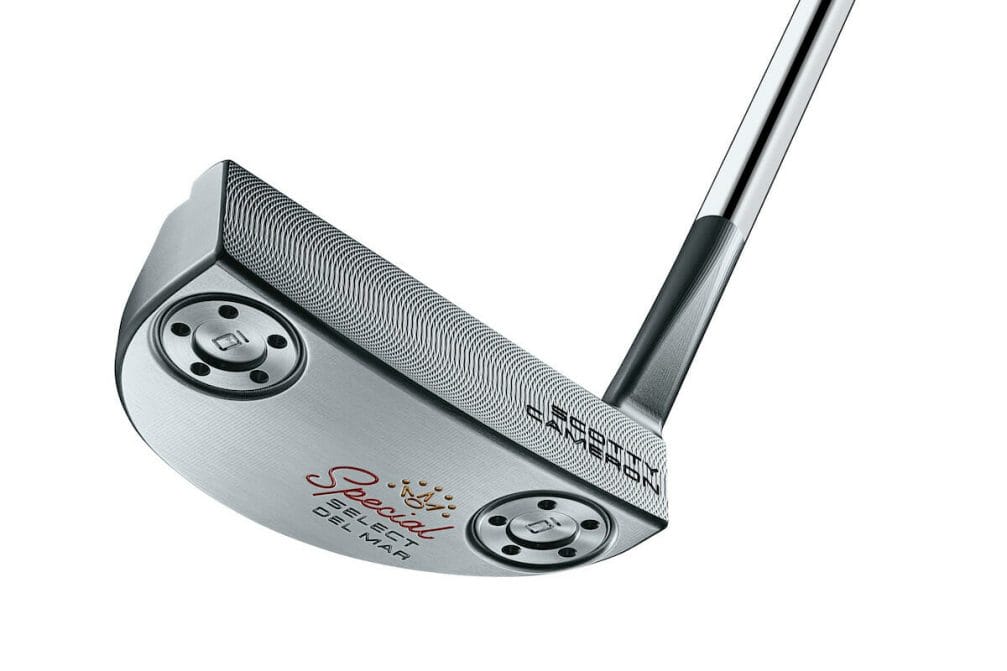 ---
New Special Select Fastback 1.5, Squareback 2, Flowback 5 and Flowback 5.5 mid-mallet putters combine 6061 aircraft aluminum sole plates for optimal weight distribution with solid milled faces and interchangeable stainless steel sole weights. Each has a specific neck style – Fastback 1.5 (small slant), Squareback 2 (plumbing), Flowback (mid-bend shaft-over-spud) and Flowback 5.5 (slantback) – to facilitate better leading edge visibility from address, as well as desired toe flow properties.
Each Special Select putter is accessorised with a new Pistolini Plus grip in cement gray with distinctive white lettering that retains the Pistolini shape with a slightly built up lower hand profile. This new grip complements an elegantly embroidered, red abrasion-resistant Special Select headcover with superior wear characteristics.
Special Select putters will be available through Titleist authorised retailers from March 27th and have an SRP of €449.