Its driver launch time of year and we have already seen some serious advances in tech. We sometimes get caught up in the hype of the "big two" launches but don't overlook Cobra. For 2022, Cobra is building on the ideas and technologies it unveiled last year with the RadSpeed drivers, using multiple materials and high-tech manufacturing techniques in the new LTDx drivers to boost ball speed and distance without sacrificing stability.
The legacy of the LTD name began in 2016 with COBRA's introduction of the LTD driver – the first to achieve zero CGna for low spin and fast ball speed performance. In 2022, the legacy has evolved into the new LTDx franchise, which debuts the first driver to combine zero CGna and 5200 MOI to create faster ball speeds with extreme forgiveness. The LTDx woods feature PWR-COR TECHNOLOGY, which uses multi-material internal and external weights to reposition as much weight low and forward as possible to lower spin and deliver powerful ball speed upon impact.
Using machine learning and CNC machining, COBRA engineers have replaced its E9 face with a new variable thickness design called H.O.T Face (Highly Optimized Topology) that is precision tuned for speed. Using data from thousands of impact simulations, COBRA has optimized thicknesses in 15 different zones to maximize ball speed across a larger area of the face. These zones create visual peaks and valleys that resemble a topology map, hence the design name.
In addition, the LTDx drivers utilize a MULTI-MATERIAL Construction, with up to 30% more carbon fiber than the previous RADSPEED model, and a lighter and stronger titanium chassis to maximize stability. COBRA engineers have redesigned the previous T-Bar chassis to reposition more titanium lower to the ground and around the perimeter edge to lower CG and increase MOI, resulting in 8g of weight savings.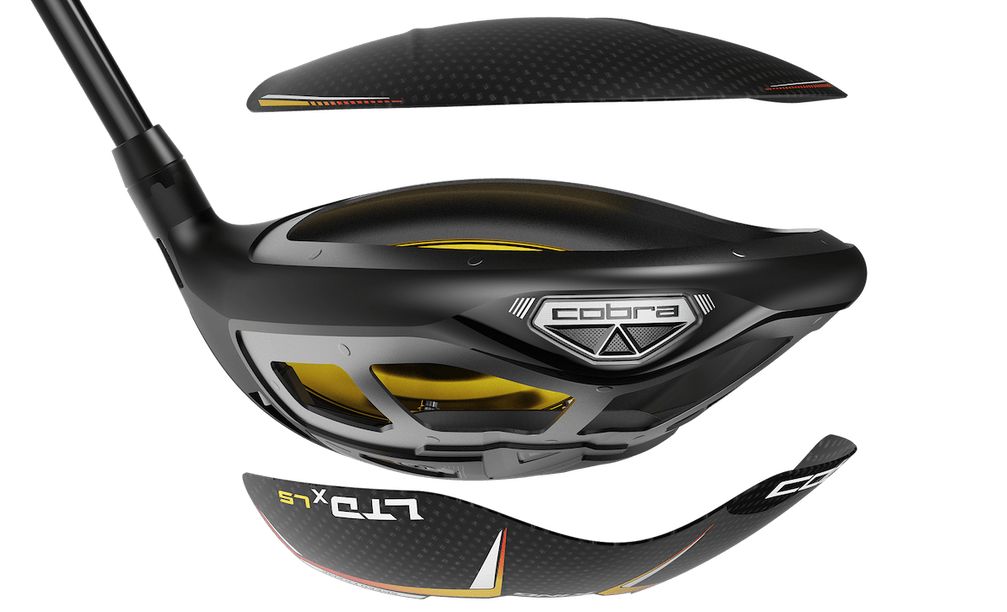 To make certain the new LTDx line is able to optimize performance for all types of players, it's available in three distinct models: (1) The LTDx LS is a low spin model designed for skilled players with faster swing speeds who desire maximum workability in a traditional shape. For added tuning, adjustable weights are positioned heel and toe to help dial in directional trajectory for the better players. (2) The LTDx MAX combines maximum stability and maximum draw bias, giving golfers the choice to move the adjustable weights to create either performance. COBRA engineers were able to combine last year's RADSPEED XB and RADSPEED XD into one driver. (3) The LTDx is the perfect blend of LS and MAX into one driver. It is the first driver to achieve zero CGna and 5200 MOI, creating the best combination of low spin and maximum forgiveness.
"The LTDx driver lineup reflects our team's continued dedication to innovation and improved performance," said Tom Olsavsky, Vice President of R&D, COBRA Golf. "With the introduction of PWR-COR and H.O.T FACE technology, our engineers have, yet again, developed innovation that improves CG and MOI while making the face hotter and more forgiving. The resulting LTDx family of drivers are the best we have ever produced, and the three distinct driver models ensure that every golfer can achieve optimized performance for their game. We look forward to seeing the LTDx on TOUR and also in the hands of amateurs and weekend warriors at courses globally."
LTDx LS DRIVER (£399/€479):
The new LTDx LS driver positions most of its weight low and forward to deliver low spin and faster ball speeds. The result is a more workable ball flight desired by skilled player with faster swing speeds. An adjustable weight system features a 10g & 3g weight that can be exchanged to either the front heel or toe to fine tune trajectory. A traditional 460cc shape features an aggressive aerodynamic design that allows players with faster swing speeds to maximize their clubhead speed for increased distance. PWR-COR Technology positions as much weight low and forward using a 14g internal MIM steel weight and a 5g 100% milled, stainless steel external weight (19g total) to lower spin and increase speed. Combined with the 13g of moveable weights, places an impressive 32g low and forward.
H.O.T. FACE technology derived from machine learning, creates 15 unique zones to maximize and tune ball speeds both away from and in the center of the face. This greatly improves performance in those common "miss" areas. The overall design and performance attributes of the new LTDx are further improved by a proprietary MULTI-MATERIAL Construction that utilizes a redesigned, 8g lighter titanium chassis that allows for up to 30% more carbon fiber and more discretionary weight to reposition low and forward in the PWR-COR weight.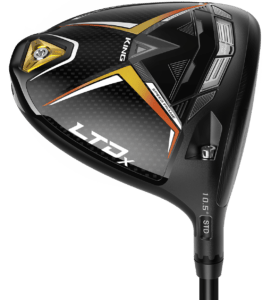 LTDx MAX DRIVER (£399/€479):
The LTDx MAX combines max stability and max draw into one driver, both individually achievable using the moveable weight system. The MAX features a slightly oversized 460cc profile as the LTDx to provide maximum distance and forgiveness with a back weight setting, and an added weight positioned in the heel that affords golfers additional draw-bias to help square the face for straighter results. The 10g heavy weight can be positioned in the back to deliver the most forgiving/stable driver that COBRA offers. Or position the heavy weight in the heel for 11 yards of draw bias. The adjustable hosel can be set in the "DRAW" setting for an additional 7 yards (18 yards total). As with the other two LTDx Drivers, the MAX features PWR-COR and H.O.T. FACE Technology with a MULTI-MATERIAL Construction.
LTDx DRIVER (£399/€479):
The LTDx is a true driver unicorn – it is the first driver to achieve zero CGna and a high MOI at 5200. It is aimed at players that want maximum speed and distance but also value forgiveness and a straight ball flight. A slightly oversized 460cc clubhead is constructed with the perfect balance of internal weighting to deliver the fastest ball speed with slow spin and maximum distance. The construction utilizes 19g total weight positioned in PWR-COR (14g internal MIM steel weight & 5g external CNC Milled stainless steel weight) and 15g total in the back using 5g of tungsten and a 10g fixed back weight. Like all models in the new family of drivers, the LTDx features COBRA's innovative H.O.T. FACE Technology and a MULTI-MATERIAL Construction, affording optimal CG and MOI for increased distance and improved performance.
All LTDx drivers are available in a Tour Length offering, featuring a shorter shaft length (44.50") than the standard 45.5". The LTDx LS comes in RH/LH with a choice of 3 premium aftermarket shafts including: MCA Tensei AV Raw White 65 (x-stiff and stiff); Project X HZRDUS RDX Blue 60 (x-stiff and stiff) and Project X HZRDUS Smoke iM1060 (stiff and reg). The driver features a Lamkin Crossline (58+) Black/Silver grip and is available in Satin Black/Gold Fusion (Matte Black Crown, Gloss Sole & Gold Fusion accents). All models are available from Feb 11th.