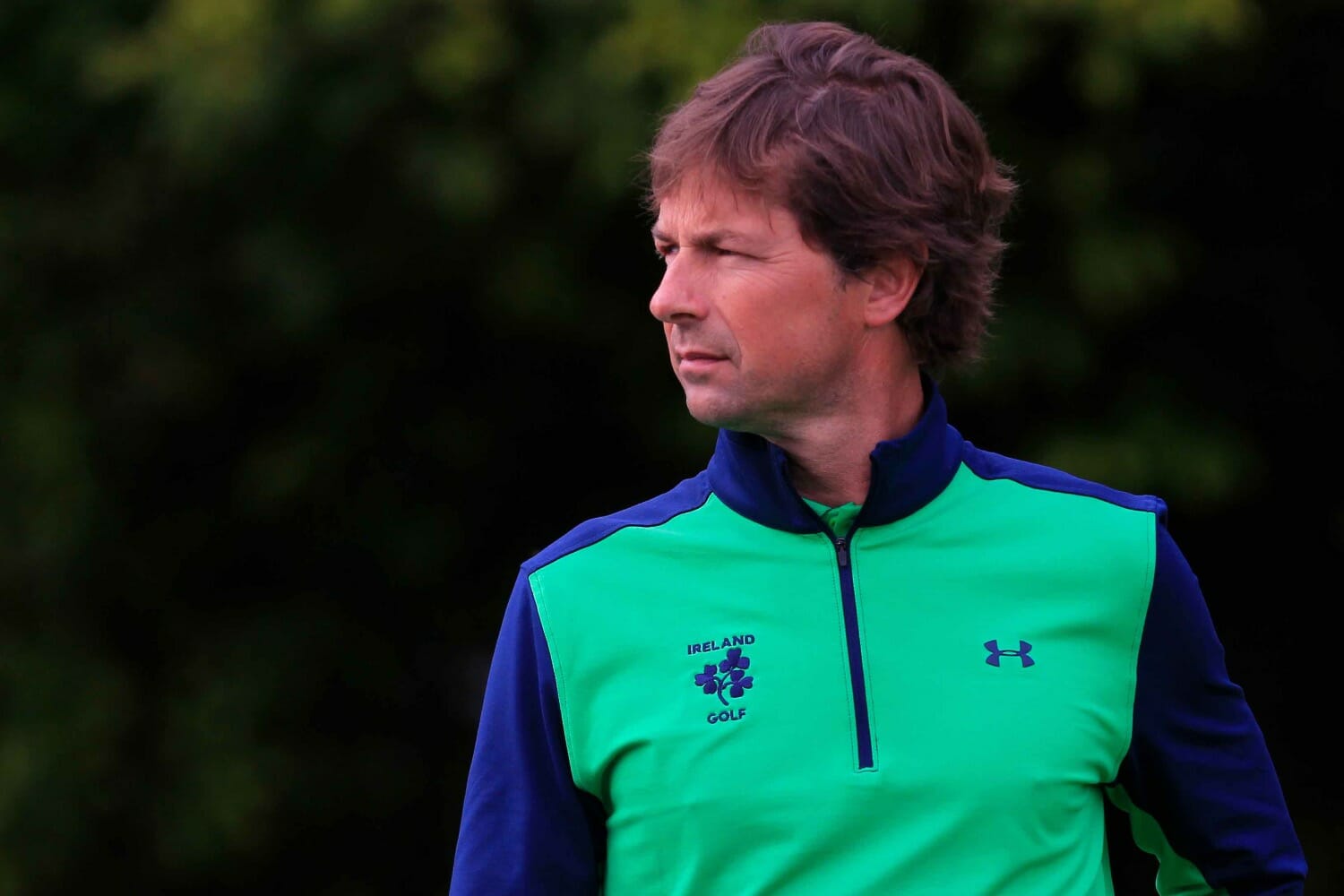 Neil Manchip is an integral part of Irish golf. As National Coach for over ten years he's seen it all and done it all, with some of the best Ireland has ever produced.

Neil Manchip / Image from GUI/Golffile

Neil Manchip is ever present within team Ireland golf. He's the "go-to guy" for Ireland's elite amateurs. It's been that way for a dozen years and more. He's witnessed them all come through; McIlroy, Lowry, Dunne and countless others from the Irish conveyer belt of golf. He's the GUI National Coach, a "privileged position" he says.

Manchip moved to Ireland in 1992 and since then the Edinburgh native continues to make his mark at the front line of golf in Ireland. The 45-year-old has influence, but more than that he has respect, particularly from the players he works with. In his role, communication and trust are paramount. Players trust him, and he simply tries to "help individuals become the very best they can be".

Having reported on countless team events over the years, from working with the R&A to writing on these pages covering Ireland, there is one constant, the GUI National Coach is never far from the action. Team captains come and go, venues and personnel change with each passing year, but Manchip is always easily spotted.

His tall, sinewy figure shows that he practices what he preaches by way of fitness and nutrition. If desired he could trade spikes for flip flops and easily slot into surf mode with his swarthy complexion and carefree hairstyle. In equal measure Manchip is down with the kids while at the same time he is the father figure able to throw an arm around shoulders if the heat of battle didn't quite work out as planned.

He goes about his business in an understated manner, at least that's the public portrayal. Team talks and team meetings behind closed doors could be a different matter? His quiet, reassuring way during competition is what speaks loudest. He'll hang around the putting green or first tee to offer last minute advice then see everyone off before following the action on course. Manchip is integral to the team dynamic, he's the glue that binds and can also play the Pied Piper if required.

"My main role as GUI National Coach is quite simple, it's to help golfers develop, to give them an environment where they can bring out the best in themselves," say Manchip, who will never use 1000 words if 100 is plenty.

"It's very much an individual case by case because everyone is different. When we are away as a team or a squad you can see how the players do things differently. Though we are pulling in the same direction we try to create an environment where individuals are self-reliant and able to look after themselves. If they turn professional they'll certainly need to look out for themselves."

Manchip is at the top of his game in his role as GUI National Coach and as coach to Shane Lowry, who he has known since the Offaly man's amateur days. However, coaching wasn't always the main focus because the Scot once had designs on a playing career. Despite a mediocre assessment of his own game he achieved plenty before redirecting energies to the mental and coaching aspect of golf.

"After finishing sixth year I went to university for a bit while I was doing the PGA course. Back then I was really interested in the whole golf side of things, but I wasn't a good player by any stretch. I was a half decent club player, but certainly wasn't an international player," says Manchip before a move to Newcastle ignited something within.

"I went with Kevan [Whitson] to Royal County Down in 1992 and got to play on a great course, that really helped develop my game. Playing a world class course day in, day out will do that, learning different shots and skills.

"At that stage coaching was not my thing, I was much more into playing."

Manchip competed on the PGA Irish Region circuit during the 1990s. Despite down playing his game, the competitive instincts brought him titles and success, most notably the 1999 Irish PGA Championship at The Island Golf Club when he fended off challenges from the likes of Darren Clarke.

"It was a great lesson for me that year," recalls Manchip. "I had decided 1999 was going to be my last year trying to make it on tour. Honestly, I knew I wasn't even close to being good enough. My good golf was ok, but my average golf was nowhere near tour standard.

"By 1999 I was looking at other things, so I gave myself the freedom of just going out to play. I had a really good year – because of the mindset. I was completely free, just playing, not trying to get anywhere and as a result I won quite a few times.

"At the end of the season I had one more go at Qualifying School, but I quickly went back to playing the game without freedom and failed to make it through."

Just before the millennium Manchip's odyssey brought him to Royal Dublin where he worked as the teaching professional under Leonard Owens. He remained there until 2005/6 when work started to overlap with his GUI commitments.

"Royal Dublin was a great time for me. Great membership who made me feel welcome and it was around this time I was mixing playing with coaching before getting into coaching properly.

"I developed my coaching skills through PGA courses and other studies. I was always interested in the mental side of the game. I completed some NLP (Neuro Linguistic Programmes) with Karl Morris and Jamie Edwards at the time.

"I guess I quickly understood that so much depends on your approach to what you are doing, your frame of mind, how you play the shot before swinging the club. All of that came from my own playing experiences. The mental side of the game fascinates me, what a person is thinking, what are their thoughts before a shot is played?

"This thinking took me on a new journey and that focus is still very much part of what I do to this day," says Manchip.

Naturally, the GUI National Coach sees a lot of young players coming through. Some may have been involved in the provincial scene, while others make the jump straight to national level. Most already have established coaching relationships.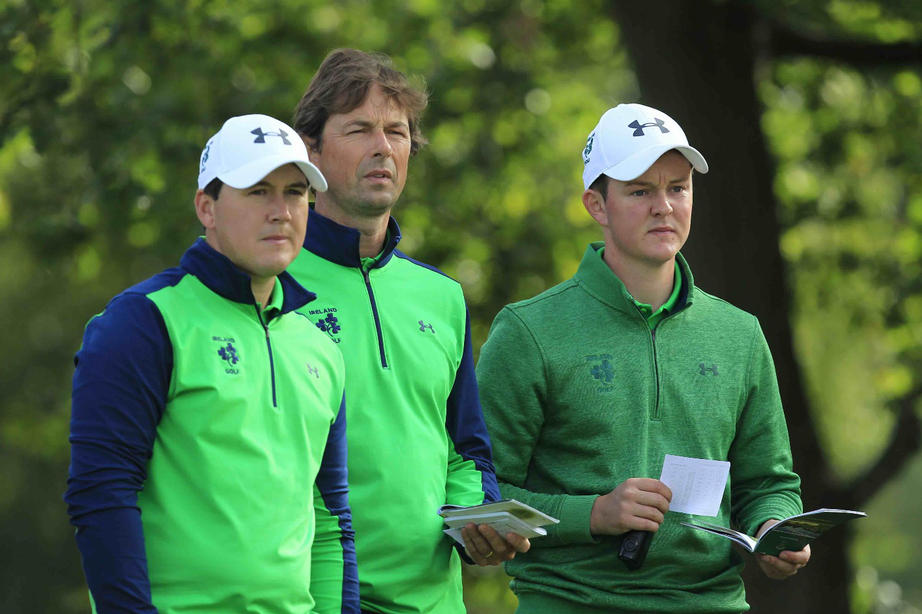 Manchip with Colm Campbell & JR Galbraith / Image from GUI/Golffile

"Players come from many different places and bring totally different experiences. Some look for technical help or we might discuss how they are thinking about things. Help could be as simple as assisting with a busy playing schedule and how best to prioritise."

If there is no "I" in team, Manchip is quick to acknowledge he is just one person within a large network. Support comes direct from the parents of the players, the personal coaches who already work with the golfers, plus key personnel within the GUI who help make things happen and are vital to what Manchip does.

"I cannot speak highly enough of the parents and personal coaches," says Manchip. "We also get invaluable support from The GUI Board and High Performance Committee who streamline the coaching process and assist with appointing the Coaching Management Team. Together, they all make things pretty easy for me."

Manchip is a thinker, no question. He's not afraid of the long silence either. At times he can be efficient with his lines in conversation. From my own experience it gives all the more reason to listen to what he has to say. The adage "two ears, one mouth, use them appropriately" is apt.

"Often we make things difficult for ourselves. There is so much time to think in golf, we find ways to overthink, make it more difficult than it needs to be.

"Frustration is equal to expectation minus results," came the kicker line, which literally made me pause the conversation to think what the true meaning of those seven words were.

"People only have expectations because you've done whatever you're trying to do before. If you only hit it 230 then you won't expect to hit it 300 so you won't become frustrated."

Delving into the grey matter begs the question, why is it so difficult for many of the elite players he coaches to make a successful transition into the professional game? Manchip's response becomes more pragmatic.

"I think any country looking at the transition from top amateur to top professional will find the number is very small. It is literally a numbers game, only so many can make it each year.

"There's no doubt, it's a reality check. I think most of the guys have that awareness. We are there to help and support where we can. Team Ireland and Sport Ireland are very good at providing financial support or tournament starts where possible.

"The truth is it's a tricky numbers game, but players that are most determined and talented usually make it through at some stage. Look at Seamus Power who played for Ireland alongside Shane (Lowry) then went to university in the States and stayed there. He has been brilliant getting through the mini tours and is now on the main PGA Tour. It took him a little longer than say Shane or Rory (McIlroy).

"Then take Paul Dunne, one of the Walker Cup five at Royal Lytham. He's made the breakthrough a little quicker than the others.

"It's undoubtedly a rocky road. For some the path to success appears very linear but that's only for a few. The journey usually alters course and players have to find their own way," says Manchip.

Lowry's path was certainly linear after his sensational Irish Open win at Baltray in 2009. Manchip and Lowry met in 2005 and to this day they remain close. They are good friends beyond the dynamic of player and coach. There is obvious common ground. The Scot Manchip has witnessed many Mayo matches courtesy of his wife Aideen and Lowry is from sporting pedigree with his dad Brendan an All-Ireland winner with Offaly in 1982. The pair will happily sit and watch an Ireland rugby match from any part of the world too, or most sports for that matter.

"I first met Shane at a Boys trial in 2005. If memory serves, he got in the squad because Rory (McIlroy) got moved up to the men's panel," says Manchip. "We just got chatting, talking about Gaelic, my wife is from Mayo…Fortunately, we've had a great relationship since.

"Shane has been a sensational player and has had a great career to date.

"I know we can look back to Baltray in 2009. His main ambition that year was to make the Walker Cup at Merion alongside Niall Kearney. I remember how Niall won the Brabazon Trophy the same day Shane won the Irish Open. Pretty amazing.

"I always thought he could become a good professional, but nobody saw Baltray coming (probably not even Shane). It gave him a great opportunity with exemptions. He took off very quickly and hasn't looked back since."

Manchip works his time into their schedule and goes on the road with Lowry when his GUI commitments permit. He is quick to bat off the laid-back approach often associated with the jovial bearded one from Esker Hills.

"Shane is incredibly determined. He works very hard at his game. Like all successful tour players, he puts the time and effort in. He's a competitive animal. Nobody achieves what he has by being laid back."

And has the coaching changed since he turned pro? "Nothing specific, we largely keep doing what we do. He's very good at repeating what he does best. His game has also developed over time. He keeps learning which is key.

"Coaching is about engagement and communication. That is absolutely vital to what I do."

At this time of year, Manchip could easily meet himself coming backwards, clocking up miles on the road between GUI championships, elite amateur events, Majors and tour events.

"I guess part of Irish golf's success was borne out in playing host to the World Amateur Team Championships this year. It's a wonderful thing for Irish golf to be able to host a huge event like this."

It's a period where Manchip will still be busy mentoring Ireland's elite amateurs. "It's a real privilege to do what I do and work with the people I work with, the players coaches and staff. Everyone is hugely committed to developing the young players coming through.

"For me personally, I don't set goals or plans, what I try to do is be on a journey to be the best person of myself that I can be. I will always try to do better and do my best at whatever I am doing. I can't say anything more than that really."

And with that Manchip signed off for his most important roles of all as husband and dad by taking his son Hugo for a few holes before another trip to the airport beckoned.

Article from Irish Golfer Magazine September 2018