It's Father's Day, and still early Sunday (local time) at the 123rd US Open in suburban Beverly Hills.
The mobile phone wake-up tone will soon be sounding for the early last round starters.
Though for the leading six players it will be a bit of a lie-in, and probably not arriving at the host L.A. Country Club course to around noon ahead of the final tee-off at 2.30pm.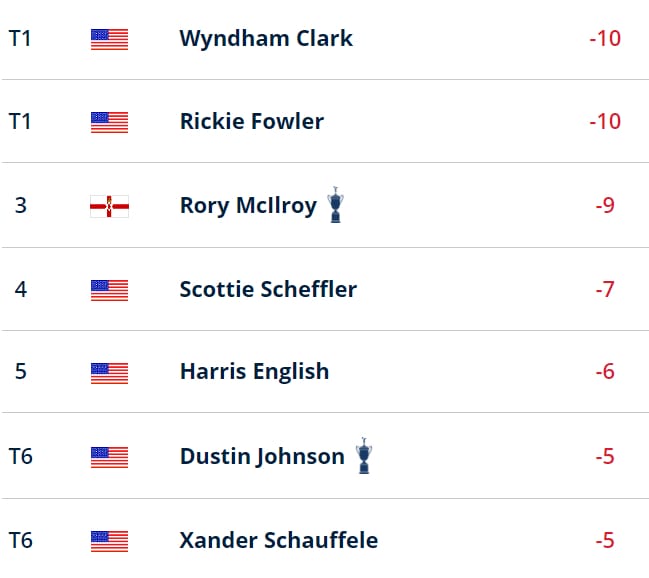 So, let's pick out the best quotes from those tied in the top sixon the leaderboard and read their chances of capturing the U.S. Open.
CLARK … Influence of his father
"My dad played professional tennis so he's an athlete and he gets it, so he instilled in me hard work and discipline," said Clark. "I feel like I get a lot of my fieriness from him.
"So he's given me a lot. My dad is a big reason why I'm out here. Hopefully tomorrow can be a great Father's Day for him."
FOWLER … Nerves and the stress of trying to win a first major
"I would say this week, this is the best I've felt all year and definitely in a long time," said Fowler. "We all feel nerves at times, depending on certain shots or circumstances, but I mentioned it yesterday and then still stand by it.
This is the best I've felt, let alone in a normal tournament but especially a major, and I would say really ever in my career."
McILROY … Can he end a 9-year major's winning drought
"I don't know. It's been such a long time since I've done it," he said. "I'm going out there to try to execute a game plan, and I feel like over the last three days I've executed that game plan really, really well, and I just need to do that for one more day."
SCHEFFLER …  Is it harder or easier trailing in any tournament heading to a last day?
"I wouldn't say so. I think just — you're nervous whether or not you're leading or chasing," said Scheffler. "I want to win the golf tournament. It doesn't matter what tournament it is. I'm showing up and I want to play good and I want to win.
"Going into tomorrow I'm going to be chasing, but it's not going feel any different. If I was in the lead it's just I'm four shots behind instead of four shots ahead or whatever it is. Got to go out there and execute and do the best I can."
ENGLISH … Still in the mix
"I feel like my game is in a great spot right now, really putting well and hitting some good shots," said English. "I didn't play well on the back nine but fought through it. It's definitely the tougher of the nines.
"And I feel like I'm in the mix tomorrow, so anything can happen. If I can go out and shoot a 3- or 4-under tomorrow and jump up the leaderboard and see what happens. I'm excited about where I'm at, and ready to get out here tomorrow."
JOHNSON … Six shots back & not all that far behind
"It all depends on how it's set up really," said DJ. "If it plays as firm and fast as it was this afternoon, yeah, go out and shoot a good score, then you can definitely have a chance."
SCHAUFFELE … What's it going to take
"I need some help at this point now, with such a poor performance today," said Schauffele. "I saw some guys like shooting 29 on the front, so it's out there if you're hitting the ball in the fairway.
"Just going to have to do something special, and going to need some help from up top probably."