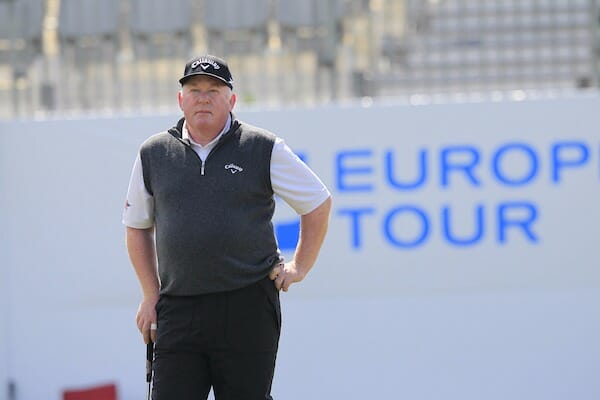 Brendan McGovern is 51 going on 15. That's what a new lease of life does to you. He's relishing the opportunity to compete once more against the major champions of yesteryear, though he knows it won't be easy. These guys are all seasoned campaigners, tough to beat. But so too is McGovern.


McGovern is one of the most tenacious competitors you're likely to meet. In truth, he sometimes comes across as prickly or guarded, but get to know him and he lets you in. That's when the banter flows and his dry wit bubbles to the surface.

He's golf through and through, always has been. Through the unwavering support of his family, especially his wife, McGovern has been able to play out his vocation and passion on the same playground for almost 30 years; the one where swings are made, putts are holed and numbers get recorded in the small boxes.

The Meath resident will yet again play with a different set of numbers this year as he takes another tilt at the European Senior Tour.

He rolled the dice in Portugal in February and came up trumps. The t-shirt suggests he may have dressed in the dark (joking) ahead of the final day of Q-School but there was no ambiguity about his golf. McGovern had done his homework and duly came through the toughest examination of them all. Top of the class.

"It was a massive week, it determined my playing rights for the year," said McGovern, who was a wire-to-winner at Pestana Golf Resort in Lagoa, Portugal. He got the job done with rounds of 66, 66, 73, 68 to win by six with an 11-under-par 273 total.

Preparation was key. The Irish weather in winter can never be relied on to keep your game sharp, but the Headfort Head Professional had a plan. "I didn't have any real form because my previous game was the second week of December, the last event of the season in Mauritius. That said, I kept my game going over that winter period."

"I was also very familiar with the course from last year, so even though I wasn't playing much golf I was certainly going through the [Pinta] course in my head. I might not have been match fit in terms of hitting balls but I got down to Portugal early and after two or three days playing you kinda get your game back quickly. Mentally I had prepared very well for the week," said McGovern, who has twice come through Senior Tour School.

"Yes, but it was a different Brendan McGovern out there today," he noted straight after this win. "Last year [at Q-School] nobody had told me that my uncle had passed away during the tournament."

"He was buried a year ago today and I have to dedicate this to him. He was my 15th club. He was the one who got me into golf, and that kept me going."

He was ably supported by good friend Bill Noble from Cavan who was on the bag in Portugal. "Bill caddied for me for the first time at last year's Tour School. I've known Bill a long time, we've played a lot of golf together, he's as passionate about the game as me. We have great fun, we get on well and he's just brilliant to have on the bag."

The difference compared to last year is McGovern will not have to rely on those Monday night phone calls to say he is first reserve then start thinking about booking last minute flights. Apart from the Senior US PGA and Senior US Open, McGovern has a full schedule to choose from and is especially looking forward to the Senior Open Championship at Royal Porthcawl in July where Noble is booked in for another toting stint. The pair teamed up at Carnoustie last year and finished a credible tied 30th.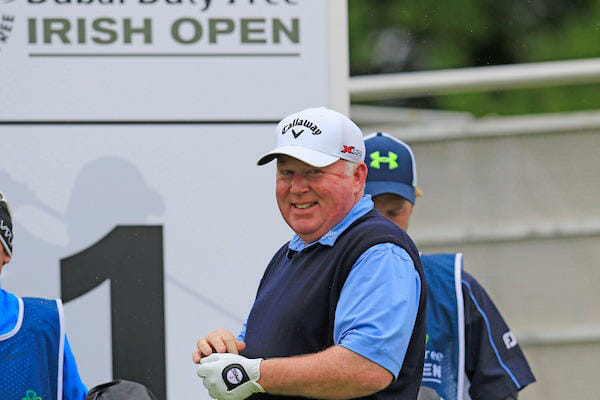 McGovern is honest in his assessment of his own game, but knows he ticks enough boxes to be able to compete at this level.

"Everybody's different. Golf is a game of numbers at the end of the day and thankfully there's only a little box to fill on the scorecard. We don't have to write the novel."

"There are some great ball strikers out there, a lot more talented players in the game [than me] but I'm kinda good at the numbers game. In my own head, that's really what it's all about. If I can tick off the boxes I'm good at I might only be leaving the box that says best ball striker, but I still tick quite a few boxes and that's one of my strengths."

"At the end of the day I have to do what's best for me, and I know how to get the ball in the hole. That's the game, isn't it? Just put a number in that box. Thankfully there are others who want to write that novel," quips McGovern, revealing some of that dry wit and competitive streak.

"I am as enthusiastic about golf now at 51 as I was when I was 15, I wouldn't say there's a large percentage like that. A lot of players would have had their tour careers whereas I am still climbing the hill."

McGovern had several runs at the main European Tour Qualifying School (1988-94) but his main bag has been competing on the Irish PGA circuit where he has been a prolific winner for over 25 years.

"There's no doubt, they are both different to play. I've played the Irish Region for many years and I know most fellas my age. I probably know most of the Senior Tour guys too having teed it up in the Irish Open for basically the last 25 years. The difference is they might be household names whereas they may or may not know me from playing the odd Irish Open?"

"At the end of the day they are all hardened tournament players, they are courteous off the course but still hugely competitive. It's no holiday, I can tell you! We're all competitive, maybe at different levels, but we all have it. We're playing this game long enough, that competitive edge is just in you. I'm a competitor more than anything else."

Pádraig Harrington once described McGovern as one of the most tenacious competitors and got to experience these traits first hand at the 2007 Irish PGA Championship at The European Club. The Irish PGA stalwart pushed Harrington all the way the week before he famously went on to unlock the Major secret at Carnoustie.

"I'm a massive admirer of Pádraig Harrington. Aside from Rory [McIlroy], he has been our most successful player, he's the one who started winning Majors. And it's back to ticking boxes."

"He is grounded. The way he learned the game, he's a winner. He was never the best player, he would tell you that himself. He might not have ticked that ball striking box when starting out on tour but I can guarantee you he ticked every other box and he's ticked every box since then, he's been a phenomenal player."

For McGovern, this season's challenge will again be something of a balancing act, dividing his time competing on tour and his role as head professional at the busy Headfort Golf Club in Kells. He talks of "making sacrifices, especially in your family life" but is thankful of the support he receives both at home and from the club. There is also the financial implication of competing on the road. Last year he made €55,216 from 11 events to finish 29th on the money list but the outlay is also much greater compared to driving to an Irish PGA event, especially as he has committed to a full-time caddy for the start of the season.

Golf remains McGovern's main driver. "I'm one of these fellas who is consumed by golf, it's been my life. Over the years some people have said I can be hard to get to know, which has been a weakness and has gone against me in many ways," was McGovern's honest assessment of himself.

"I often wish I had Bill's (Noble) personality. I have a different type of personality. My sense of humour can get me into trouble. I can take it from someone, and as a result can also give it. There are people out there who can give it but can't take it. But behind it all I am genuine, I'm not interested in the bullshit."

He's also acutely aware of his role as a figurehead and representative of his profession, especially when playing with amateurs in Pro-ams. "I always consider myself very courteous in that position, that's a very important part of our role. I've had some of the best craic playing in Pro-ams. I've been playing with Jack Duffy from Ardee for 20 years and the craic we have on the course is serious. I always enjoy going to Cork Golf Club every year and playing with the Secretary Manager Matt Sands. Golf should be fun. Don't get me wrong we all have our bad days and I'm as guilty as anyone."

For now though, all focus is on making his mark on the senior circuit.

"I have to play well to make money. These guys are seriously good players. Ok, sometimes the tees are moved up on par fives but other than that the courses are set up in tournament condition with tough flags. Nothing is easy," says McGovern, aware of the challenge he faces.

"I played quite well last year but only had one top 10 (WINSTONGolf Senior Open). Everyone is competitive, but hunger is something I might have a little more of because it's all still relatively new for me."

"I love it, love being on the inside. It's better playing crap inside the ropes than playing well outside the ropes. Inside the ropes, I'm in my element."

"As someone said to me the other day 'you are living the dream'. Not quite but I tell you what, it's very nice to be doing something you want to do, especially at 51."