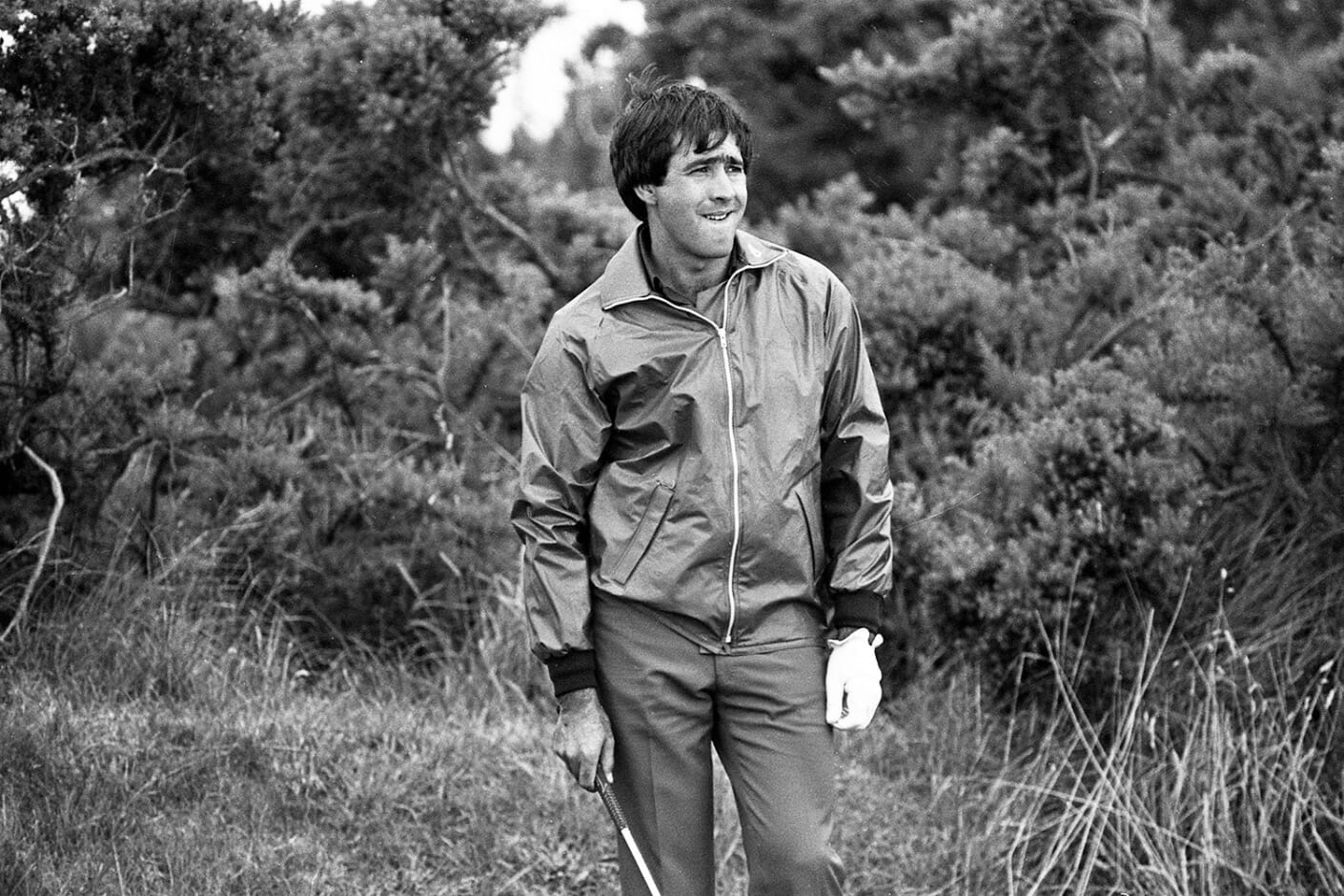 It was 1973, El Paraisio GC on the Costa Del Sol, the last event on the European Tour. I was a struggling tour pro trying to make the cut to keep my playing card for the next year and avoid the dreaded Monday pre qualifyings. A couple of 73's would do it. This was real pressure, the negative pressure of survival.



I was paired with this 16 year-old Spanish kid whose name nobody could pronounce and who was the kid brother of Manuel Ballesteros. He didn't speak a word of English except 'Hello I am Seve '. He was a boy with drop dead good looks and the exuberance that only fearless youth has. He had a flashing white smile and piercing eyes would send lightning bolts through the heart of any female they engaged.

On the first hole he smashed a drive 300 yards down the middle, hit a five iron into 10 feet and proceeded to chastise himself in Spanish out loud all the way to the green. He missed the putt and kicked the bag all the way to the next tee. I scratched a par four.

Next hole he hit a one iron into the teeth of a 30 mile an hour breeze to 15 feet and went nuts that it wasn't stone dead. I am thinking to myself, 'is this kid crazy does he expect to hole 1 irons?' And so it went on all the way around. I shot the inevitable 73, he shot 66 which should have been 60 and he was still ranting on after he signed his card.

I decided I couldn't put up with this tomorrow and would have to speak to the PGA official Tony Gray about his behaviour for mine and his own good going forward. His brother Manuel was waiting by the scoring caravan. I went over to him and told him what I was going to do. He pleaded with me not to, that he was only a young boy and he would speak to him. I let it go.

That's how I met Seve – and he never forgot it.

Fifteen years later after I had hung up my clubs I approached Seve in the Old Course hotel in St. Andrews overlooking the famous Road Hole with a business proposition to promote tournaments in Spain with him. He paused for what seemed a long time and with those eyes boring into me asked; 'Roddy, remember El Paraiso in '73', I said 'yes, very well Seve'. 'You no report me' he said. He then put out his hand and said 'yes, we will make business together for our families'. He had a memory like an elephant, always did. I spent the next 13 years working with Seve in Spain and in the final three years managed him from Pedrena, the little fishing village where he was born and loved so much.
There has always been an affection between Ireland and Spain, based I suppose of the comfort on sharing the same religous beliefs and a strong focus on family. Spanish people feel safe sending their children to Ireland.

When Seve first visited the Irish Open in the eighties it was at the invtation of the man who built the 'Carrolls Irish Open' – Pat Henehan. Pat was light years ahead of his time the way he marketed and promoted the event to be the best tournament in Europe after the British Open. In those days it was arguably the biggest event in the country every year. Nearly all my generation will remember being one of the 80,000 or so spectators that made the annual pilgrimage to the Irish Open in Portmarnock or Royal Dublin which was more like a summer festival in those days.

Pat had a special team dedicated to deliver the warmest of Irish hospitality all week to all of the pros and their wives that arrived from overseas. This includes the Watson's, Crenshaw's and Green's.

I was commenting by that stage for RTE with Fred Cogley and my old friend Tim O'Connor, both sadly departed. I remember vividly Tim's young niece that week, who hadn't the slightest interest in golf, riding out to the course every day with Tim just so she could see Seve – her pin-up boy. Tim managed to get them introduced and Seve asked her out! They were friend's for years after that first date. I think that, plus the warmth of the hospitality, touched this young boy from Pedrena.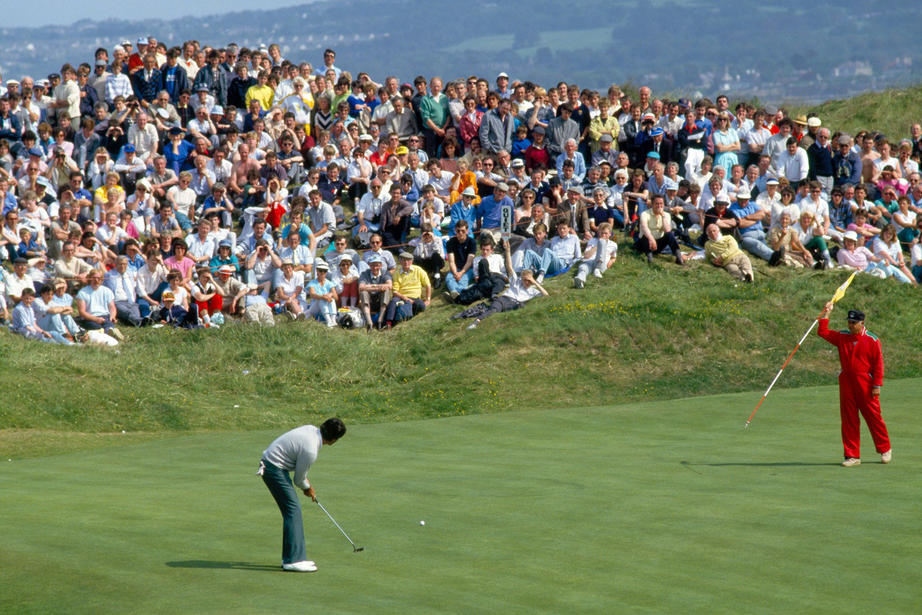 Seve loved Ireland and its links golf and people. He liked the depth of knowledge and appreciation the Irish galleries had for the game and in particular his majical shot-making ability. Probably the only person that I ever saw him watch on the practice ground with genuine interest was Christy O'Connor Senior. He regarded him as a master shotmaker who had honed his skills on the beaches of the west of Ireland, like Seve had done himself in the North of Spain. He liked the courage, fearlessness and raw talant in the way Christy played golf and I believe he learned more than he would admit to from 'Himself'. He was later to become very friendly with Christy Junior and loved the sheer humour and fun of being around Junior when 'on tour'.

Who will ever forget his piston like motion with his arms as part of his victory dance having holed it from 30 feet to win the Irish Open in Royal Dublin? That raw display of jubilance in front of his adoring Irish fans was only to be outdone in later years by his iconic fist pumps on the 18th green at St. Andrews to win the Open.

He never forgot his early days in Ireland and carried that affection in his heart right throughout his life. It is similar story with Olazabal who again received his first invitation to a big event from Pat Henehan.

In order to understand Severiano Ballesteros one must understand his life as a young boy and caddy in Real (Royal) Pedrena GC. He had to steal balls and borrow clubs to play on the beach because he was not allowed play on the course. He would climb over the wall behind the 4th tee at night and play 18 holes in the dark with no shoes so his mother wouldn't see his wet shoes when he returned. His father whom he loved dearly and missed greatly in later life was the caddy for Emilio Botin, the owner of Banco Santander and Spain's richest man. Seve was later to marry his daughter Carmen Botin, a beautiful woman in all respects, who bore Seve three children that became the light of his life.

He developed his genius skills on the beach in Pedrena making up shots with the limited armoury of clubs using a Heinz beans can as a hole in the hard sand and just his imagination and creativity, which was limitless, to learn the game.

When he played golf he never knew or thought about anything but winning. He believed he could win any tournament and always thought he would. It was win or die, like the true Matador of golf that he was. He dressed for the fight in cashmere pastels, and performed his art with a style and panache never before seen. He had a ferocious temper but was the eternal optimist on the course no matter where he hit it he believed he could make birdies.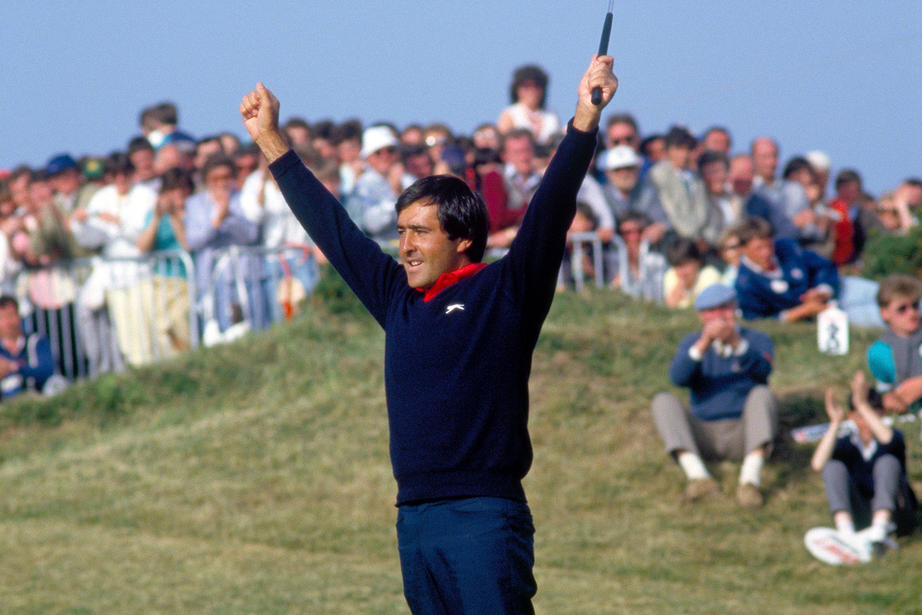 Nobody will ever forget his grand entrance on the greatest stage in world golf at The Open in Birkdale in 1976. He dared to play an impossible cheeky pitch and run chip threading it through the greenside bunkers on the final hole to finish second to Johnny Miller. Nor will anyone forget the unique joyful fist pumping jig that became his iconic image winning at St. Andrews in 1984.

He never forgave the Americans for the loneliness he felt when he went to play on their tour. They wouldn't speak to him in the locker room or have dinner with him at night. The old guys on the PGA Tour in those days didn't take kindly to foreigners invading their Tour and 'stealing' their money. In retrospect maybe they should have been nicer to Seve. He told me once that in Augusta on the first tee he had 143 enemies to kill. 'With every birdie I kill maybe 5 to 10 with every eagle I kill more'. His triumphant march up that 18th hole in 1980 was his revenge having slayed the field mercilessly.

The Ryder Cup became the ultimate battle ground for him, taking on the might of America under their flag in 'mano de mano' (hand to hand) combat, which he loved. They were impossible to beat or so everybody thought, everyone that was – except Seve. Jacklin was smart enough to know that Seve was the key to victory and gave him his head. In this event he became both the Gladiator and the General and led his troops into battle with a passion like Braveheart. He loved the Ryder Cup more than any other event. His fire, passion, determination and belief that they could beat the Americans was contagious, infectious and ultimately convincing.

His battle in Oakhill in 1995 against Tom Lehman in the top singles on the Sunday leading his team when his game had totally deserted him was to me the greatest epic encounter in golf I have ever witnessed.

The day before as I raced with him in a cart to the 17th tee. He wanted to get word to Faldo in his match against Pavin that the hole was playing one club longer than it looked, he turned to me with those eyes and said 'tomorrow for me is suicide'. 'I know' I said. 'What are you going to do?' he held his back and grimaced; 'I don't know, my back is not good', he said wishfully thinking that he could pull out and get a half point. I said 'No Seve, you know you cannot do that'.

One hour later in the team room as Captain Bernard Gallagher was discussing where he would place his soldiers for the imminent battle on Sunday. The dreaded 'star' was going to fall on a soldier around number 8 to 10, just as that star had and was to fall on Darcy, O'Connor Junior, Walton and McGinley over the years.

Gallagher was talking about men that Seve knew did not have the 'cohones' to stand the greatest pressure cooker in the game that had brought seasoned veterans such as Floyd and Strange to their knees. Seve waited and waited and just before the dye was cast he stood up like a warrior and stated from the back of the room, 'Bernard, put me down the bottom' to the astonishment of his onlooking teammates that knew he couldn't break 80. It was at that moment unknown to the rest of the world that Gallagher made an inspired decision that I believe won him the Ryder Cup, 'No Seve, tomorrow you will lead us'. Seve was silenced and happy.

Earlier in the week I had asked my old friend Lanny Watkins, the gunslinger from my Walker Cup days and Captain of the US team, who were his toughest soldiers. He said without hesitation Pavin and Lehman by far. It was Seve V Lehman in the top match.

That night I was having dinner with Bernard and my great friend Dr. Golf, John Jacobs, the Godfather of the European Tour. I suggested to Bernard that he order John to give Seve a lesson (which as Captain you can do) otherwise he could get a dog licence…a 7/6 beating. John reminded us that Seve and he hadn't really been talking since he hadn't let him play on the Ryder Cup because of appearance fees in the 70's. To my horror I was nominated to carry the lesson to Seve the next morning on the practice tee. I was thinking this is way above the duty of a new manager and very risky, I could lose my job. To hell with it, it was the Ryder Cup.

I will never forget the next morning damp and misty at 0700. The white pyramid balls were stacked perfectly on the European practice tee. Seve was there first, lonely and alone trying to find something to fight with. I sleeked down behind him, he looked up and growled, 'what you want Roddy'. 'Hit me a low cut Seve' I said 'and then a high hook'. John had told me to play 'nomination' with him to get him to make up shots and get back to his natural shot making ability. After 10 minutes of calling every shot the balls we actually beginning to group on the fairway. 'Now, play like that, make up every shot today' were my parting words as I scurried off the range to see John and Bernard watching/hiding from behind a big Oak tree waving with a thumbs up sign. There goes my job I was thinking.

The whole American team had been warning Lehman the night before about the tricks that Seve could play and advised him not to make eye contact if at all possible. On the first tee Lehman had fixed his eye on an American flag like a horse wearing blinkers to avoid Seve's prying eyes. Seve was desperately trying to make it happen and at one stage dropped his glove on purpose so he could stoop low and catch Lehman's eyes. They made contact and it was like a lighting bold through Lehman….game on.

He never hit a fairway or green for the first nine holes and only met Lehman on the greens to pick his ball out of the hole. He was all square after nine! The Lehman twitch at that stage was almost uncontrollable. I will never forget at the 6th hole when Seve holed his third 20 footer followed by that chip in at the second to remain all square. Howard Clarke sitting on his bag on the fairway waiting was watching in amazement and thinking, Jake La Motta from the Raging Bull. He wouldn't go down, 'Seve won't go down'. This heroic effort echoed from the big red scoreboards around the course. It ignited and inspired his team mates because they knew what it was taking for Seve to do this; their Gladiator was leading by example. Even though he lost, his courage and inspiration passed through the veins of his team mates and ignited them to a memorable victory.

Weeks later by the fire in the old clubhouse in Pedrena we were discussing that battle, he paused, touched the side of his nose with his finger as if smelling (blood), 'If I get him one more hole, I break him'.

There was always a halo-like ring around Seve, such was his charisma. Even the most seasoned scribes would be nervous approaching him as he was always unpredictable and they knew he never forgot.

I remember vividly at the annual European Tour black tie dinner in Wentworth the star players were coming in. Faldo, Lyle, Langer, Woosnam entered and nobody noticed. Seve appeared dressed in his favourite brown cashmere blazer, white shirt and an Augusta green tie looking like a Greek God. Silence descended on the room and everybody rose and started clapping. That is the definition of charisma.

He loved his fans and they loved him. He fed off their affection and they inspired him to give more. He always wore his heart on his sleeve and played the game with such flair, passion, intensity, and honesty of expression that he was the most exciting golfer ever to play this great game of golf.

SEVE will be remembered for his genius and courage and most of all for the joyous way he played the game.

*This article is from the July edition of Irish Golfer Magazine. To view the full magazine click here