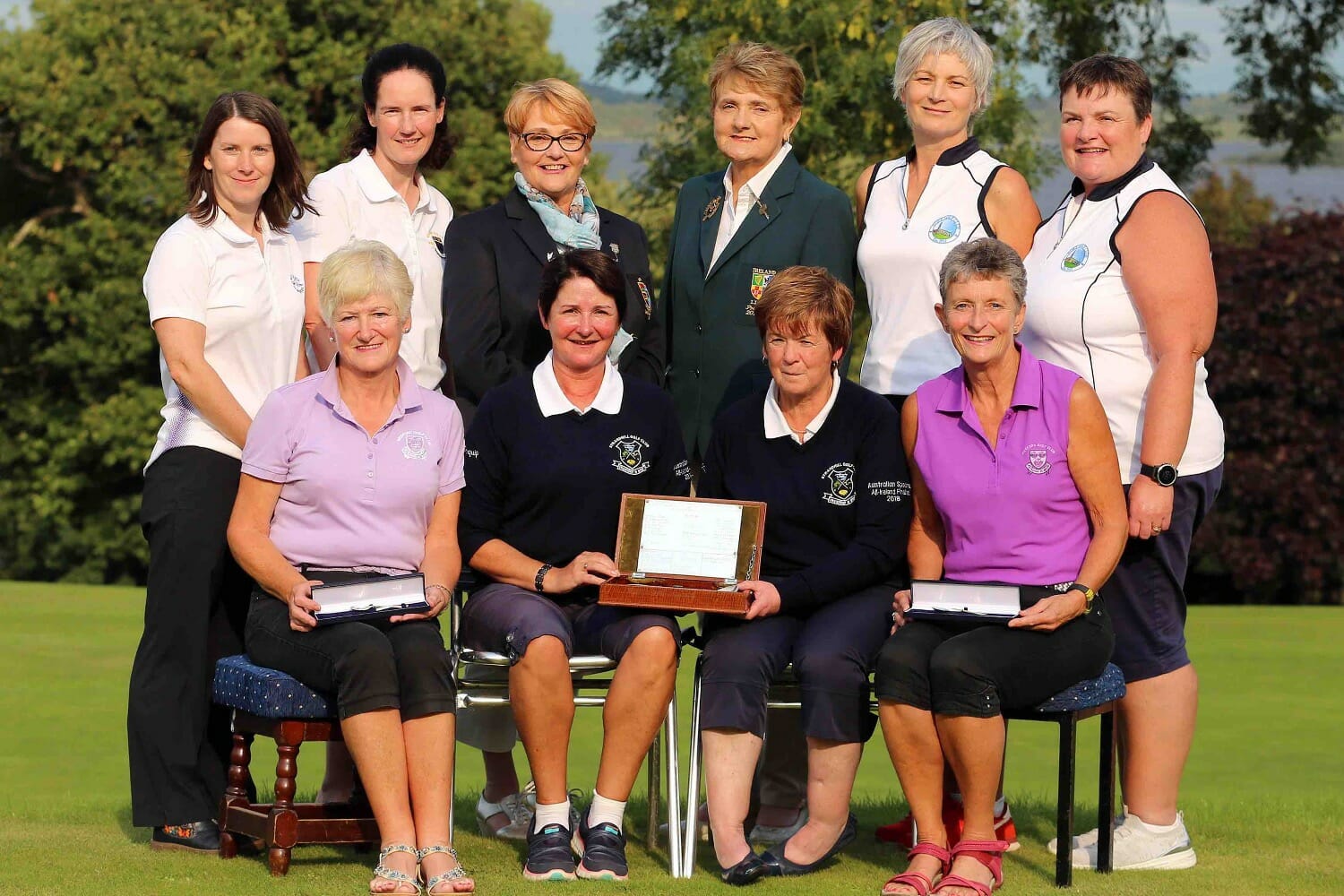 Strandhill Golf Club will be celebrating after their pairing of Kathleen Kelpie & Christine Tighe claimed the top spot in the Australian Spoons National Final in Athlone.
Lady Captain of Athlone Golf Club Margaret Egan and President of the ILGU Vonnie Noonan with 3rd Place Winners Rosemary Kavanagh and Clair Higgins from Wicklow, Nett Runners Up Jane Joyce and Patricia Reddy from Gort, 2018 Australian Spoons Winners Kathleen Kelpie and Christine Tighe from Strandhill with Gross Winners Carmel Murphy and Sheila Richardson from Wexford after the 2018 Australian Spoons National Finals at Athlone Golf Club / Image from Jenny Matthews Cashman Photography
The duo edged the hotly contested event with an incredible 42 points, winning on the back 9 ahead of Jane Joyce and Patricia Reddy (Gort) who had 41 points with teams from Wicklow and Woodbrook tied in third place on 40 points.
The Wexford pairing of Carmel Murphy & Sheila Richardson were close behind the overall winners and claimed the Gross prize with 34 points.

Prize Winners
1st Place and 2018 Australian Spoons Champions
Kathleen Kelpie & Christine Tighe (Strandhill) – Winning on back 9 with 42points

Gross Winners
Carmel Murphy & Sheila Richardson (Wexford) – 34 Gross points

Nett Runners up
Jane Joyce & Patricia Reddy (Gort) – 41 points

3rd Place
Rosemary Kavanagh & Clair Higgins (Wicklow) – on the back 9 with 40 points

4th Place prize
Lee Murphy O'Connor & Cliodhne Hamilton (Woodbrook) – with 40 points