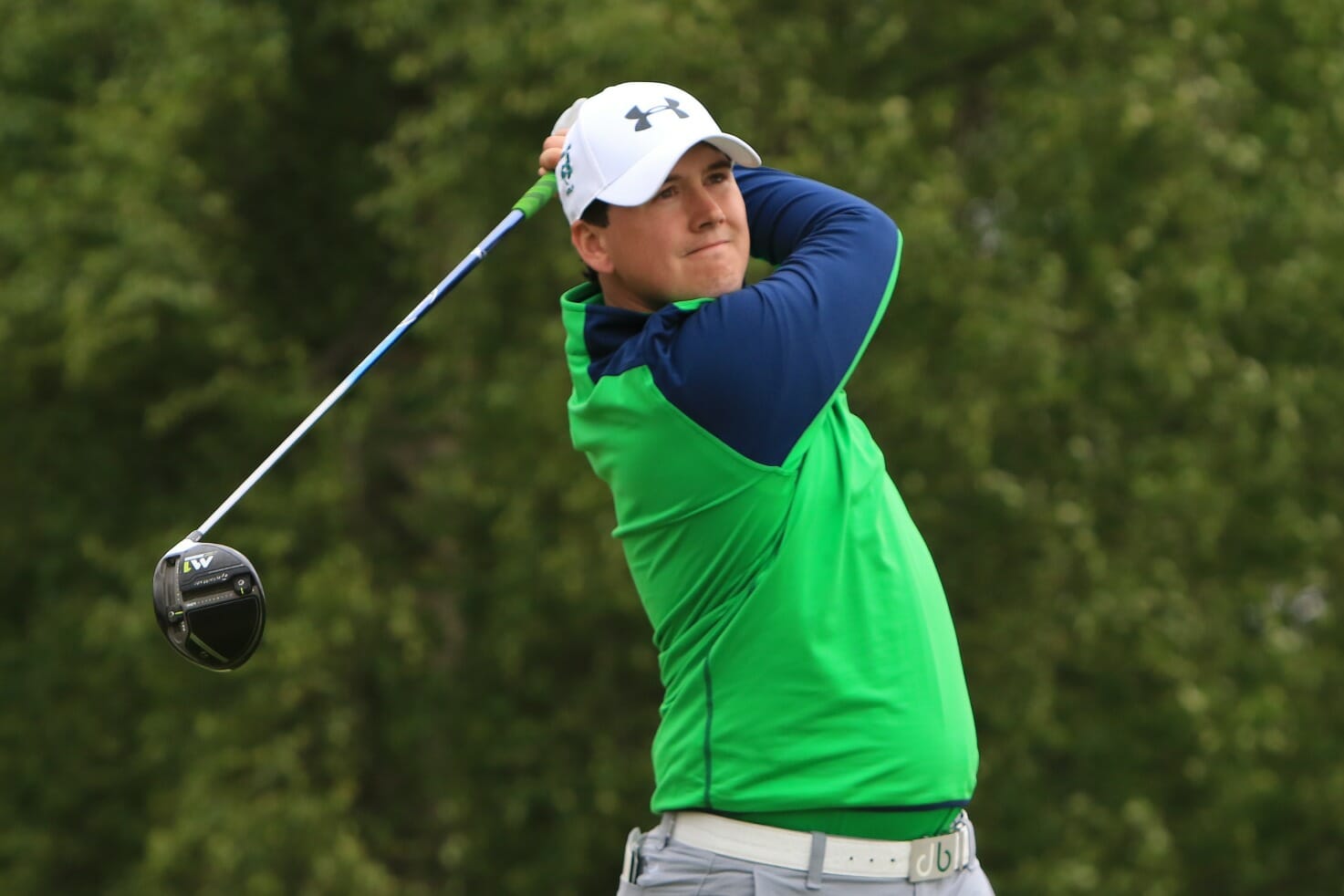 Ireland's Anchor Man. It has a certain ring to it, but Colm Campbell's roots remain firmly in South Down and Warrenpoint Golf Club. The club helped him to become the player he is today, and he has helped add more pennant-laden chapters to an already storied journey.

All Images from Golffile / GUI

"Colm." "Paul, how you gettin' on?" came the opening line as Campbell turned from his soft-seater and watching Tiger and lads on TV as we shook hands in the upper lounge at Warrenpoint Golf Club. Don't worry, it wasn't the injured left hand that's kept the Irish international out of action for the best part of four months.

Campbell is as much at ease in these club surroundings as he in the vibrant green Ireland Under Armour top he's wearing to go on the tape this particular afternoon. I don't know Colm Campbell well, but he's easy company and it takes no time before we settle into a flow, blethering about all things golf while glancing out at the golf course that set Campbell and so many others off on their personal golfing odysseys.

It cannot be overstated how much one golf club has continued to produce the goods over the years. Warrenpoint are serial winners when it comes to all-Ireland pennants. And the players they have produced over the years reads like a who's who; Ronan Rafferty, Jim Carvill, Paddy Gribben, Gary McNeill, Raymie Burns while Campbell and others like Jamie Fletcher are etching their own narrative into the club's history.

And yet for all the loyalty to Warrenpoint, Campbell has developed this wider reputation as the go-to man for Ireland, who this year are bidding for an unprecedented fifth Home Internationals in a row at Conwy Golf Club in Wales. (To have won four in a row is already a record for Ireland).

Unfortunately for Campbell he has time to talk because a freak hand injury has kept him out of action since last October. He's in a race to be fit in time for the new season. Some prestigious events will come too soon but he takes a pragmatic approach and knows there is a long season ahead.

"I really don't know how it (the injury) happened, can't pin point it," says Campbell flexing his injured left hand. "It was diagnosed as wear and tear and eventually what's known as Hook of Hamate. Apparently, it's quite a common injury in the likes of golf and tennis. I know Ryan Moore and other tour players suffered from it.

"It's been niggling away at me since the end of last September. Then one day I was out here playing and it just snapped after hitting a driver off the fourth tee. I could actually hear the snap. I was told it was a stress fracture but it's broken."

Campbell has been receiving treatment at the Ulster Independent Clinic and recently got a second opinion at Blackrock Clinic in Dublin after Alex Gleeson's dad, Aidan, recommended his friend Colin Reardon. "Thankfully they came to the same conclusion, which put my mind at ease and reassured me we're on the right track," said Campbell.
"At the start I knew it was an 8 to 12-week layoff, which in some ways suited because it was the end of the season. My grandad wasn't well either and he later passed away, so I was grateful to spend time with him. You have to put things into perspective.

"Look, here we are, four months on and I'm just hoping to get going. I'm still not hitting shots yet, but recovery feels a lot closer than it was."

Campbell has just celebrated his 31st birthday and he has no problem accepting he is one of the senior figures in the Ireland setup. He started playing Interpros in 2011-12 but it would take a couple of years before he made his mark.
"I had a shocking year in 2013. That's when I made the decision that if I wanted to play at any sort of level, then I need to knuckle down and put more work in. Up until then I probably took things for granted."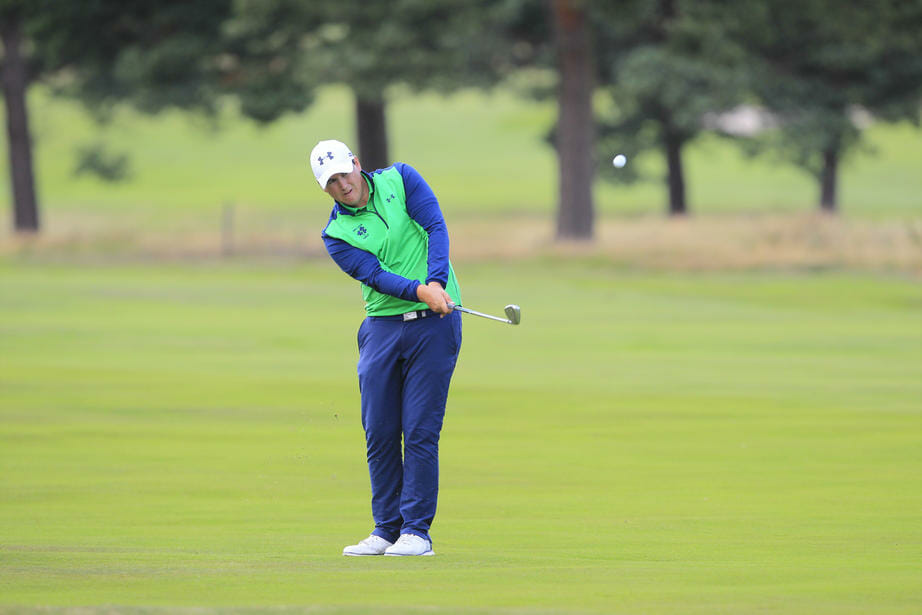 The plus four handicapper has tried different approaches, from holding down a responsible job as manager in a busy 02 shop to taking time out and playing full time. "Around that time, things changed in my personal life too and thankfully in 2014 things clicked into place, and the rest they say is history," noted Campbell who won the East at Baltray in 2014, his first major championship, and also reached the semi-finals in the Irish Close and the West.

"Balancing work and playing full time isn't straight forward," said the straight-talking Campbell. "In 2014 I also won my first senior Ireland cap and played Home Internationals. But moving forward at that level I knew I had to give myself every opportunity, so decided to take a career break from 02. With everything that happened in 2014 I then put too much expectation on myself and 2015 flopped a bit."

That said, he finished the year strong and helped Ireland successfully defend the Home Internationals again at Royal Portrush. There were yet more decisions to make as he toyed with the idea of going back to work fulltime. Thankfully he got the most important decision right when he married Ciara in 2016. Campbell says he is "fortunate to have a very understanding wife and extremely supportive parents" which meant he could continue playing full time.

"And because I was that bit older than the rest of the Irish lads I had a bit of savings put away too. Don't get me wrong, money is a massive part of what I'm trying to do. The funding from Sport NI and the GUI is massive and has helped me to focus on just playing golf.

"Weddings aren't cheap either! But as I said, I'm lucky to have supportive parents and in-laws, who like Ciara know the score," added Campbell, who is back doing a bit of bar work at The Balmoral where he knows the owner and worked before. This gives him the flexibility he needs to keep playing. He says he'd like to find something within the golf industry if he doesn't go down the professional route.

The day after we met, Campbell also attended a fundraiser for one of his best mates and former Ireland playing partner, John-Ross Galbraith, who is trying to make his mark in the pro ranks.

Throughout Campbell's journey, did he ever have designs on turning professional, especially when so many of his peers have gone down that road?
"To be honest, I would have little interest in turning pro unless I had some sort of good Challenge Tour or main European Tour status. Playing mini tours doesn't interest me, I can't be wasting my time. No disrespect to anyone doing that, I'm just at a different stage than someone starting out.
"Don't get me wrong, it has tempted me before and I'm not ruling it out. We'll see how this year goes and make another call later in the season. If my game's in good shape, I'll try Q-School again," said Campbell, who went to Q-School in 2015 and got through to the Second Stage.
"I've seen so many good players who've had brilliant amateur careers but turned pro and for whatever reason it just didn't work out. It's not all it's made out to be.

"One of the best players I ever seen was Paul Cutler, who played Walker Cup (2011) and was a great striker of the ball. I know Paul well and he's a good friend, what a player he was. Unfortunately, it didn't happen for him."
What makes that transition so difficult?

"I think a lot of people struggle to adapt to the lifestyle. Playing for Ireland you get molly-coddled and as a top amateur you peg it up every week knowing you have a chance to win. In the pro game you are just a number, every putt you miss out there, you are losing money.
"That's a completely different mind-set. If it was easy everyone would be doing it."

Campbell is also aware of the small margins. "Look at Dunners (Paul Dunne) in 2016. A guy misses a two-foot putt at Q-School and Paul goes on to win the tie hole and eventually get his card. Wee things. That player makes the putt then Paul's story might have been totally different.
"Shane winning the Irish Open as an amateur. If that didn't happen, where might Shane have ended up? And look at the player he has turned out to be. Obviously, Rory (McIlroy) was destined for great things. His route was always to the top. It's funny how things pan out."

Campbell played in the 2016 Irish Open at The K-Club, but it wasn't the playing experience that stood out for the Newry man. He played nine holes with Martin Kaymer in practice. Before their first rounds they were at the practice putting green when the German came over and invited Campbell and his caddy out to dinner that evening.
"I'm good friends with Martin's caddy Craig Connolly, but it was nice Martin asked us personally. He took us to Shanahan's On The Green. Matt Fitzpatrick was there too. It was a lovely gesture, one of my best experiences. All I can say is, thank God Martin took care of the bill!"

Just now, all Campbell is interested in is getting back to full fitness and have the chance to be part of an Irish team going for an historic five in a row at the Home Internationals.
"I don't know how to describe it, there is no greater feeling when you win as a team. Don't get me wrong individual success is brilliant, but I just love the team environment," said Campbell, who has commanded that number 10 spot for Ireland after producing the goods time and time again.
You really are Ireland's anchor man?
"Not sure why, but I have a knack of getting it done in a team situation. I'm not for one second putting myself in the same sort of class as Ian Poulter or any of the guys when they play Ryder Cup, but a team environment gets my blood going, it brings out the best in me.

"In 2015 I was probably fortunate to get picked as I struggled that year, but I ended up being player of the tournament with 5.5/6. That experience changed a lot for me. The following season I pushed on, it gave me extra belief," says Campbell, who won the 2016 Irish Amateur after an epic final day battle with Jack Hume at Royal Dublin.

Campbell was 16-under-par for the week and led by five with nine holes to go. Hume blazed the back nine in five-under. "He came at me, but I never once felt like I was losing it," recalls Campbell. That was probably one of my proudest moments so far, that and having to win the final hole at Nairn to win the Home Internationals in 2016."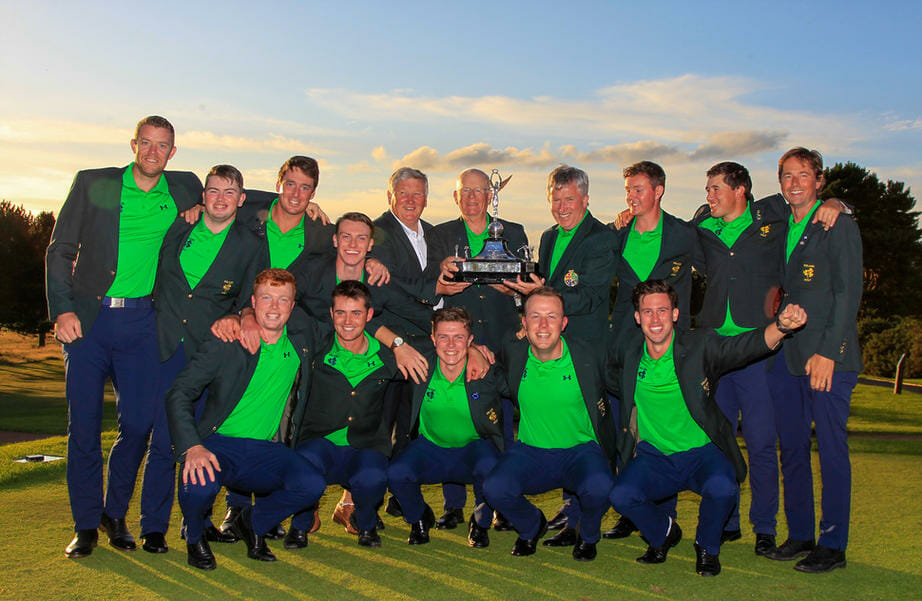 Campbell refers to another clutch situation when he was five up after eight and two up with three to play before making bogey and his opponent drained a putt on 17 to go all-square in the deciding match.

"I hit one of the bets tee shots of my life, split the fairway, then fired a six-iron over 200-yards on 18 to the front edge and chipped close to win. That was such a surreal moment," says Campbell with delight.

"Last year in Moortown, I joked in the team meeting before the singles, I said 'lads, I don't want it coming down to me again'. It was a different scenario that week. I was five down after six and thinking, I'm not getting a dog licence. Something clicked and I turned it around. I'll never forget that approach to 17 to a back right flag under such pressure."

When you get Campbell talking golf, the enthusiasm just pours out. He's pot-committed and totally passionate.

"The team camaraderie is something special. There is plenty of banter and you need to be thick-skinned, plenty of slagging goes on. Big Rob Dawson is a handful, he's different! I love it, there are no egos in the room, never has been.

"I was always ribbed as the oldest in the team, but thankfully big Pete (Peter O'Keeffe) is here now and has taken over that mantle!

"Seriously, we all play for each other. I mean, look back at that 2014 team. We had the likes of Paul Dunne, Gary Hurley, Gavin Moynihan, Cormac Sharvin, Chris Selfridge, Dermot McElroy and Jack Hume. All unbelievable players. Five Walker Cup players. Very special.
"All these boys were at our wedding too. We got married in Newry Cathedral and then back to the Ballymac Hotel. We obviously don't see each other every day but we still keep in touch. We all still get on so well."

Team camaraderie (and talent of course) has been such a key to Ireland's success in recent years. For Campbell, his grounding and formative years at Warrenpoint have been integral to that success.
"There's no real philosophy behind Warrenpoint's success. Belief and a great junior structure. Funny, I spoke recently at the launch of the Newry and Mourne Junior event and I said the biggest thing for me as a junior was playing team golf. That's where you learn the competitive instinct and to grind out a score. That's drilled in to you here, even at Fred Daly and Ronan Rafferty matches.

"I love it. And when I get the chance I will always try and represent the club. The club even flew me back a couple of times last year to play. There is no secret. We always believe there is a chance of winning. That mentality goes right through all the teams.

"Warrenpoint is a club that has hoovered up All-Ireland pennants, but we only talk about the wins. I've lost three Senior Cup finals. You walk through the door you see what's on the walls, the pennants and all the players who came through this club. It's amazing.
"Warrenpoint just keeps producing very good players."

You could say winning is in their DNA.