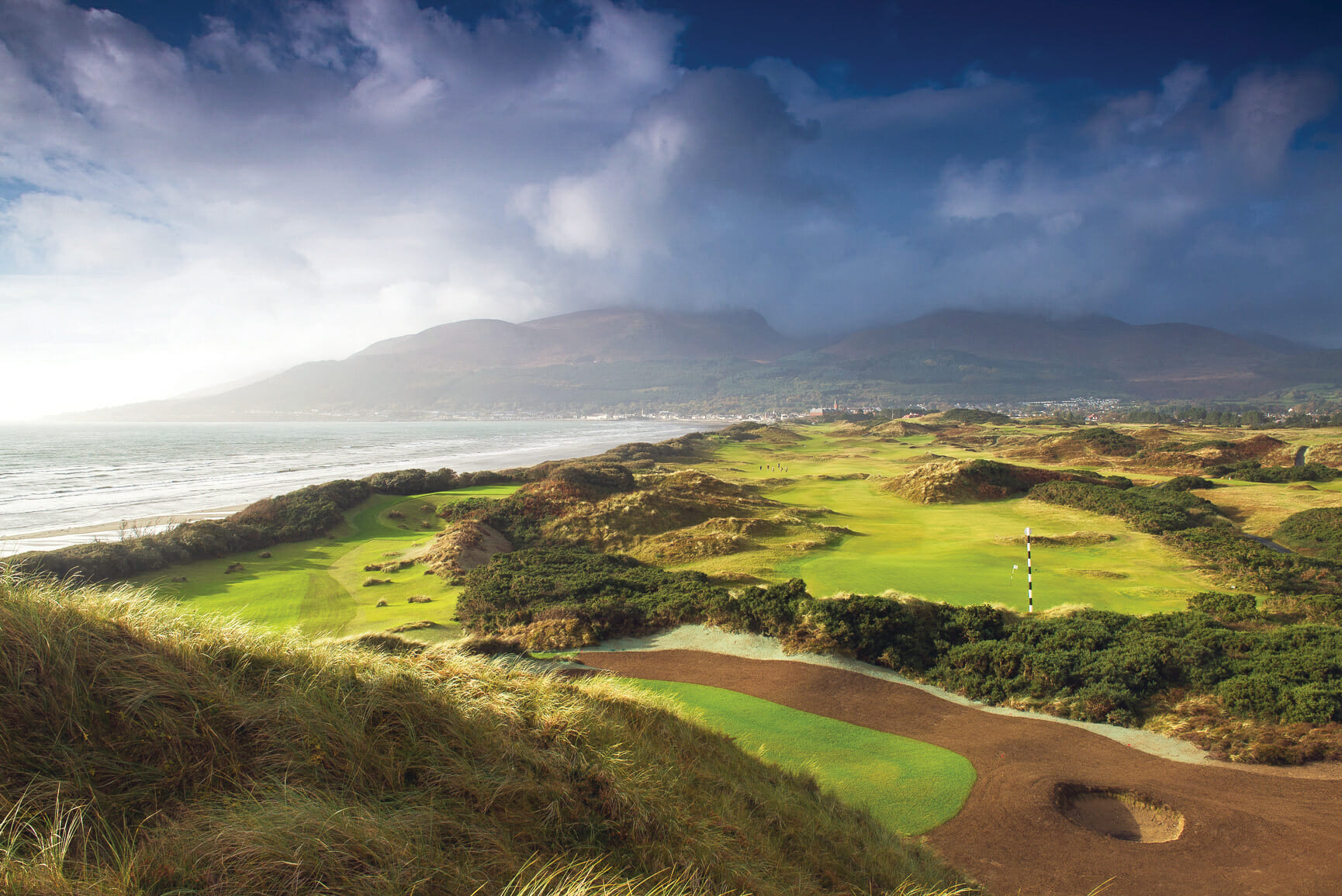 The Golfing Union of Ireland have finalised their 2018 fixture schedule, confirming dates and venues for all 55 domestic championships with the Flogas Irish Open returning to Royal County Down and the AIG Irish Amateur Close heading to The European Club.


Royal County Down – venue for 2018 Flogas Irish Amateur Open

Away from home, the GUI Senior Panel – supported by Sport Ireland – will begin their season in South Africa, taking in the South African Stroke Play (6-9 February) and the South African Amateur (13-16 February). An early Easter means an earlier starting date for the West of Ireland, with the first round of stroke play qualifying scheduled for Friday, 30 March although the clocks will have returned to summer time by then, ensuring an extra hour of daylight at Co Sligo.

Tralee is the venue for the Irish Students Open in early April (10-12) and the Flogas Irish Amateur Open will dominate the golfing landscape the following month as Ireland's premier stroke play championship returns to Royal County Down (17-20 May). Ireland international Peter O'Keeffe from Douglas was victorious at the world-renowned links in 2017.

Two weeks later the East of Ireland returns to Co Louth (1-4 June) with another Friday start. Galway Bay stages the Irish Mid-Amateur (16-17 June) and Belvoir Park hosts the Irish Boys Open at the end of June (26-29) where Kilkenny's Mark Power can become the first player to win the championship three times.

July is another busy month, featuring the North of Ireland (9-13) at Royal Portrush and the South of Ireland (25-29) at Lahinch. The following month, the AIG Irish Close (4-8 August) revisits The European Club, which toasted Rory McIlroy's successful title-defence in 2006.

In a significant change to the calendar, the Interprovincial Championship moves to the last week of August (29-31) having traditionally occupied the first week of July. Athenry is host venue for the Interpros in 2018.
Also new for 2018 is an underage All-Ireland Finals weekend at Tramore (29-30 September) featuring the Fred Daly Trophy and the Irish Junior Foursomes. Previously the Junior Foursomes was played in the same week as the Irish U16 Championship – next year at Castle Dargan from 20-22 June – and the Fred Daly Trophy traditionally took place the same week as the Irish Students Open.

With Ireland hosting the World Amateur Team Championship at Carton House in September (5-8), next year's Home Internationals take place from 12-14 September at Conwy, Wales. After retaining the title in 2017, Ireland will be bidding for a fifth successive win.

Having completed a four-year run at Carton House, the AIG Cups and Shields go back on the road in 2018 and Thurles (21-23 September) is the final stop next season. Limerick will stage the GUI All-Ireland Four-Ball (15-16 September) and Milltown host the Irish Mixed Foursomes (5-6 October).

GUI FIXTURES 2018

JANUARY
13-16: South American Amateur, Martindale (Argentina)
FEBRUARY
6-9: South African Stroke Play, Pecanwood
13-16: South African Amateur, Glendower
MARCH
1-2: Irish Colleges Match Play Championship, Woodbrook
24-25: Ireland v Wales Boys, Cardigan
28-30: Ulster U16 Close Championship, Kirkistown Castle
28-3 April: West of Ireland Amateur Open Championship, Co Sligo
APRIL
3: Ulster U14 Boys Amateur Open Championship, Ardglass
4-6: Connacht U18 Boys Amateur Open Championship, Belmullet
5-6: Leinster U16 Boys Amateur Open Championship, Beaverstown
10-12: Irish Students Amateur Open Championship, Tralee
11-12: Peter McEvoy Trophy, Copt Heath
18-21: European Nations Team Championship, Sotogrande (Spain)
24-25: Irish Schools Junior & Senior Championship Finals, Monkstown
MAY
4-6: Fairhaven Trophy, Fairhaven
4-6: Lytham Trophy, Royal Lytham & St Annes
5-6: Munster Stroke Play Championship, Cork
8-9: Munster Seniors Amateur Open Championship, Ennis
17-20: Flogas Irish Amateur Open Championship, Royal County Down
23-25: Irish Seniors' Amateur Open Championship, Concra Wood
26-27: Connacht Mid-Amateur Open Championship, Oughterard
31-3 June: Brabazon Trophy, Frilford Heath (Red Course)
JUNE
1-4: East of Ireland Amateur Open Championship, Co Louth
5-7: Ulster Students Amateur Open Championship, Moyola Park
8-10: St Andrews Links Trophy, St Andrews
9-10: Connacht Stroke Play Championship, Portumna
12-13: Ulster Seniors Amateur Open Championship, Rosapenna (Old Tom Morris)
16-17: Irish Mid-Amateur Open Championship, Galway Bay
17: Connacht 9-Hole Inter-Club Final, Strokestown
18-23: The Amateur Championship, Royal Aberdeen & Murcar Links
20-22: Irish U16 Boys Amateur Open Championship, Castle Dargan
22-24: Sir Henry Cooper Junior Masters, Nizels
26-27: Connacht Seniors Amateur Open Championship, Strandhill
26-29: Irish Boys' Amateur Open Championship, Belvoir Park
27-30: International European Amateur Championship, Royal Hague (Netherlands)
28: Connacht U14 Boys Open Championship, Loughrea
JULY
2: Kenny Cup Qualifiers, Tubbercurry/Cregmore Park
3-5: Leinster U18 Boys Amateur Open Championship, The Heritage
4-6: Ulster U14 Boys Amateur Close Championship, Foyle
4-6: Irish Seniors Close Championship, Enniscrone
9: Leinster U16 Boys Amateur Close Championship, Ashbourne
9-13: North of Ireland Amateur Open Championship, Royal Portrush
10-14: European Amateur Team Championship, Berlin (Germany)
10-14: European Boys Amateur Team Championship, Kaskada Brno (Czech Republic)
11-13: Munster Boys Amateur Open Championship, Waterford Castle
12: Leinster U14 Boys Amateur Open Championship, Kilkenny
17-18: Ulster U16 Boys Amateur Open Championship, Donaghadee
17-19: McGregor Trophy, Kedleston Park
20-21: Irish Mixed Foursomes Connacht Finals, Claremorris
20-21: AIG Barton Shield & Jimmy Bruen Shield Leinster Finals, Mount Wolseley
22: AIG Jimmy Bruen & Pierce Purcell Munster Finals, Co Tipperary
24-26: Underage Interprovincial Championships, Slieve Russell
25-29: South of Ireland Amateur Open Championship, Lahinch
26: Connacht U12, U14, U16 U18 Close Qualifiers, Ballinasloe/Castle Dargan
26-28: European Young Masters, Oslo (Norway)
27: Fred Daly Trophy – Leinster Finals, Esker Hills
28-29: AIG Junior Cup and Pierce Purcell Shield Leinster Finals, Carlow
30: Irish Junior Foursomes Ulster Finals, Lurgan
AUGUST
2: Connacht U16 Inter-Club, Ballina
2-3: Irish Boys U14 Amateur Open Championship, Mullingar
4-8: AIG Irish Amateur Close Championship, The European Club
5: Irish Mixed Foursomes Leinster Final, Knightsbrook
7: Irish Junior Foursomes – Leinster Finals, Co Longford
7-8: Connacht U16 Boys Amateur Open Championship, Gort
7-9: Reid Trophy, Reading
7-9: Boys Home Internationals, Royal Dornoch
9: Munster U15 & U17 Close Championships, Roscrea
9: Leinster U13 Series Final, Athy
10-11: Leinster Mid-Amateur Open Championship, Corrstown
10-12: AIG Cups and Shields – Connacht Finals, Roscommon
11: Irish Mixed Foursomes – Munster Finals, Limerick
12: Munster Country Clubs Final, Lismore
12: AIG Junior Cup & Pierce Purcell Shield – Ulster Finals, Shandon Park
12: Ulster Scratch Foursomes, Malone
13: Connacht U12, U14, U16 U18 Close Finals, County Sligo
13-14: Scottish U14 Boys Amateur Open Championship, Murrayfield
18: AIG Jimmy Bruen Shield – Ulster Finals, Castle Hume
18-19: AIG Barton Shield, Senior Cup & Junior Cup Munster Finals, Thurles
19: AIG Senior Cup – Ulster Finals, Portstewart (Strand)
19: GUI All-Ireland Four-Ball Championship – Leinster Finals, Tullamore
20: Fred Daly – Munster Finals, Nenagh
21: Irish Junior Foursomes – Munster Finals, Nenagh
21-22: Leinster Seniors Amateur Open Championship, Luttrellstown Castle
22-23: Munster U16 Boys Amateur Open Championship, Newcastle West
22-24: Leinster Students Amateur Open Championship, Killeen
25: Irish Mixed Foursomes – Ulster Finals, Massereene
25-26: AIG Senior Cup – Leinster Finals, Mount Juliet
26: AIG Barton Shield – Ulster Finals, Belvoir Park
26: GUI All-Ireland Four-Ball Championship – Ulster Finals, Dungannon
26: GUI All-Ireland Four-Ball Championship – Munster Finals, Limerick
29-31: Interprovincial Championship, Athenry
31: Irish Junior Foursomes – Connacht Finals, Galway Bay
SEPTEMBER
2: Fred Daly Trophy – Ulster Final, Knock
4-6: Italian U16 Amateur Open Championship, Biella
4-8: European Seniors Team Championship, Diamond Country Club (Austria)
5-8: Eisenhower Trophy (Men's World Amateur Team Championship), Carton House
8-9: Munster Mid-Amateur Open Championship, Lee Valley
9: East of Ireland Mixed Foursomes Championship, Castleknock
12-14: Home Internationals, Conwy
15-16: GUI All-Ireland Four-Ball All-Ireland Finals, Limerick
18-20: Seniors Home Internationals, Southerness
21-23: AIG Cups and Shields All-Ireland Finals, Thurles
29-30: Irish Junior Foursomes & Fred Daly Finals, Tramore
29-30: Ulster Mid-Amateur Open Championship, Rosapenna (Tom Morris/Sandy Hills)
OCTOBER
3-5: Munster Students Amateur Open Championship, Charleville
5-6: Irish Mixed Foursomes All-Ireland Finals, Milltown
17-19: Irish Intervarsity Championship, Rosapenna (Old Tom Morris)
30 – 1 November: Ulster U18 Boys Amateur Open Championship, Royal Portrush (Valley)
31: Munster U14 Boys Amateur Open Championship, Lahinch (Castle)